You don't speed, do you? I mean, if the sign says "Maximum Speed 55mph" then you'd never even go 56mph, let alone 60, 65 or 70. Right?
Yeah. Me neither.
The problem is, speeding tickets are expensive. The cops have tech on their side with increasingly sophisticated radar systems, even unmanned units that are basically just "install and bill". But what about us?
Enter radar detectors and, in particular, Cobra, with its line of compact, powerful devices.
I've looked at Cobra radar detectors before and we even gave their ingenious crowdsourced radar alert map a Best of CES award back in January. The logic is simple: every car that has a radar detector is also reporting to a central system when and where various types of radar and laser systems are detected, then the central system aggregates the data and offers a map with real-time warnings, all tied to your current location. Smart, eh?
The good news: that exists today,  and you don't even need to own a Cobra radar detector to have it on your smartphone [clarification: this is only true on the iPhone. For Android users, you'll need an ATOM or other Cobra radar detector, as the app page explains]. For iPhone users, just grab a copy here: Cobra iRadar for iOS. Android users can get the app through the Google Play store: Cobra iRadar for Android. Add one of their radar detectors, however, and you no longer have to rely on what Blanche DuBois would call "the kindness of strangers".
Enter the brand new ATOM radar detector.
First off, let me say: it's small. It's only barely larger than a deck of cards small. Check out the photo to see how neatly it sticks onto the lowest portion of the front windshield.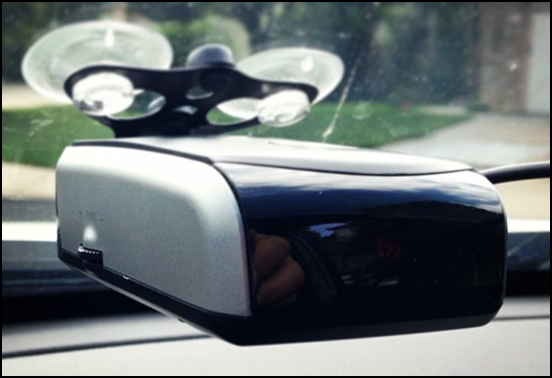 Like all other radar detectors, however, the ATOM has to be plugged into your car, through what we used to call the "lighter" but now I think is instead referred to as the "electrical adapter" (though I imagine my next car will just have a half-dozen USB plugs and skip the silly round port entirely). On the positive side, Cobra's smart enough to give the ATOM a charger plug that actually has an empty USB port on it too, so if you want to plug in your phone at the same time, it's easy.
Still, I like things to be neat and having a wire snake across my dashboard is annoying. So annoying that I asked Cobra why they don't just have a solar charging panel on the very top of the unit, since it sits on the windshield soaking up sun for half the day.
Their response: "in regards to the battery option, as the battery drains, your detection range shortens and you are more at risk for getting a ticket. Also, since radar detectors use quite a bit of power and with the current solar panel chargers, you can only capture about 20% of the energy. Basically, because of the power the unit consumes, the detection unit would never be able to charge itself before it dies again and you run in to the same range issue you have with battery operated detectors."
Okay. Bummer. Would be terrifically cool for the radar detector to not need wires, but apparently that's not in the cards for this generation of tech.
While we're talking about radar detectors, I should warn you that according to Cobra, they're illegal to have in passenger vehicles in both Virginia and Washington D.C. so you've been warned. Here in Colorado where I live? Apparently it's just mutually assured ticketing or something like that!
And as for the unit itself, the ATOM performed flawlessly for a few weeks of driving, instantly connecting via Bluetooth to the iRadar app, allowing me to report speed traps, cops lurking on the side of the road and the like within 60 seconds of detecting them, and beeping every time I got near a store with an automatic door (turns out those use a radar system fairly similar to one of the systems cops like, so it's a common false match on detectors). There's a volume control on the side of the unit so you can adjust it to your liking and if it's beeping non-stop as you slowly crawl towards a mounted radar system, there's a mute button on the top of the unit too.
Truth be told, I'm a pretty law abiding driver. I prefer to use cruise control to lock in my speed at just a few miles above the posted limit than the risk of zooming along and potentially getting a speeding ticket. Still, for long highway drives, I've always found radar detectors a big win, far more than just cruising around town. And for my next road trip, no question, I'll be plugging in the Cobra iRadar ATOM unit and saving myself a multi-hundred-dollar speeding ticket. It's small, simple, easy to use and powerful. What's not to like?
Cobra iRadar ATOM, $199 MSRP. Available through cobra.com.
Disclaimer: Cobra sent us the iRadar ATOM for purposes of review.