It's not easy to find places without any wifi nowadays. Unless you head into rural areas, that is, and that's just where I've been for the last few weeks, smack dab in the middle of Missouri, without any wifi signals at all. To connect I brought along an AT&T Netgear Nighthawk 5G Hotspot Pro. Here's how it all worked out…
We have a family house down at the lovely Lake of the Ozarks in Missouri, about 90 minutes from Springfield, Missouri, and 2 1/2 hours from St. Louis or Kansas City. From my home in Boulder, Colorado, it's a bit more of a drive – almost 11 hours – but every time we get there and step onto the dock, the stress of the transit just melts away. Except for one niggling problem; since we aren't at the house very often, it's not cost-effective to have Internet installed. Years ago we tried Hughes satellite and it was painfully awful. Like 45 minutes to check-in to a flight and print out a boarding pass awful.
A few years ago I decided to try out the first generation AT&T Netgear Nighthawk and it worked pretty well, but with the rise of 5G cellular coverage (which is much faster than LTE) I thought it would be interesting to try again with the latest 5G hotspot, the Nighthawk 5G MR5100 "Hotspot Pro". My friends at AT&T offered me a unit and data plan for a "summer loan" to try out, so with that packed in the car (along with an R/C boat, swim trunks, some summer reading books, etc) we headed to Missouri, to our wifi testing ground.
THE AT&T NETGEAR NIGHTHAWK 5G HOTSPOT PRO
First off, the unit. It's about 4-inches square, a bit less than an inch thick, and weighs 8.6 ounces. The bright touchscreen display on the unit is 2.4-inches, so it's easy to use. On one edge are both a USB-C and Ethernet plug: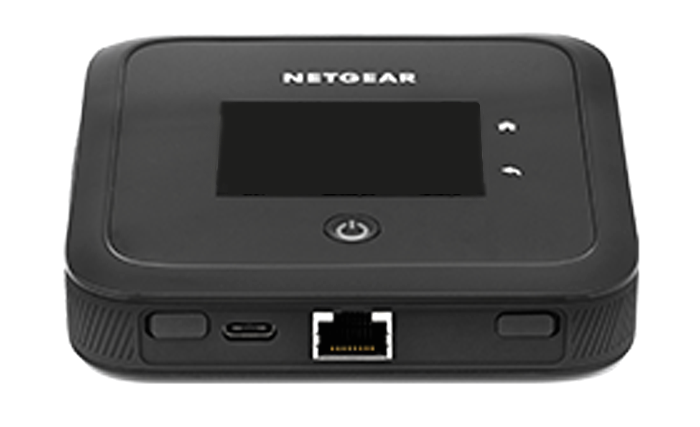 It's a pretty durable unit with rubberized pads. We generally had ours sitting in a windowsill (the rechargeable battery lasts for roughly 48 hours of use, which we managed by having it plugged in every other day to charge). Of course, being a completely portable, wireless unit, it was easy to pull it out and use it on the deck of our house too: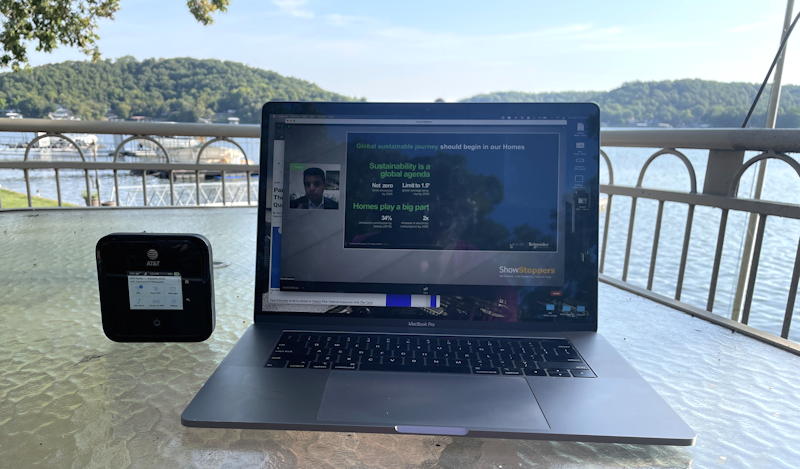 How did it work? In the photo above, that's a live Zoom webinar I'm attending. Without a glitch. Without any pauses or limitations of any type. When I was on camera, the other attendees were curious about where I was (and probably jealous!) but never had any comment on connectivity.
HOW FAST IS THE AT&T NETGEAR NIGHTHAWK 5G HOTSPOT PRO?
To really test it out, I switched over to Xfinity's streaming TV service to watch a soccer match with my Tottenham Hotspurs: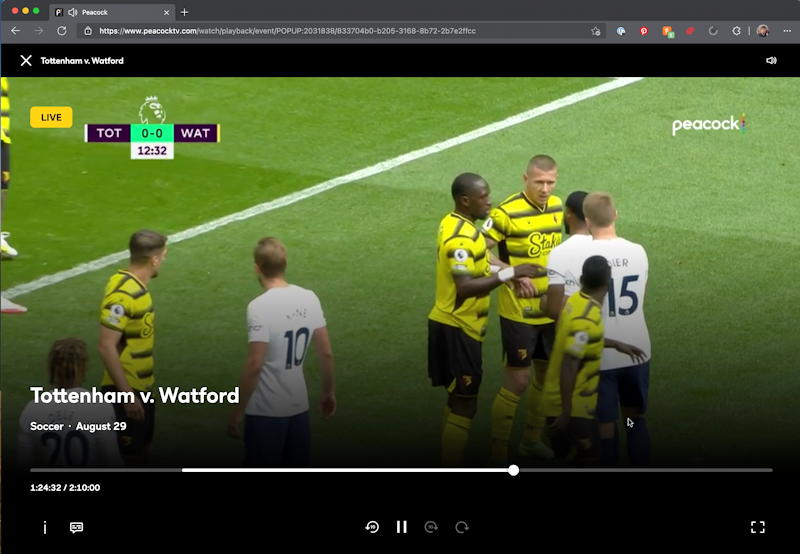 As you can see in the screen capture, it was crystal clear in full HD. It looked great and the Spurs won, allowing me to whoop it up in the middle of nowhere. Ah, modern times.
But there are tools to test and quantify performance, so I also ran a speedtest with the unit:
I was pretty darn impressed. Those are decent numbers for a home Internet connection, but to have it through this little unit the size of a drink coaster via 5G cellular? Darn impressive, and eminently usable. Indeed, my kids took advantage of the network performance by watching a lot of Netflix shows and movies while relaxing. Not once did we have performance issues, though sporadically it would drop the connection and re-establish it. Annoying, but self-correcting after a few seconds.
WORKING WITH THE NIGHTHAWK 5G UNIT
There are a couple of ways you can interact with the AT&T Netgear Nighthawk 5G unit, the most obvious and easy of which is on the unit itself. This is great for tweaking settings, of course:
You can also update the firmware on the unit through the 5G connection, something that's important with this type of device.
On the main screen you can see your network name and password (in the clear):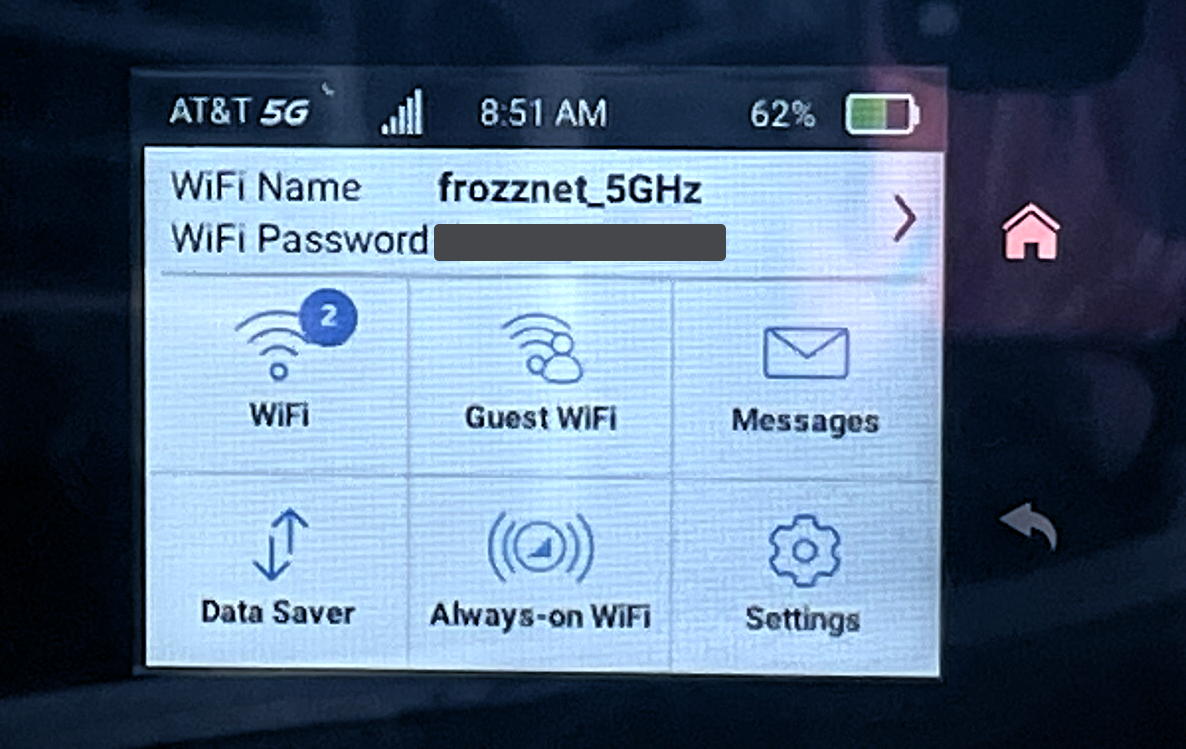 Notice that it shows how many devices were using the wifi (Wi-Fi 6, if you're curious!) connection and that the HOME and BACK buttons are part of the unit, not on the display at all. Helpful for navigating the system.
The other ways you can access the unit are through the Netgear mobile app (make sure you get the right version; check the manual included with your Hotspot to see which is which) or, easiest of all, through the Web: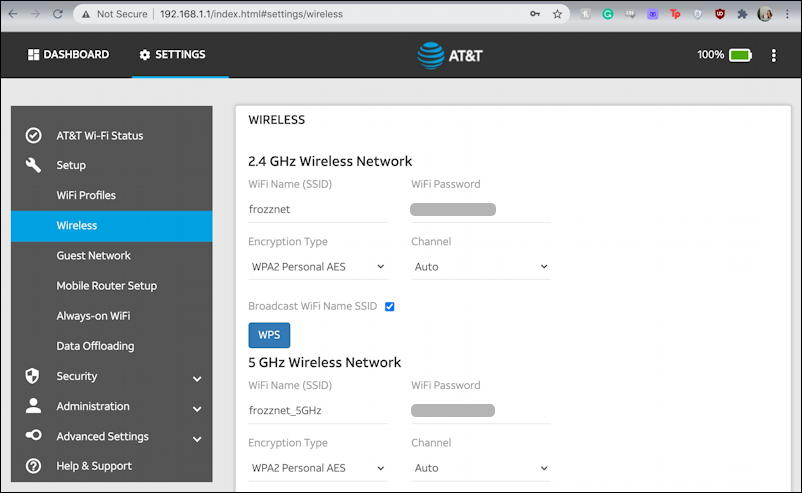 Connect to the Nighthawk, then go to either https://attwifimanager [without any .com] or 192.168.1.1 and you can access all the settings, change the network name and password, and much more, all in your Web browser. Super easy.
PRICING AND CONCLUSIONS
Now the bad news; when you're on a metered connection of any sort, you suddenly realize just how greedy all your favorite sites and apps can be. AT&T offers hotspot plans in various pre-paid allotments and you'd be surprised how little that lets you do – particularly if you want to stream movies! – before you run out. What we've figured out is the worst culprit, however, is something you don't even see: cloud backups of your devices. Unfortunately, there's no easy way to say "don't back up everything" so it's something you might have to turn off program by program. I've certainly warned my kids to disable iDrive cloud backups before we go on a metered connection, then remind them to re-enable it once they're back home.
AT&T currently offers two ways you can acquire the Nighthawk 5G: Either a payment plan of $14.17/mo for 36 months or you can buy it outright for $509.99. There are two hotspot data plans: $50 for 25GB or $75 for 40GB. Go over and it's $10/2GB. The good news is that you can freeze your account at any time, so I could easily have the unit off all winter, then buy another month of data for when I'm back at the Lake again. You can learn more about pricing at the AT&T Wireless Netgear Nighthawk 5G info page.
Of course, there are other avenues for acquiring a Nighthawk 5G hotspot, including eBay, but you'll want to make sure that either it's the AT&T version so you can use it with your AT&T account (you can bring your own hardware) or otherwise matched to whatever service you opt to try.
HOW THAT PRICING WORKS OUT…
Is it worth $509.99 + data cost to have fast Internet for a month or two every year? Depends on your needs and the cost of other options, of course. Given that our cheapest Internet service option at the Lake of the Ozarks is about $60/mo, that's actually going to cost more in a single year than buying the hotspot and a month or service. Factor in two months of use each year for three years and it'd be $959.99 for the hotspot (calculated as $509.99 + 3 years of 2 months * $75/mo) versus a whopping $2,160 for the cable Internet ($60 * 36). Or, looking at it another way, $39.99/week for the hotspot versus $90/week for the cable Internet. The Nighthawk also offers us another option for connectivity anywhere, too, from an overpriced Vegas hotel room to a friend's apartment to an RV or campsite.
Overall I'd have to say that for our usage case, this Nighthawk 5G is a huge win. Not just by the numbers, but the fact that it's so easy to work with, super fast, and easy to tote about as we explore various parts of Missouri and beyond. If only our devices all had a "freeze all cloud backup services" button…
Disclosure: AT&T Wireless loaned me the AT&T Netgear Nighthawk 5G Hotspot Pro, model MR5100, and a pre-paid data plan to try out, test, and ascertain how it worked in the middle of Missouri. Thanks, AT&T. You're welcome at our house at the Lake any time!