I have a sister in law who is likes to pick fights online and I can't stand when she responds to my posts. But I can't unfriend her because of family politics. What can I do to minimize her impact on my Facebook feed?
While the most obvious answer to this question is always "just unfriend them" or, in extreme situations, "block them", I completely understand family politics and the social pressure to be open and connected to everyone. However much their views might be completely opposite to your own. This is why holiday visits back home can be so difficult: It's not hard to deal with Uncle Bob's crazy politics from a distance, but when you have to sit in the same room and listen to him ramble…
As a social network that seeks to model our personal and family social circles, Facebook faces the very same challenge. If you never engage with someone else's posts (don't like them, comment on them, share them, click to read the hidden comments, etc) then that person should eventually fade off of your newsfeed. But that doesn't stop Uncle Bob from showing up on your posts, leaving banal comments (or worse) and you otherwise having to know they're reading every $#%@#% post you make.
Fortunately, Facebook has a secret timeout feature that will restrict what a friend will see of your posts and shares, though it's not so easy to learn about. Called "Restricted" it's just what you want. Let's go through the steps with my friend (and convenient guinea pig) Aaron.
To start out, here's the top of a post of his that showed up on my timeline:

This is important because his name allows me to control and change the nature of our digital Facebook relationship. Move the cursor over the name and a window pops up with more information about him: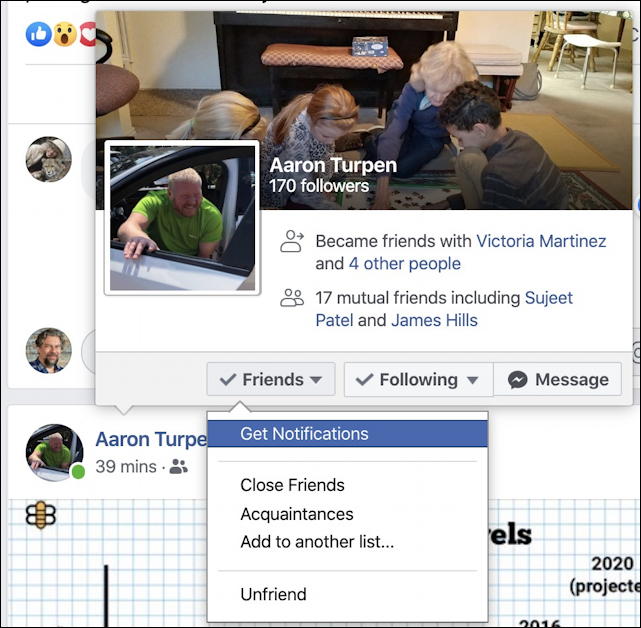 More importantly, as you can see above, is the "Friends" menu: I can actually change the nature of our digital friendship to 'close friends', 'acquaintances' etc. While these aren't particularly well defined in the Facebook world, much of what they do is influence the likelihood that their posts show up on your timeline. But they do more, which is the key idea here. Choose "Add to another list…" and you can see that there are more options: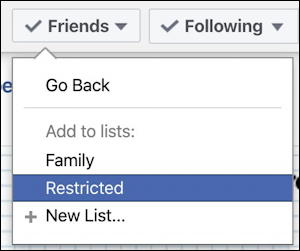 It's this "Restricted" list that we want to investigate more closely. So you can add them to the list from this spot, but let's come at it from a different path so there's a bit of help from Facebook to know what it does.
Close up that pop-up window and on the left side of your Facebook page, look for this menu: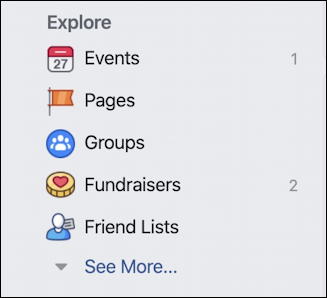 You probably haven't ever clicked or tapped on "Friend Lists" to see what's there, but that's exactly what we're going to do. Choose "Friend Lists" and you'll see a whole new area of Facebook: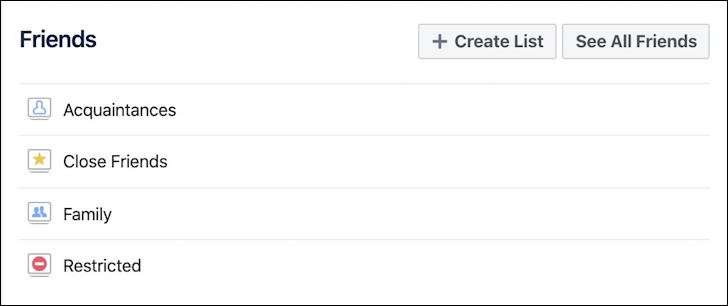 This is where you can manage who is in what friend list if you use them. The lack of details (how many are on each list for me?) suggests this doesn't get much attention back at Facebook HQ, but it's still useful. Notice, for example, the + Create List button: you can create a new list for your subsequent Facebook posts and interaction. A list like "Sorority Sisters" or "BBQ Masters" or "Coworkers".
Focus on "Restricted" instead, however. A click and you'll get a little bit of an explanation:

Sounds promising, as long as you aren't making 100% of your posts public, in which case it might be of less value. Still, being able to put that sister-in-law into what is essentially the "public, we're not friends" bucket is at least a step in the right direction. A click on "Learn More" and there's a bit more explanation in the Facebook help page:

Keep in mind that this isn't the same as blocking them but instead is much more benign, much more behind the scenes. Useful, really!
To add someone to the Restricted list just go to the On This List box and type in their name: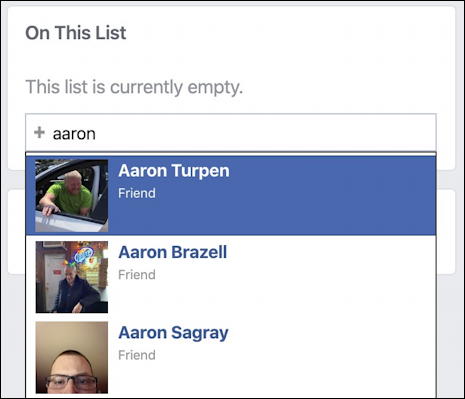 Aaron is now in my digital Facebook timeout and the best thing is, he has no idea that's happened. Anything I post for just Friends he won't be able to see and therefore won't be able to comment, argue, spew his vitriol, etc. (In fact, Aaron is a lovely chap, we're just using him as a convenient demo here!)
Want to remove someone from your Restricted list, or any other Facebook list? Just get to the view where you get thumbnails of each list member:
Move the cursor over their picture and an "X" shows up. Click it and they're off the list. Done. Easy.
Pro Tip: I've been writing about Facebook since it was first launched. Check out my extensive Facebook help area for tons of useful tutorials and don't forget to follow AskDaveTaylor on Facebook too!