Right around the election I unfollowed — but didn't unfriend! — a number of people on Facebook. Now I'd like to have them show up on my newsfeed again. How do I do that?
You are by no means alone in wresting control of your Facebook newsfeed from the algorithms that the system uses to decide what you should find interesting. In fact, since it's such a self-reinforcing loop, there are times I feel like the vast majority of my Facebook news is from a tiny subset of my circle of online friends. And I'm right. It's hard to interact with or create "engagement" with content that you never see, right?
So what you're suggesting is a smart step towards having the people you want showing up on your newsfeed. The other half of it, however, is that you need to actually interact with content from the people you want to have in your newsfeed. Kinda daft, but once you have more than a dozen or two friends, it'd be crazy to try and read your newsfeed without some sort of algorithm that tries to figure out who you like and want to interact with and who you are fine having off the proverbial radar screen.
Also worth knowing is that in the modern world of Facebook "following" someone is quite different from "friending" someone, and each is, rather surprisingly, independent of the other. So you can follow someone on Facebook without being friends, and you can friend someone and then unfollow them, and they'll never know that their brilliant missives aren't even in your newsfeed.
It's the latter situation that we're looking at here people with whom you are friends, but who you've unfollowed. And that you can find from the "News Feed Prefrences" menu on the top right of your Facebook page: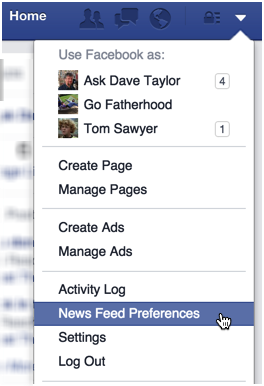 Choose "News Feed Preferences" and the next window makes it immediately obvious how to proceed: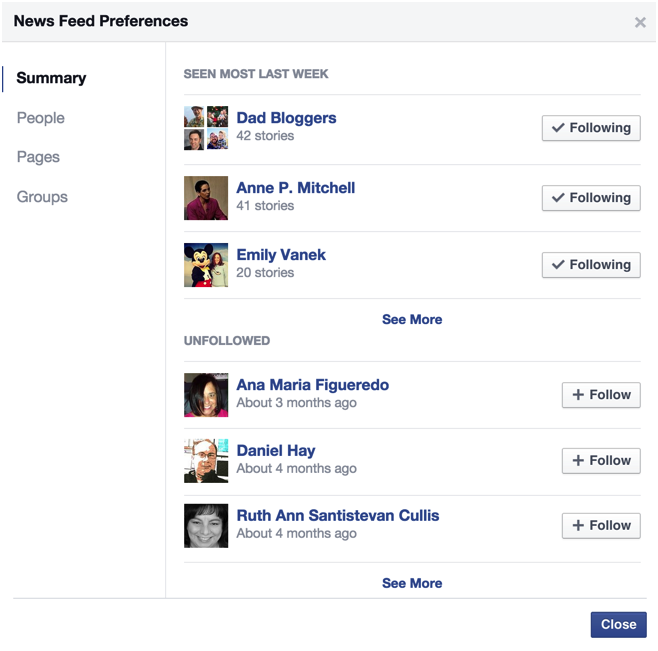 Because I interact with a lot of Anne and Emily's content, they are the two people I see the most in my newsfeed, as it shows.
Lower down, you can see that I unfollowed my friends Ana Maria Figueredo, Daniel Hay and Ruth Ann Santistevan Cullis, though they don't know that and get no indication from Facebook that I've done so. Well, except if they read this article, I suppose!
To re-follow someone like Ana Maria, all I need to do is click on "+ Follow".
Done. That's it.
Just remember you also need to ensure you engage with their content for them to show up regularly in your Facebook newsfeed too.
Looking for more help with Facebook? Gotcha covered: Facebook help. Or just become a fan: Ask Dave Taylor on Facebook.