I'm bored with the ringtones in Google Clock on my Android phone, though I still use it to wake up every morning. I know I can use music, but that won't work. What I want is my Mom saying "get up! you're going to be late!". Can I set a custom recording as my ringtone??
Given that alarms are one of the original features of mobile telephones, it's surprising that there hasn't been much of any innovation in this category from the major smartphone manufacturers. Sure there are better speakers and more ringtone options, but innovations like having your phone be a wakeup light that gradually brightens? Or even alarm sounds that gradually get more insistent as you ignore the alarm? Heck, what about having custom alarm sounds that are easy to download or record?
Well, finally, on Google Pixel phones running the latest version of Android, you can indeed record your own custom sounds for alarms, so you could actually record dear old Mum and have that wake you up as desired. It's a bit rough around the edges, but update your phone and apps and you should be able to test it out. Here's how…
SET AN ALARM IN GOOGLE CLOCK
Once your phone is fully updated find and launch "Clock". The icon is in the middle:

Launch Clock and tap on "Alarm" along the bottom. I already have two alarms set, one for weekdays, one for weekends: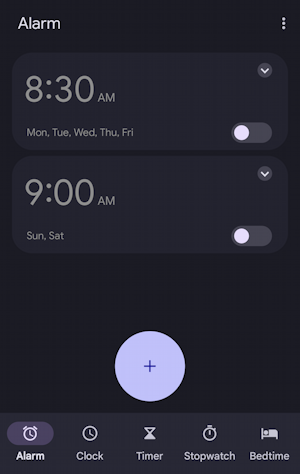 Tap on the tiny "v" button on an existing alarm to see more information about it. Don't have any alarms setup? No worries, tap on the big "+" instead to create a new one.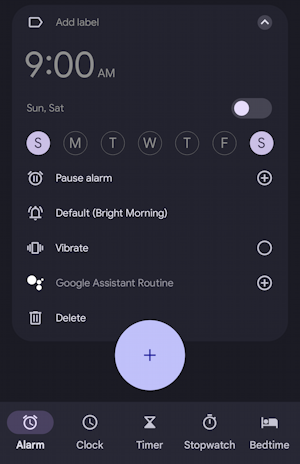 The slider along the top enables or disables the alarm, and you can see that I have it set for the default audio "Bright Morning", and have disabled Vibrate. It's easy to set up a Google Assistant routine too, and with a smart home setup you could ostensibly have your bedroom lights flip on, the coffee pot start percolating, etc.
Tap on the current alarm sound and you'll get to a menu of choices:
If you aren't seeing Recorded sounds and Your sounds on this view, it might be because you aren't running the latest versions of both Android and Clock, or it might be that you need to download voice recorded if it's been deleted. Not on a Google Pixel phone? That could slow you down too.
RECORD A CUSTOM SOUND FOR ANDROID ALARM
Hopefully, however, you see something very similar to what I show above. Tap on "Record new" and you can hold your phone up to your Mom and ask her to say those words you long to hear every morning! 🙂
Because it's recording whatever the mic picks up, you could also try to record your dog barking, cat meowing, or your significant other saying something amusing. Or a child screaming! That'd get you up in the morning faster than anything!
Tap on the red button when you're done, and choose "Save". It now shows up as one of "Your sounds":
Unfortunately, there's no way to rename these audio captures but hopefully, that's something that the Android team will add in another update soon enough. By default, the newly recorded audio will be the new default sound for this particular alarm, as is shown in the summary when you back up one screen:
If you get tired of the voice recordings, you can also choose music too, as noted by the music source options for the alarm sound as shown in an earlier capture. For example, if I tap Spotify…
Easy enough, and you should get different music every single morning, rather like the clock radio that wakes up Bill Murray in the classic film Groundhog Day. But I digress…
Pro Tip: I've been writing about Android forever! Please check out my extensive Android help area for hundreds more useful tutorials and guides! Thanks.