Starting to work with Ubuntu Linux on my old PC and want to add a new user for testing. What's the quick and easy way to do that?
First off, congrats on learning Linux and picking Ubuntu as your platform of choice. Nicely done, it's my fave flavor of Linux too!
What's critically important to remember as you go through the world of Linux is that it evolved from a previous OS called UNIX and that was a command-line only system for many years before it picked up any sort of graphical interface. Kinda like the really old versions of Windows back when it was called "MS-DOS", actually. All these decades later and it means that most everything you can do from a fancy graphical interface you can also do on the command line.
I'm biased about this because I write about how to use – and program – the command line for Linux Journal every month and even have books on the subject, like the just published Wicked Cool Shell Scripts (2nd Ed). Quite often, the command line interface is much faster and more flexible than the GUI or graphical interface, and adding a user is a splendid example of this.
Open up a Terminal and you can add a new user with just a few keystrokes: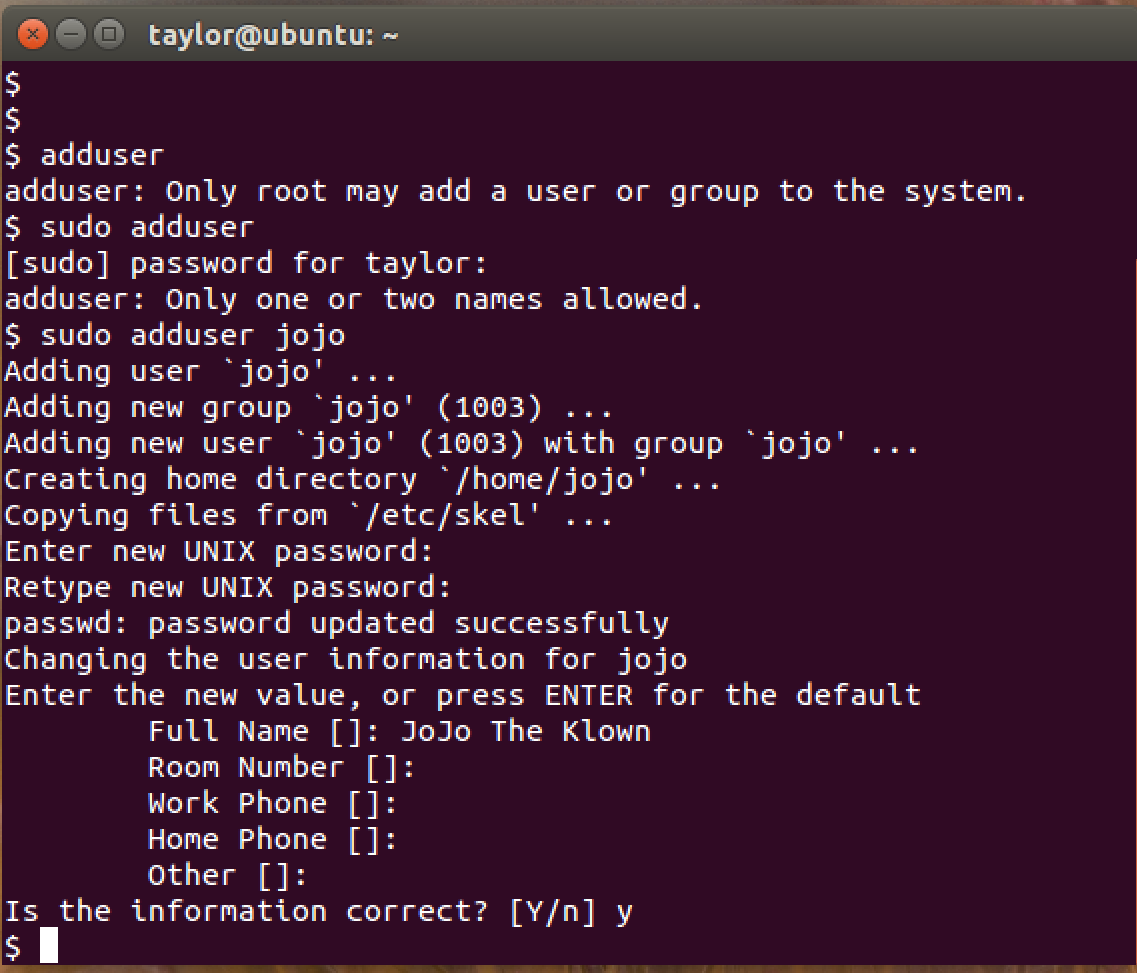 Basically you need to type "sudo adduser username", then your password (since only admins can add users). Then it prompts for their initial password and you're done. Sure, you can add a full name, room number, work and home phone, etc, but those are all entirely optional. A dozen keystrokes, a confirmation that the info is correct and BOOM! done. "jojo" is added to the system.
On the other hand, I don't want to make you deal with the command line if you'd rather not go that route. Instead, let's use the help system to find out how to add a new user the GUI way:
There ya go, match #1: "Add a new user account". Very promising. Click on it and you'll learn that account management is accessible from the System Settings… So, choose that from the system menu accessible from the gear icon at the very top right of the screen:
Turns out that, like a Mac or Windows system, there are a lot of different system settings for an Ubuntu Linux system:
What you seek is on the lower right: User Accounts.
Click on "User Accounts" to proceed with your task of adding a new user to your Ubuntu Linux computer.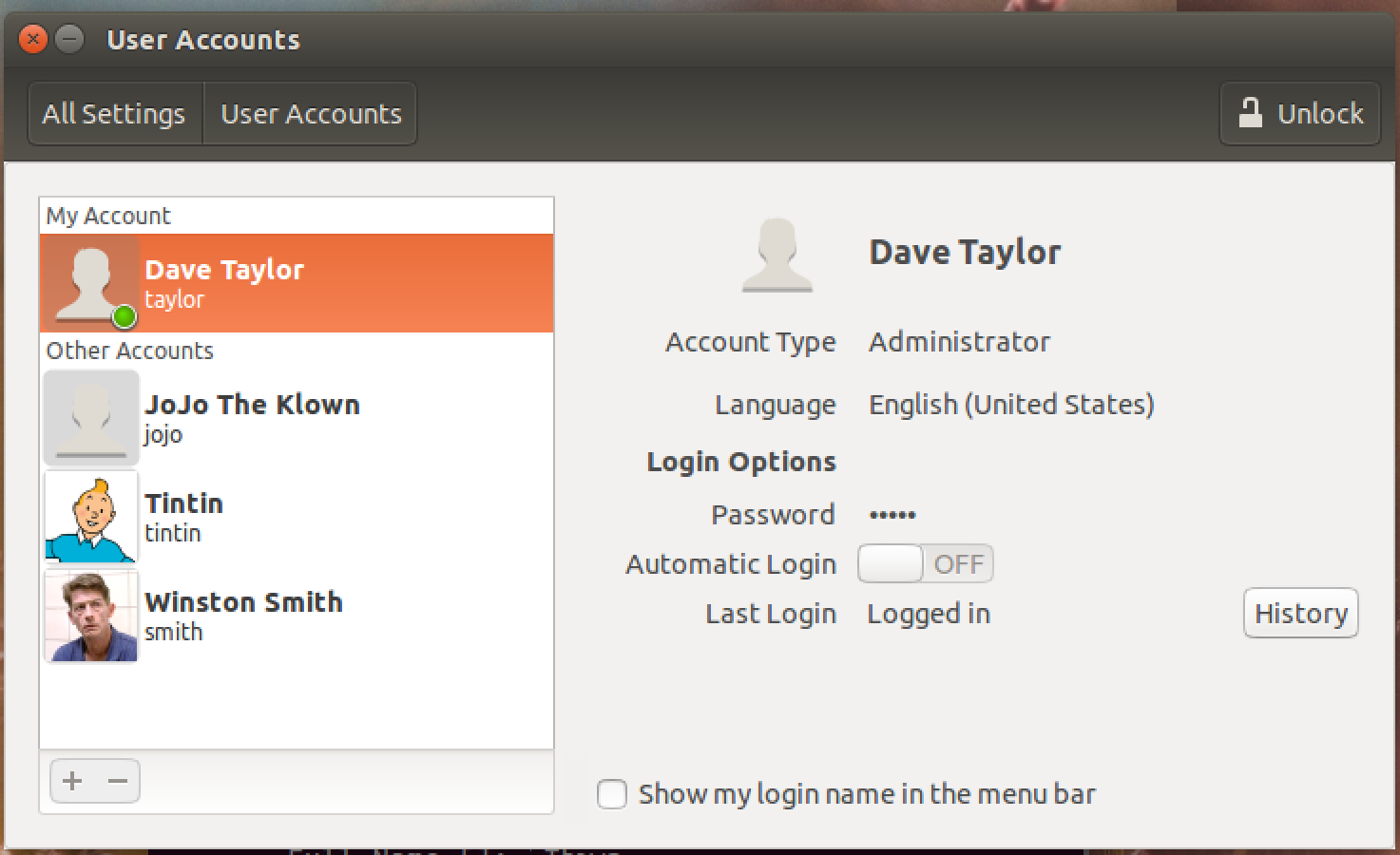 You can see that JoJo the Klown has been added from the earlier command line interaction (though without a photo set. Oh well, the default icon is a bit like a scary clown face, so maybe we can stick with that!)
To add a new user you'll need to click on the "+" on the lower left, but before you do, click on the "Unlock" button on the top right and enter your administrative password. If you don't, the "+" click will be ignored, which can be a bit confusing!
Once you've validated yourself, though, here's what you get with a "+":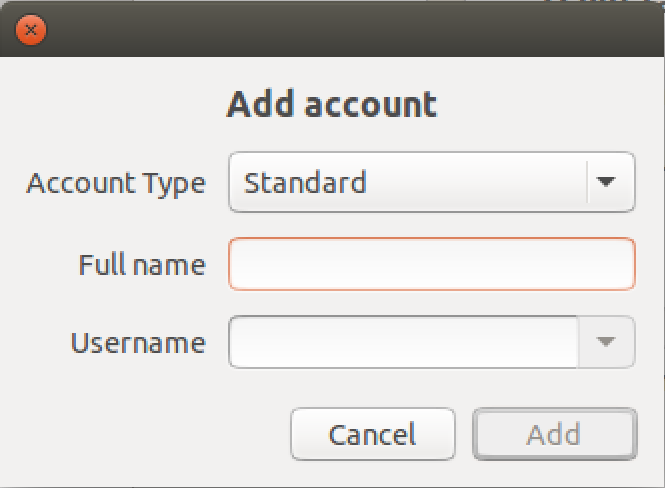 Here you can enter the full name and username: pay more attention to the username because that's what they'll type in every single time they go to log in, or you switch to that account. Traditional UNIX / Linux would suggest no more than 8 characters, but it's not a big deal if it's longer nowadays.
Click "Add" once you're happy with what you've set, then click on the generic icon to gain access to some preloaded options:
Frozz the Cat should have a cat face. Okay, so there's at least a cat eyeball. That'll work!
A click and we're ready to go. Or are we? Turns out that by default accounts are created with no password set, so they aren't actually login accounts. To fix that, click on the "No Password" on the new account info. You'll then be prompted to enter a password:
Enter a good, complex password (at least 8 characters long, ideally upper & lower case letters, a digit and some punctuation). Click "Change" and you're done.
Now log out and you'll see the new account or accounts as options: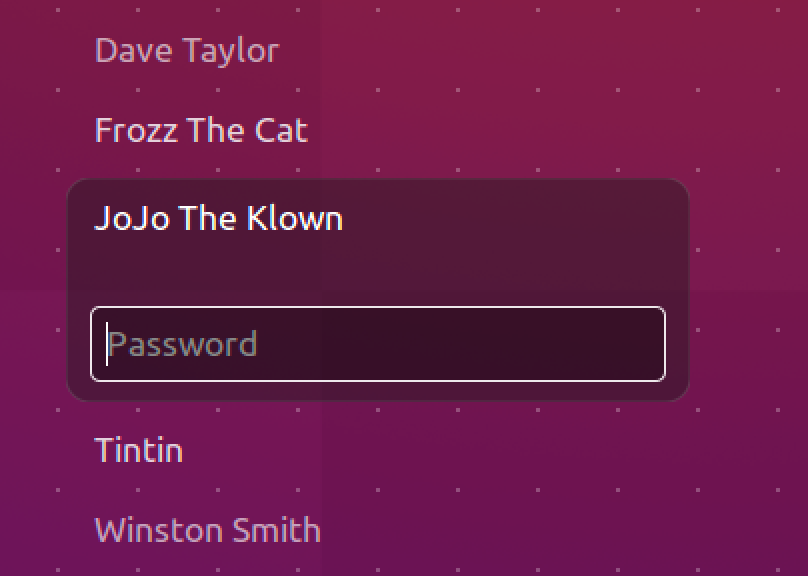 And there ya go. See what I mean about the command line being easier and faster? 🙂