I run the blog for my church on Wordpress and I've got everything figured out, except I've been told I need to post the church roster on the blog, but keep it password protected. How can I keep the data private within WordPress? Can I have a password-protected post?
There are two ways you can post password-protected content within the context of WordPress, actually. The more straightforward approach would be to actually create a password-protected PDF document, but then the problem is that every single time anyone opens that file, they'll have to enter the password. That's going to become quite a pain and people will likely complain, so that's not a great solution.
The other solution is to use the WordPress "password protected" post option, and that's going to be a much better solution because once parishioners have downloaded the document, they can open it as many times as they want without ever having to enter another password again. Further, as new people join the congregation, they too will be able to go back to the protected post and download the document if they simply know the post password.
And the best thing? It's easy to set up and you can link to as many documents as you want or even post information that's not for the general public without any specific documents linked. All safely protected behind whatever password you specify.
To create a password protected WordPress post, go to WordPress and create a new post as usual. But on the right side, look for this scheduling information area: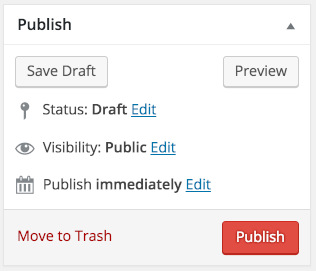 The field that you want to change is "Visibility". Click on the "Edit" adjacent to where it says "Public" and you'll see that there are actually three options:
You want to choose "Password protected", so click on that option: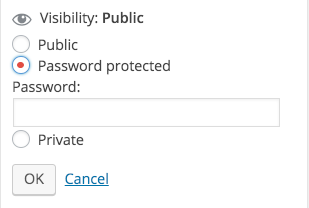 Here you can see where to specify the desired password. Simply click on the text input field and type in whatever word or phrase you'd like: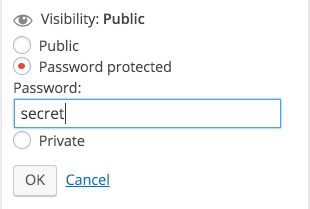 Click "OK" and when you're ready, publish as usual.
That's it.
Now the post on the blog will look like this:

That's the home page. Click on it and you can go to the individual post page, as always, and here you'll find a password entry box: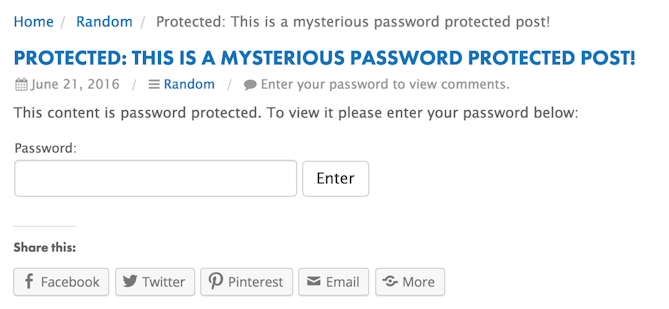 Enter the password properly and you're in! The post is shown as you wrote it:
So there ya go. Pay attention to the fact that the title of the post will be shown to everyone, so make sure that the confidential or private information is in the body of the post, not the title!