When I check out my Facebook group it now tells me that I can add a banner image or photograph to the page. Nice, but what's the easy way to do that and where do I get an image from?
As you know, Facebook recently changed the elements of a Facebook group, something you don't realize unless you're an administrator for the group. In fact, if you're not a group admin on Facebook you'll look and look and never see what we're talking about! 🙂
Between Twitter, Facebook, Google Plus and every other social media site, these portrait / top banners seem to need all sorts of different sizes. In fact, since Facebook doesn't tell you the optimal size of a banner graphic or photo for a group graphic. Fortunately, we have the Internet, and I've done the work for you. A Google search reveals that the banners are exactly 801 x 250, a very strange size really.
A bit of experimentation reveals that 800 x 250 works just fine too, as you'll see in a moment.
In fact, let's have a look!
On one of my Facebook groups, the top of the page changed one day to this:

You can use one of your previous uploaded photos, but let's instead find an image instead.
To most easily do that, use Google Image Search, enter a search term, then click on "Search Tools" and you can specify an exact size for matching images, as I've done here with the term "galaxy":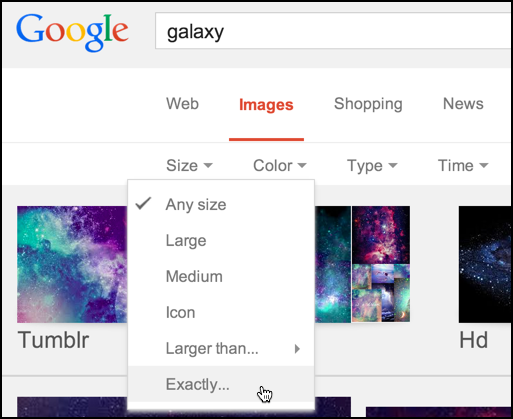 You can try 801 x 250, as I show below, but I'll suggest that you will see a lot more options at 800 x 250. Either way, it's easy enough: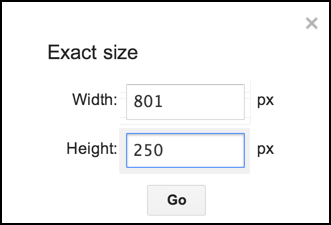 Armed with that look through the matches to your search.
Find a good one? Great. Click on it, then click on "View Original". Looks good? Right click (or, on a Mac, Crtl-click):

if you're guessing "Save Image As…" is what you want, you're right!
Then on the Facebook group page, click on the green "Upload Photo" button and select the image you just found…

Since it's exactly the right size, you won't actually be able to reposition the photo. Which means you're done.
That's it!
Need more Facebook help? I've got tons of it here. Start here: Best Facebook help.