I have a new Kindle Paperwhite from Amazon and am pretty excited about it. I want to both read ebooks and listen to audiobooks, however, and can't quite figure out how to get the audio and bluetooth all working. Can you assist?
I've also been enjoying a Kindle Paperwhite and find it works great for reading, particularly in a really dark room. That backlighting is perfect and with the brightness dialed down I can read without disturbing anyone else. Perfect. But the Paperwhite can do more than just let you read books on that cool eInk screen, it can let you listen to audiobooks too. What might surprise you, however, is that the unit doesn't actually have a built-in speaker, nor is there a 3.5mm audio jack for headphones.
The only way you can listen is through enabling Bluetooth then pairing a pair of earbuds, headphones, or even an external speaker. That's right, you can easily pair it with a freestanding little gizmo like the Bose Soundlink Flex if you're so inspired. Or you can pair earbuds or headphones since they are much more private. Your call.
For this demo, I'm going to my Amazon Kindle Paperwhite Signature Edition with my Master & Dynamic MW65 headphones. It's not that difficult…
KINDLE PAPERWHITE: FIND BLUETOOTH SETTINGS
The first step is to enable Bluetooth on your Kindle device. But even before you do that, if you're exploring the Kindle bookstore and are viewing any audiobooks (also known as the Audible library), the device will actually prompt you to enable Bluetooth right there on the info page: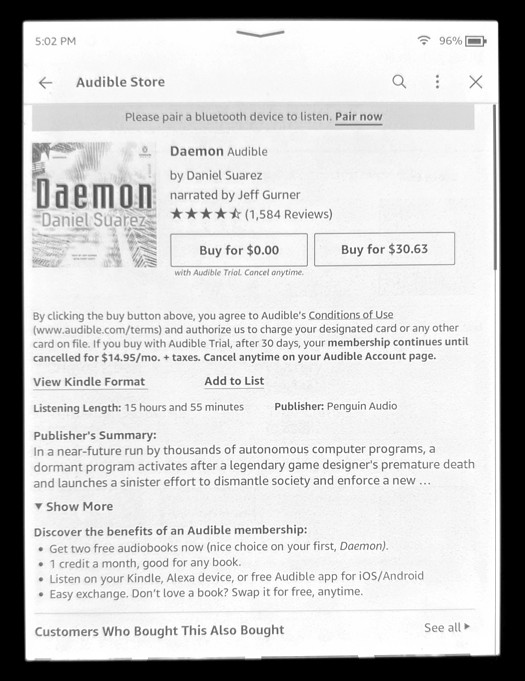 In this instance, I'm checking out the Audible edition of the terrific technothriller Daemon by Dan Suarez. Look closely at the image and you'll see a grey bar along the top that says "Please pair a bluetooth device to listen. Pair now". A handy shortcut!
Of course, you can always get to Settings from the home screen. Here's the home screen, you can also see what I'm reading: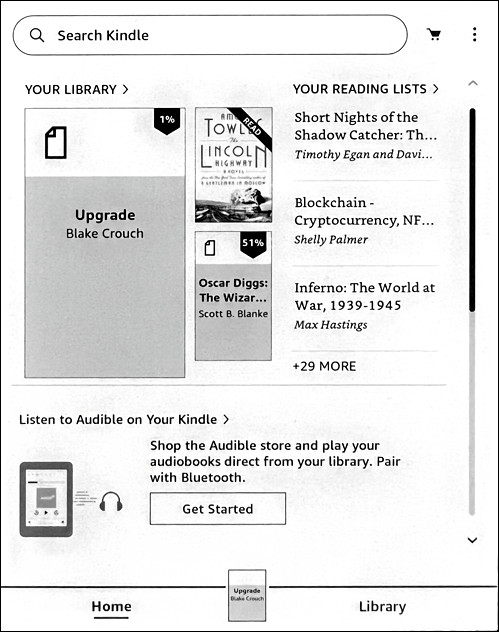 Those books without cover art? Those are early reader editions that publishers send me. Yes, it's pretty sweet!
To get to the Kindle Settings area, tap on the "•••" link on the top right. A menu will appear: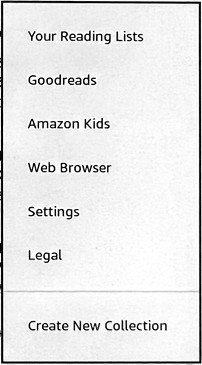 Tap on "Settings" to proceed.
HOW TO ENABLE BLUETOOTH ON A KINDLE DEVICE
Now you'll be in the main Settings screen, which looks just like this: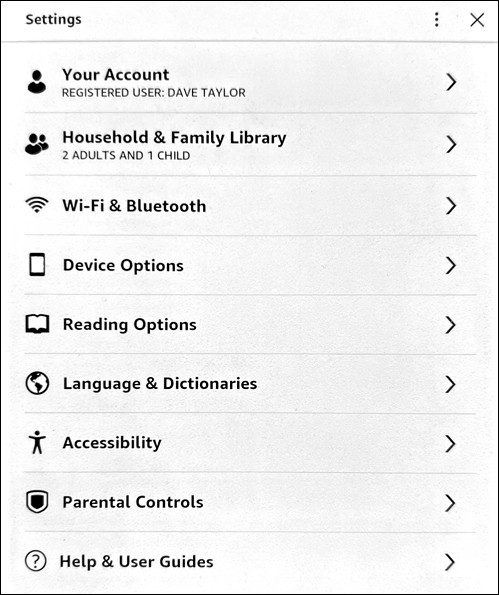 It's the third option that you want to choose: "Wi-Fi & Bluetooth".
By default, your Bluetooth is disabled, as shown: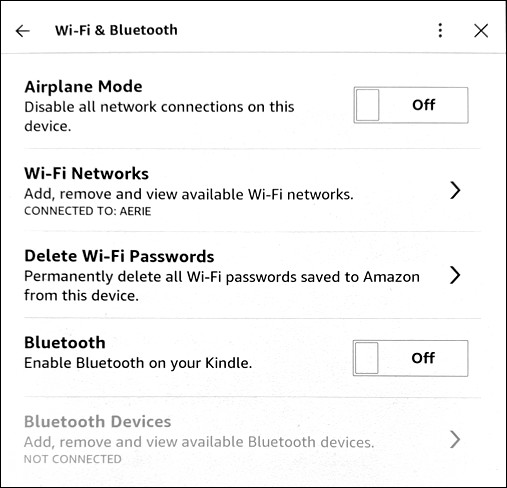 The first step you'll need to do is tap on the word "Off" in the Bluetooth box. It'll change from Off to "On":
Now that it's enabled, you can finally chose a specific device.
PAIR A BLUETOOTH DEVICE TO AN AMAZON KINDLE PAPERWHITE
This is a good time to pick up your Bluetooth device and put it in pairing mode. Every device does it differently, but a common approach is if you push and hold down the power button when you turn on the device, it often moves into pairing mode. If that doesn't work, check the instructions or user manual.
Once it's in pairing mode, tap on "Bluetooth Devices" on the Kindle and a list of options appear: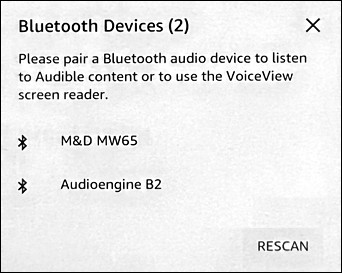 The Master & Dynamic MW65 headphones are listed as "M&D MW65", so that's easy. A tap on the matching entry on the Kindle screen and after a moment or two it'll drop you back to the main Settings screen. This time, however, something's different:
Can you see it? "CONNECTED DEVICE: M&D MW65" at the bottom. Done. Paired. Woo!
Now you can find an audiobook on your device and simply press PLAY to listen…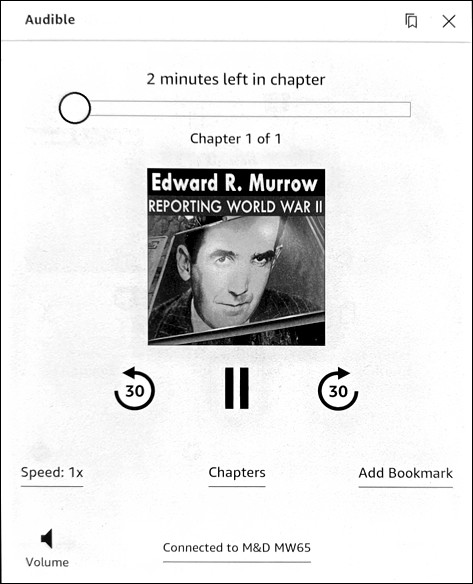 All in all, pretty cool and quite easy to work with once you've paired your Bluetooth speaker, headphones, or earbuds.
Pro Tip: I've had Kindle devices for many years and have written quite a few Amazon Kindle Help tutorials here on my site. Please take a few minutes to check it all out!