I downloaded a program onto my iMac and when I try to run it, I get an error that it "can't be opened because it is from an unknown / unidentified developer". How do I fix this problem so I can run the app?
First off, realize that Apple is doing this to help you avoid getting malware or spyware on your Mac computer. So far — knock on a convenient piece of wood — Macs have been far, far less susceptible to viruses and other bad software injected from Web sites, scam emails or similar, and one big reason for this is the vigilance of the operating system itself. Mac OS X might make some things, like running arbitrary software, tricky, but so far it's working quite well.
Having said that, there's also a certain level of central control that Apple seems to like, as is far more obvious if you pay attention to the iOS ecosystem with iPhones and iPads. Want to write a program or app but don't want to go through the app store? Good luck.
The message you're seeing is from a setting that you can turn off, but let me show you the easy way to sidestep it.
First off, when I grabbed the video transcoding app "Handbrake", here's what I saw the first time I tried to run it:
Well that's frustrating, to say the least!
To fix it, go to your Apple Menu (top left) and choose "System Preferences…"
Then look along the top for "Security":
Click on the tiny locked house icon and you'll see a lot of different options and areas to explore.
You definitely do want to explore them too!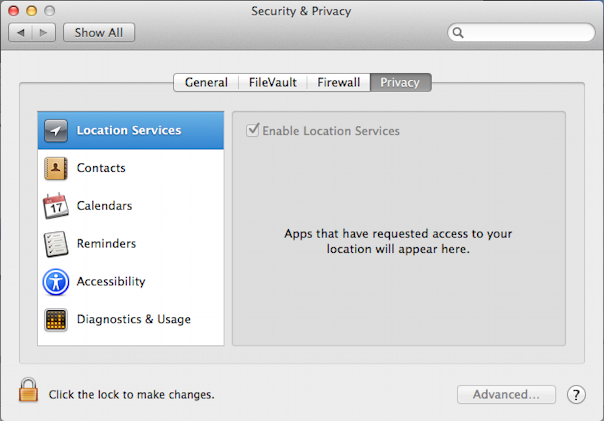 For this task, however, click on "General" to get to your security settings rather than your privacy settings.
This now has a useful warning message prominently displayed: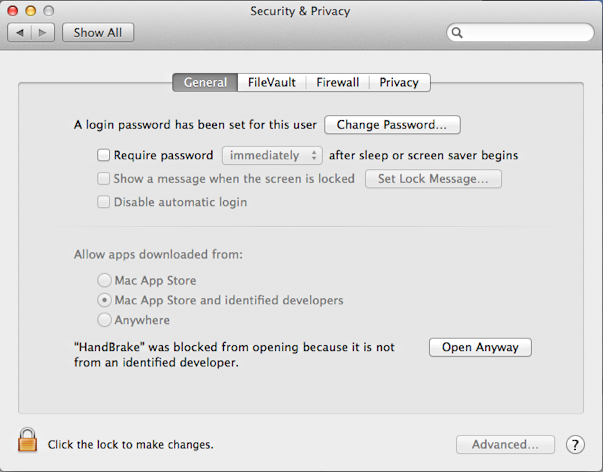 There you go, near the bottom. Mine says "Handbrake was blocked from opening because it is not from an identified developer". Adjacent is a button "Open Anyway".
Click on that button and you're good to go. Want to fix it forever? Choose "Anywhere" from the list of options on that same window that constrains allowed apps.
Now that you've said you want to open the app anyway, btw, there's still one more step…
You sure? You double sure?
Then click "Open" and away you go…