Dave! I go to a lot of concerts and love live music, but am worried about its impact on my hearing. A friend told me my Apple Watch can monitor noise levels. How do i set that up?
There's definitely something special about live music, about being able to enjoy singers and musicians performing in front of you, rather than just listening to perfected studio recordings. Even with mistakes and miscues, live performances can be really fun. But the flip side is that they can also be incredibly loud and you don't really have the option of turning down the volume so it's not quite so painful on your ears.
Well, that's not entirely true because smart concertgoers wear earplugs or even ANC earbuds like the Apple AirPods Pro that lower the volume at least somewhat. Musicians themselves almost always wear special earplugs designed for really loud environments because they want to retain their hearing too, and they're in the middle of the concert every night!
While your Apple Watch can't lower the volume for you, what it can do is warn you if you're in a loud environment and offer recommendations for how long you should stay in that environment. To set it up, you need to start with your iPhone…
APPLE WATCH APP ON THE IPHONE
On the iPhone you have paired with your Watch, launch the Watch app (I hope that makes sense!) and ensure you're in the "My Watch" view at the bottom. For me, it looks like this:
Swipe up (scroll down) until you see "Noise" as one of the options: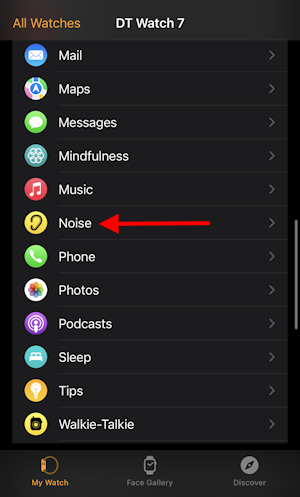 Tap on it to choose the "Noise" Settings. It'll probably be disabled: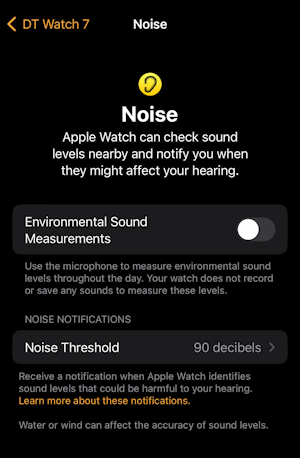 Enable "Environmental Sound Measurements" – taking into account the disclaimer that it means your Watch is now listening all the time but does not record any audio or send the audio to Apple – then tap on the "Noise Threshold" option.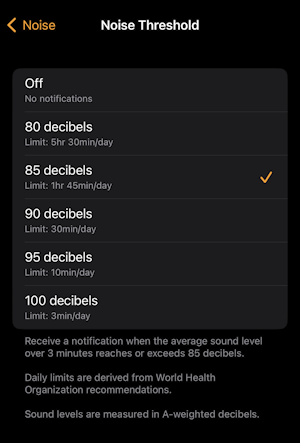 I generally have mine set to 80dB since if I'm in even a moderately loud environment, I'd rather be notified of it, but you can tweak things as needed. One good strategy is to have a low threshold and keep going up as it doesn't work for you, but you can enable 100dB (though notice the recommendation is no more than 3 minutes/day!)
That's it. You're done with your iPhone. Now grab your Apple Watch…
CHECKING NOISE LEVEL ON THE APPLE WATCH
Now that you've enabled it, go to the all-apps view on your Watch (push in the Crown) and look for the ear icon:
Tap on that and you'll go straight to the noise monitor program. After a moment or two it will report on your current noise level:
42dB of ambient noise is fairly quiet and you can see it's in the green and "long term exposure to sounds at this level should not affect your hearing". If I try in a noisier environment, however, it's a bit less benign:
85dB is fairly loud and will definitely be unpleasant after a period. The Watch app warns that it's loud and repeated, long-term exposure may damage your hearing. Head to a concert and you might be at 100dB or louder, which will definitely cause the app to complain. Time to be careful!
Pro Tip: I have quite a few Apple Watch tutorials here on my site too. Please check out my Apple Watch Help for lots of useful content in this regard!