I seem to have misplaced my Apple Card yet again. Not the app – that's on my iPhone – but the physical card. My question: Is there any way to disable or lock the card so it can't be used that I can then disable when I do find my card again?
There's a big difference between lost and stolen, of course, but generally speaking, you have a lot of control over your Apple Card, both the digital version and the physical card. For example, you can delete the app from your iPhone if you're about to send it in for repair, then re-install the app and have it automatically connected back to your account when the phone returns.
The physical card is relatively secure too because the card number information isn't printed on the card itself. Of course, it still has a chip and can be swiped so someone grabbing a copy of it is still problematic. Except you can actually lock down your card from within the iPhone app, which is really useful. Let's have a look…
First off, as always, go into the Wallet app and find your Apple Card:
If you haven't gone to the app before, it's the groovy lavender card image (tho it seems to change colors each month so might not be the same color in your particular app). A tap and you'll see your balance, if you have a payment due, etc:
To get to the settings and setup area, tap on the "•••". To proceed, you'll have to verify your identity (probably through face recognition). Once you've done that, you'll get to the admin screen:
Hopefully you've visited this part of the app before, actually and that there aren't any surprises with your credit limit, outstanding credit, etc.
Swipe down a bit for more information, including the "Physical Card" section, wherein exists the link you want: "Lock Card".
Here's what that looks like: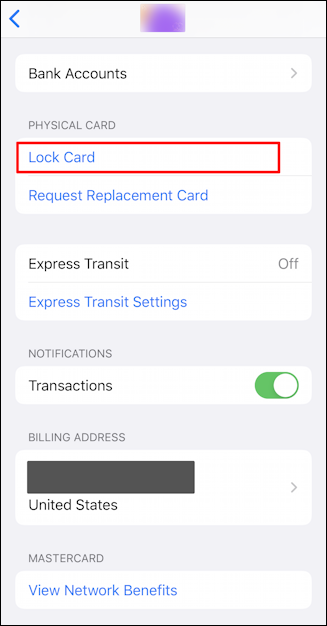 It's literally just a tap and the card's locked. Super easy, really.
Wondering what Express Transit is, by the way? I was too. It's described by Apple as "Quickly pay for rides with Apple Pay using Express Transit on your iPhone and Apple Watch without having to wake or unlock your device, or open an app. You don't even need to validate with Face ID, Touch ID, or your passcode."
Once you've locked your card, that particular entry will switch to "Unlock Card":
To unlock your physical Apple Card, by the way, you will need to validate yourself again. A tap and it doesn't just automatically unlock the card. It prompts:
Once you've entered your password, the card will unlock and you're good to go. And spend money. 🙂
Pro Tip: I've been writing about the Apple Card since it was launched, along with a lot more about shopping online, etc. Please check out my Amazon, eBay and Online Shopping Help for more tutorials on this subject!