Text on Web pages and in apps keeps getting smaller and it's often hard to read on my PC screen. Is there a way to make all the text bigger by choosing a different font or similar? Thanks.
While it's theoretically possible that the apps you use and the Web sites you visit are using smaller text than a few months ago, odds are better that you're just experiencing it differently. Bought a new display? If that's incorrectly set everything could be smaller too. Fortunately, changing font size and overall display size is a lot better than in the old days of Windows where you'd just set your display to a lower resolution!
In this tutorial, I'll show you how to change the font size in your Web browser, change font size across the Windows OS interface, and use Accessibility features to change the font size in just about every app. As a bonus, your system already has something called Magnifier, so I'll show you how to use that too since if it's just occasionally you bump into something illegibly small, Magnifier is a great solution.
BIGGER TEXT IN MICROSOFT EDGE
When you're viewing a Web page you can always use the keystroke sequence Control + "+" and Control + "-" to zoom in and out (the "+" and "-" are also duplicated on the "•••" menu in Edge. Want to make everything bigger? You can do that too.
Go into "•••" > Settings > Appearance — or use the shortcut edge://settings/appearance — then scroll to the bottom of those many, many options. You'll see a Fonts section: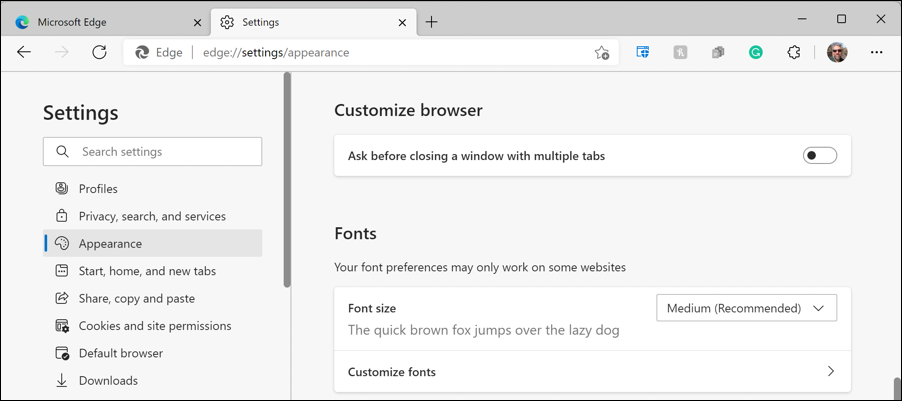 Choose a bigger font from the menu (the default is "Medium") and restart your browser.
INCREASE SIZE OF WINDOWS 11 TEXT FONTS
If it turns out that text in File Browser, on Desktop icons, etc, is also seeming a bit small nowadays too, you can change the size of the display font within Windows itself too. We'll leave Edge behind and go to the Windows Settings area. Easiest way to find that is to look for the Settings icon in the Start Menu area.
Use the handy search feature in Settings to look for "font":
It's the second option you want: "Make text size bigger". Choose that and you'll be here: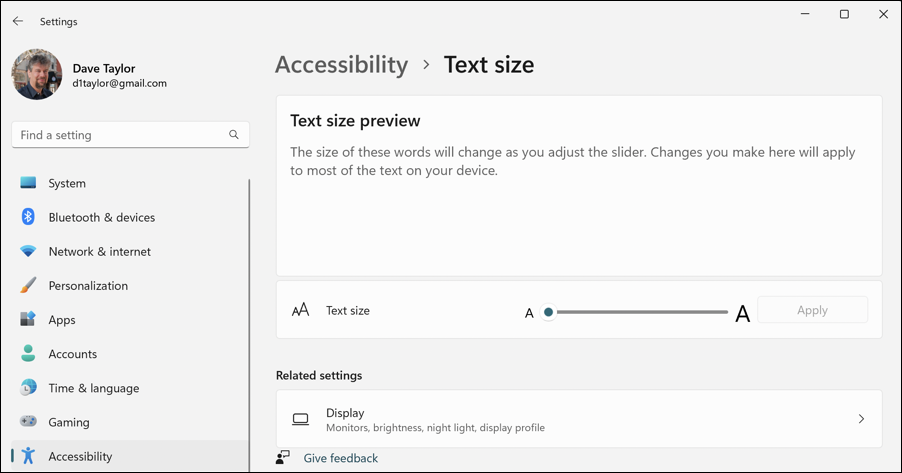 As you can see, the text size is actually a slider. I have mine, by default, all the way to the left, but if you click and slide the dot, you can make the text quite a bit bigger:
Want to try that change? Click on "Apply". Note, however, this won't necessarily fix every app and program you use on your PC. Some of them don't check system font size before they run, so effectively ignore this change, alas.
CHANGE DISPLAY SCALE TO INCREASE FONT SIZE
Another possible approach if Accessibility > Text size doesn't work for you is to go into your Display settings. This time we're in System > Display:
You can see that I have custom scale set, but either way, you can still proceed to change the "Scale" of your display text, apps, etc. Click on the ">" at the end of that entry. Now you can change it to see how it affects your system view:
Note that you need to restart once you've made a change to see how this affects things. I have mine set to 200% without any seeming adverse effect, so you can probably do so too and see what, if any, apps actually change their appearance.
USE THE MAGNIFIER IN WINDOWS 11
Or if it's just once in a while you want to zoom in on something on your Windows display then you need the Magnifier. It's a great feature that few people know about! Simply click on the Windows key and the "+" key simultaneously to launch it. A floating toolbar appears:
This takes a bit of getting used to, but either click on the "+" to zoom in or simply use the Windows + "+" shortcut to zoom in. Yes, Windows + "-" zooms back out. Zoom in a bunch and your entire display has a small subset of the screen, but really big. This is my ENTIRE display:
No Taskbar, nothing, it's all off screen because I'm at 300%. To move around, slide the cursor to an edge and it'll auto-scroll. A bit disconcerting at first, but easy to figure out. Done? Use Windows + "-" until you're at 100% zoom, then click "x" as always to quit an app.
Hopefully between all of these options and settings you'll be able to improve your experience with your Windows PC!
Power Tip: I've been writing about Windows for many years and have an extensive Windows 11 help area. Please check it out to find lots of additional tutorials and guides while you're here. Thanks!