People spend a lot of time on mobile devices, and I'm no different. Across my various devices, I probably spend upwards of 4 or 5 hours on a typical day. Overall, the average user is now on their smartphone for 5-6 hours daily (according to Statista.com). If you're asking me this question, odds are you're on the high end of this range too, particularly in the evenings and possibly even with your device usage getting in the way of a good night's sleep.
The good news is that Android does include an app usage limiter, though it goes by a strange and unintuitive name. Not only that, but there are other settings on your Android phone – and Android tablet – that can help you manage usage and avoid having it interrupt you late at night. Let's get to it!
SET UP APP TIME LIMITS IN ANDROID
The area in the Android Settings app that lets you enable and customize these settings is known as "Digital Wellbeing & parental controls". Didja know that Android had parental controls at all? Most people don't. In any case, go to Settings and swipe down to find this new entry: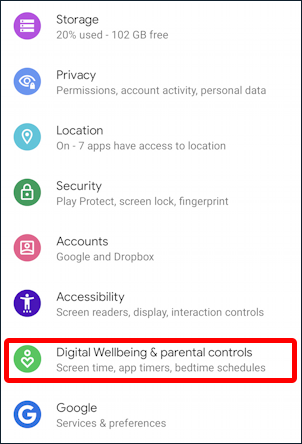 Once you're in Digital Wellbeing & parental controls you'll see a bar graph that shows you how much time you've spent on your device so far today.
I'm setting this up early in the morning, so my usage is pretty low at this point: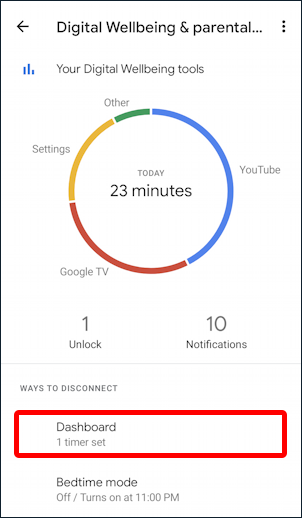 The app limit timers are part of the Dashboard, a rather confusing label that perhaps will change in the next release of Android (to be something like, I dunno, "App Time Limits"? 🙂 )
Tap on "Dashboard" to proceed and now you'll see time spent on phone is shown on a daily basis to offer a sort of heads up on your device usage: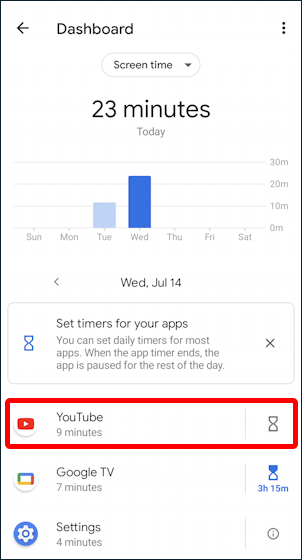 Apps that you've already used today will show up at the top of the list with an indication of how much time you've spent. Other apps are further down the page and accessible through a bit of swiping.
I've used YouTube for 9 minutes, and Google TV for 7 minutes. Notice also that I've already set a 3 hour, 15 minute timer for Google TV, long enough for a movie and TV show episode or so.
To set up a timer for the YouTube app, tap on the app name on the list…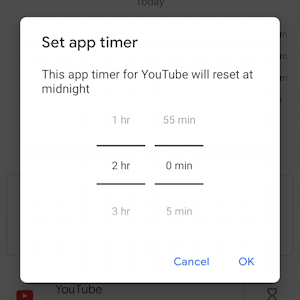 Now you can set up your time limit. Remember that it resets at midnight, so if you're a night owl, you might just find yourself waiting until midnight and then accessing the app again (do these developers not have teenage children?). No way around that, however, so a tiny bit of self-discipline might be required too.
Once the app timer limit is set, a tap on "OK" installs nad. Done.
Now when you're getting close to the time limit, you'll see: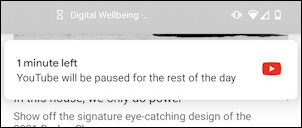 And then once you do hit your time limit, the app shuts down and you're presented with this notification: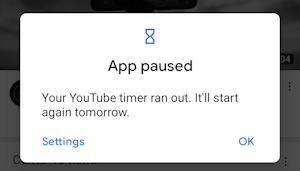 You can circumvent it by going into Settings and disabling the timer, but as a way to remind you that you've already spent plenty of time on the app and might want to do something else, it's pretty darn helpful.
SET UP YOUR ANDROID PHONE FOR BEDTIME
While we're in this area, go back to the main Digital Wellness & parental controls screen and tap on the "Bedtime mode" link. It's very helpful and will help you avoid being woken up by junk calls, texts from drunk friends, even emails coming in from a colleague on the other side of the globe.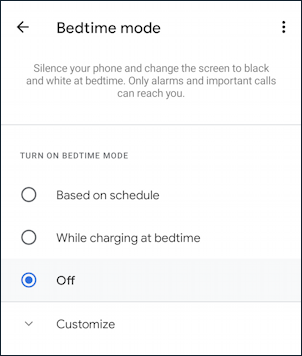 If you leave your phone charging overnight you can tie it to that event, but I actually prefer a specific time schedule, so that's what I choose: "Based on schedule". It lets you set your device sleep and wake up times: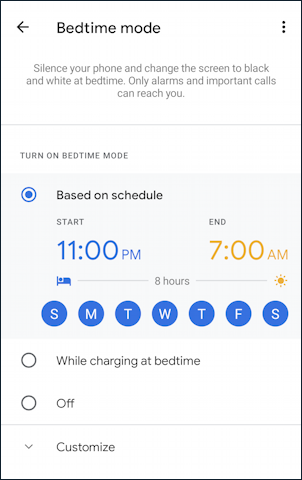 Even better, tap on "Customize" on the bottom of this screen and you'll find you can fine-tune exactly what happens during those 'sleep' hours: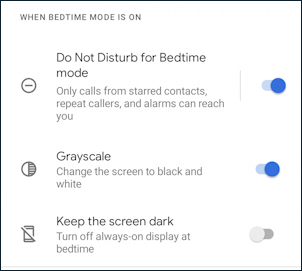 I usually have my phone flipped screen down if it's in the room with me, but you can also turn off the always-on display if you prefer a maximally dark bedroom.
That's it. Between those settings, you can indeed improve your digital wellness and go back to getting a good night's sleep. I promise the Internet will still be around when you wake up in the morning. 🙂
Pro Tip: I've been writing about Android since the beginning of the operating system. Please do check out my extensive Android help area while you're visiting, for lots more useful tutorials and guides! Thanks.