Help! Dave, I stay up really late every night playing games on my Mac system. I know I need to get to sleep but lose track of time. Is there a way in MacOS where the system can remind me when I've played enough and need to go to sleep?
In a digital age when there's infinite news, social shares, videos, streaming content, and always another multiplayer game ready to start, it's no wonder we're all sacrificing sleep and non-computer time to these devices! A surprising number of people now admit that the last thing they do before they go to sleep is to check social media, and the first thing they do when they wake up – before even getting out of bed – is to, you guessed it, check social media.
Games can be even more compelling because they're designed to hook you in and be addictive. They're also fun and social, though many can be frustrating too, perhaps not exactly the sentiment you want when you're heading to sleep. But that's another story. 🙂
Fortunately, most modern devices have limits you can set, from smartphones to computers. Heck, with parental controls enabled, you can set screen time limits on an Xbox, Playstation, or Switch. Let's focus on the Mac for this tutorial…
HOW TO VIEW YOUR SCREEN TIME IN MACOS 11
Apple introduced per-app and per-app-category screen time tracking a few years ago across its devices, so the first step is to just have a look and see how you're doing with your screen time usage on your Mac. That's accessed through System Preferences… off the Apple menu (top left of your screen). Look for the hourglass icon:
Click on "Screen Time" and you'll find that your Mac has been keeping track, even if you never realized it: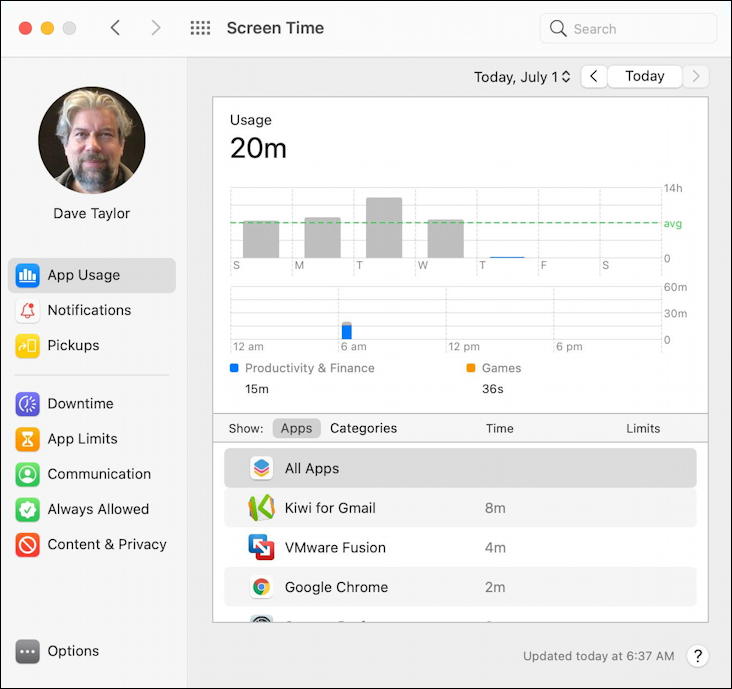 It's pretty early in the morning so I haven't done much yet, but if I use the date navigator on the top right to go back a few days, it shows me that I spent over 12 hours on my Mac on Tuesday!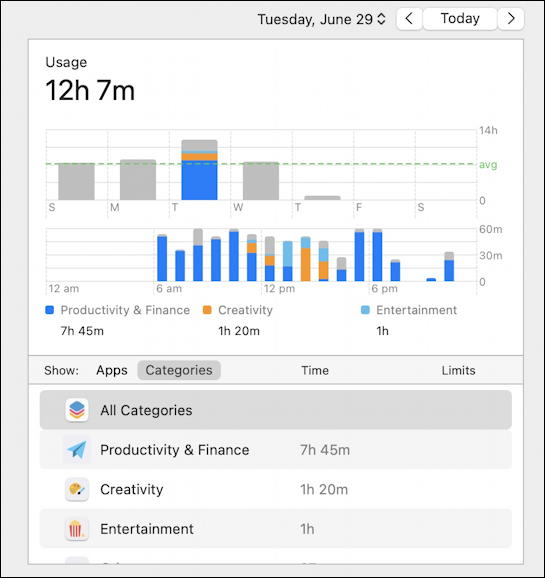 Notice on the bottom that I'm also looking at time spent by category, rather than by app. 12 hours. Sheesh.
HOW TO SET SCREEN TIME LIMITS IN MACOS 11
To set a screen time limit, click on "App Limits" on the left side. You'll see a pretty empty window the first time: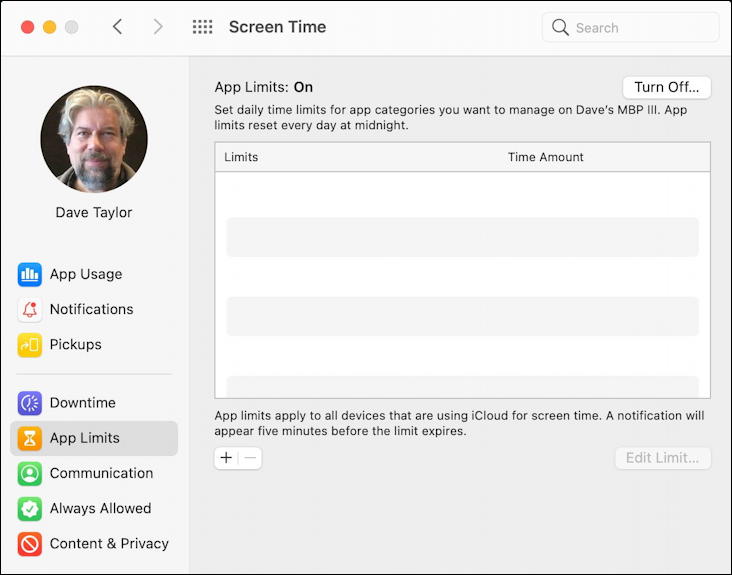 One really cool thing to notice is that "App limits apply to all devices that are using iCloud for screen time." so if you have the same app on your iPad and Mac, say, they'll share screen time limits. Also "A notification will appear five minutes before the limit expires" so you'll know you're coming up to the end of your allotted time.
Let's add a screen time limit for Chess, a game included with every Mac system. To do that, click on the "+" on the lower portion of the screen. A window pops up: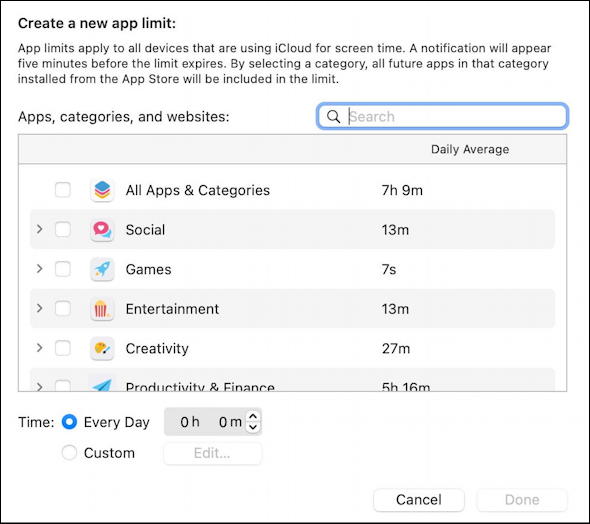 Notice the ">" to the left of each category. You can indeed limit categories en masse, but you can also pick a specific program that seems to eat up all your time too by clicking on that ">". It opens up a list of apps on the system that fit into that particular category: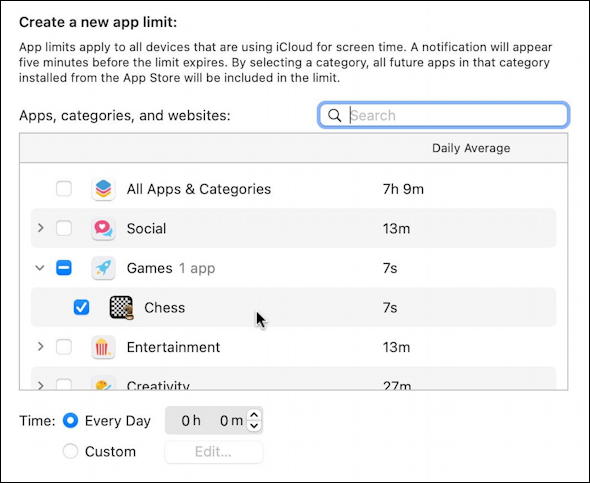 Chess is selected, so now we need to set the actual time limit. That's done on the bottom of this window. There are two options; specify a daily time limit, or use "Custom" to set a per-day limit based on the day of the week. The former is easier, but maybe you want to cut yourself slack and add more allowed time on Saturday or Sunday? A click on "Custom" shows the choices: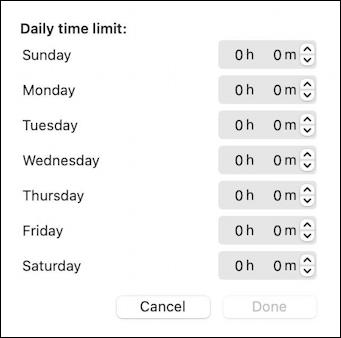 I'll go for a simple limit that will apply every day of the week. It's easier!
Now the App Limits window will show the setting: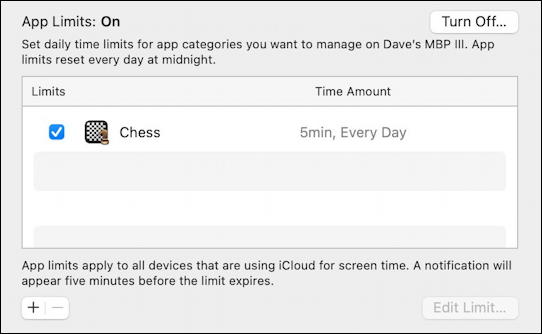 So how does this work?
HOW MACOS SCREEN TIME APP LIMITS SHOW UP ON SCREEN
With that set, when I'm running out of time and only five minutes from my specified time limit, a notification will appear on the Mac's display screen:

Whatever. I'm poised to beat the computer at chess for the first time in a while… so I play on…
Five minutes later, the Chess app window is completely covered by this notice: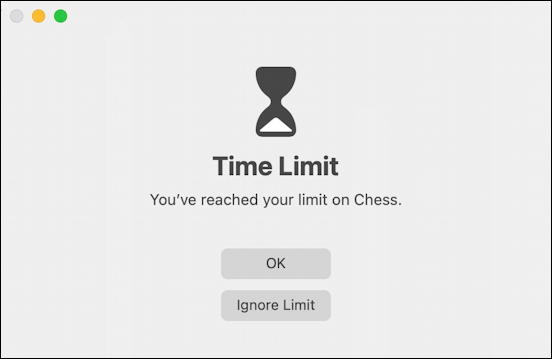 Rather jarring, but hey, I had my warning, right? 😉
If I really need a few more minutes, I can click on "Ignore Limit" and a few choices will pop up:
That's it. If you're in a multiplayer game, a few more minutes is enough time to make your excuses before you vanish, or if a solo game, to save your game so you can resume later. Of course, you can choose "Ignore Limit for Today" but then you're defeating the entire purpose of having this app limit set up in the first place.
However you choose to work with the app time limits, it's very slick how Apple's implemented it. And the process of setting up screen time app limits is remarkably similar on an iOS device too, as you can see with this app limit set up on my iPhone:
Yeah, I do like Dr. Mario. More than chess. So it goes…
Pro Tip: I've been writing about the Mac system for years and have an enormous library of Mac help and tips for you to explore. Please do take the time to check it all out while you're here!