The more devices I get that can access the Internet, the harder it is for me to keep track of all the accounts and passwords I've set up for access. I know I don't want to use the same password on multiple sites, but I can't remember what's what. I've heard good things about Agile Software's 1Password app for password management, and I can see that there's a Mac, an iPhone and an iPad version. Cool, but can they sync?
I've been a big fan of 1Password for years now, actually, and can't imagine keeping track of the hundreds of accounts I have without it. I'm still waiting for it to be properly integrated into Google Chrome, which is the Web browser I use now, but generally I still find it terrific, even if it's just a way to track these accounts and I have to use copy/paste or some other relatively clumsy approach to entering the data.
In fact, because of how plug-ins integrate with Safari on the Apple mobile devices (e.g., iPhone, iPad, iPod Touch) the user experience with 1Password is definitely not as smooth as it is on Mac OS X, so be prepared if you haven't used it before. Also be aware that there's some confusion of versions: there's a version of 1Password for your Mac, a universal mobile version for iPhone & iPad, and an iPad only version.
More likely than not, if you have a mobile version of 1Password, you also have a version on your computer, be it a laptop or a desktop system.
Nonetheless, we need to start on the iPad. Launch 1Password on your Apple iPad and you'll see you can't really get very far. You have to choose between "Sync Existing" and "New Database". No prize for guessing: just tap on "Sync Existing" and it'll switch to a "listening" mode:

That's all you need to do on the iPad.
Switch over to your Mac and make sure you have the latest version of
1Password
by choosing "Check for Updates…". Once you're good, unlock 1Password and you should see your iPad show up in the app automatically:
Click on your iPad and 1Password prompts you for the secret key values that the iPad version of 1Password is showing you: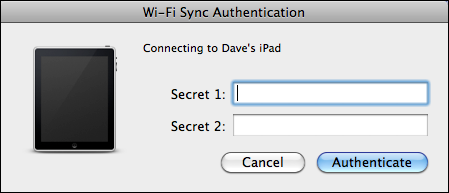 Carefully enter the two codes:
Click on "Authenticate" and the two connect but, oddly, nothing seems to happen, and on the iPad all you get is a screen showing that nothing's come through: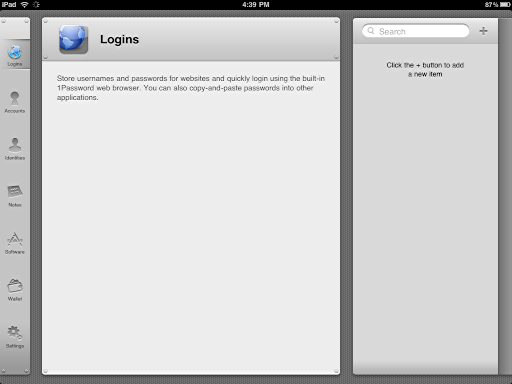 Patience, young Jedi! It takes a minute or two for the data to sync, but I found that if I tapped on a different category (like "Accounts") then tapped back to "Logins", suddenly everything showed up!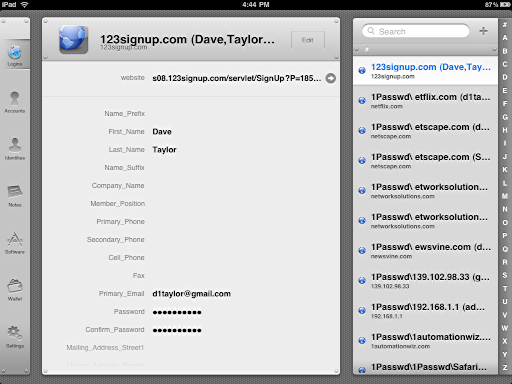 Now you're good to go. Oh, and if you quit and restart 1Password on your Apple iPad, here's what you'll see: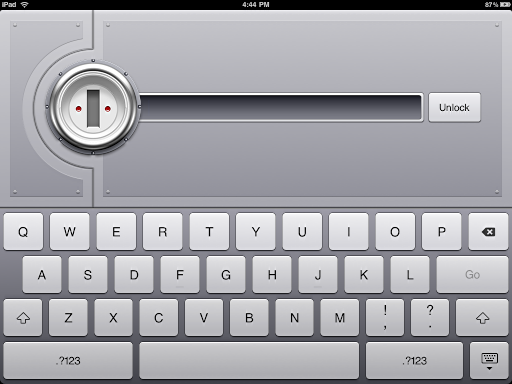 Just as you'd hope. It's not too difficult, but you do have to be patient as the data transfers. And now you have the splendid
1Password
program on both of your devices!
Note: some of the links in this article are affiliate links: if you click on them and buy 1Password, you help us keep the lights on by making us a small commission. Thanks!