I'm working on my dissertation and constantly need to quote extended passages from books and magazines. I type them in, word by word, and it's really tedious. Is there any way to photograph, scan, OCR and generally convert the text I'm seeing to words automatically on my Android phone instead? That'd save me a lot of work!
Back in the early days of computing, the idea that a program could look at an image and recognize words was fantasy; computers would never be that powerful, let alone mobile devices. Zoom forward a few decades, however, and modern mobile devices are extraordinarily powerful and can play 4K videos, let you immerse yourself in a detailed 3D world, power VR headsets, and even let you talk on the phone. Sometimes, at least. They can also convert images into text, as demonstrated by the translation feature within Google Lens on the Android platform. Imagine, you're standing and looking at an important sign but don't read the language. No worries, your phone can help out!
The feature that lets you translate text can also do a simple scan of an image and then use what's known as optical character recognition (OCR) to convert the image to actual letters and words. Which you can then easily paste into a document, a text message, an email, or anywhere else you would be working with text. It all revolves around Google Lens, but as of the latest Android update, it turns out that all of the great Lens features are now incorporated into Android's Camera app. This means it's really easy to use. Let's have a look…
HOW TO SCAN A TEXT DOCUMENT WITH GOOGLE LENS ON ANDROID
To start out, I have a recent copy of the University of Denver's full-color print magazine on my desk. Within there's a really interesting article I want to share with colleagues about how DU has been improving its energy footprint on campus. Here's the two-page spread, the article in question is on the top right:
You can see that the title of the article is Solar panel project reduces DU's carbon footprint. I could type in the half-dozen paragraphs, but why bother when I have an Android phone in my hand?
While still within the Camera app, I'll frame things so that the article is more front and center. Sometimes the app will pop up a "scan text?" shortcut prompt, but other times you're on your own…
To proceed, all I need to do is choose "Modes" from along the bottom. These options appear (for the Pixel 5a I'm using, at least):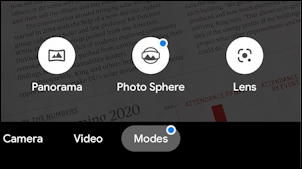 Yes, while Google Lens used to be a separate, standalone app, it's now tightly integrated into the Camera app. Much easier!
A tap on "Lens" and the preview view changes quite a bit: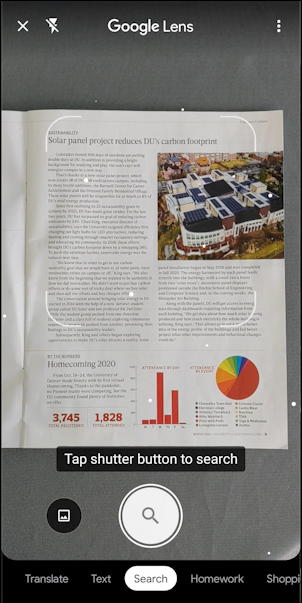 Along the bottom, you can see Translate, Text, Search, Homework, and Shopping. Lots of slick features in Lens. For this task, we can switch to Text or just proceed. I do that by ensuring that the entire text passage I want to scan is viewable, then tap on the shutter button, as indicated.
Now Lens analyzes the image and offers up the following view:
It's subtle, but all the areas with text now have a white background as if someone took a white highlighted to the magazine page. Excellent. More importantly, Lens has recognized what's in the image – "Text found in image" – and offers the option to Select text, Listen to it reading the text out loud or Translate the text to another language. I'll choose "Select text" and it picks one paragraph.
No worries, though, because there are big start and end 'handles' in the image too, so I can tap and drag to select all the text in question, even some from the lower article to ensure I get both columns of text in the main piece:
A tap on "Copy text" and the scanned and OCR'd text from the photo is now copied into the clipboard as actual text, not an image.
PASTE OCR SCANNED TEXT INTO A DOCUMENT IN ANDROID
You can then paste that text as you would any other copy/paste sequence with the Android clipboard! I'll open up a new, blank document in Google Docs and double-tap in the blank portion, which brings up the copy/paste menu:
You guessed it, a tap on "Paste" and all of the scanned text is instantly added to the document, word for word:
In this instance, Google Lens did an almost perfect job of converting the image into text. It's a good idea to carefully proofread the results before you add the text passages to your dissertation directly! Still, what a massive time saver, yes? So convenient!
Pro Tip: I've been writing about Android since the beginning of the operating system. While you're visiting, please do check out my extensive Android help area for lots more tutorials and how-to guides. Thanks!