I have my Windows Live account set up but keep getting an error message that I need to verify my address. Since my address is part of the Windows Live network (hotmail) I'm a bit confused: how do I verify my addr?
Truthfully, this is a pretty simple question because as far as my experience the only time you would see a message about verifying your email address in the Windows Live network is when you also have a link adjacent that lets you do just that.
But I'll cut you some slack because I know all too well that these complicated Web interfaces can be surprisingly complex and confusing, even when others think it's simple and immediately obvious. Heck, if everything were easy and obvious I probably wouldn't have so many people coming to my Web site every day!
More seriously, when you log in to the Microsoft Windows Live network using http://account.live.com/ (I have deliberately not made that a clickable URL, btw. Copy and paste or type it in for yourself to ensure you aren't getting tricked!) the first thing you should see is:



Click on "Verify your e-mail address" and…



Make sure that's the address you desire to verify (if not, you'll need to tweak some settings to update it) then click on "Send e-mail".
Message sent!



Within a few minutes in the mailbox, you'll see a message similar to this: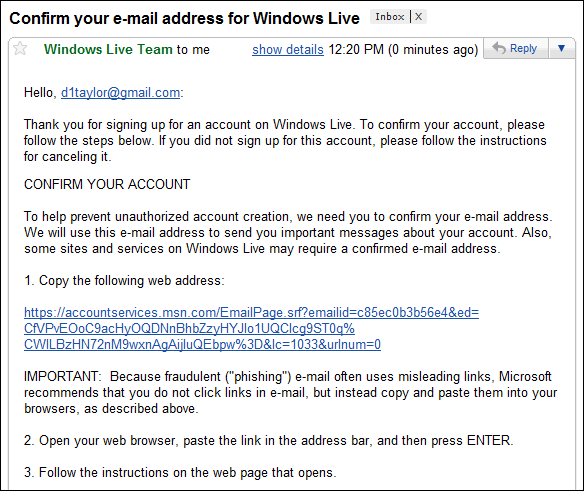 Again, don't click on the link, copy and paste it into your Web browser (darn those hackers and their phishing attempts anyway!). Assuming everything works properly, here's what you'll see:



Done! Now you should never see the "unverified" error again.