If you read the earlier tutorial, you've got about 80% of what you need to contribute new content to the surprisingly popular and engaging Pinterest site. I know that whenever I go and check the Pinterest boards my friends maintain, I find that I can quickly lose 20-30 minutes at a streak (thanks to Jolene at Heathy Discoveries for turning me on to Pinterest in the first place!)
Still, in the interest of completeness, let me show you step by step exactly how to upload, categorize and post / pin a new photo to the world of Pinterest, with the additional step of adding a witty — or snarky! — comment.
It all starts with a Pinterest account, of course. I'm d1taylor on Pinterest, if you'd like to see what catches my attention…
Once you're logged in, look on the top right for the "Add +" button…
UPDATE: The "add" button is now a floating "+" symbol on the lower right of your Pinterest page. Otherwise, everything else is the same, even if the windows are slightly different in layout!
Click on it and you'll get the usual "add a pin" window: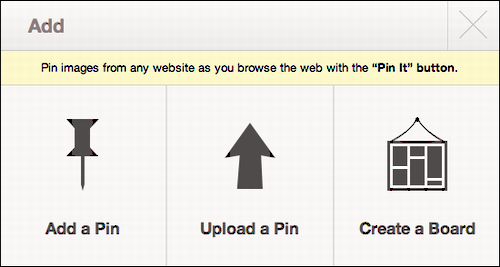 Take a guess. What? "Upload a Pin" you say? Spot on!
Click on it…

The first step is to identify the photo or other graphic that you'd like to pin from your own computer. If it's not on your computer, you should probably not be trying to upload it. 🙂
Click on "Choose File" and select the image file you want to upload.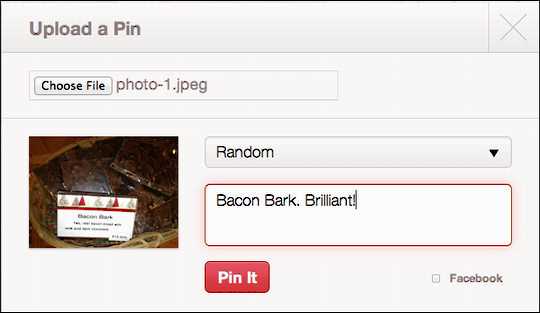 I've identified the photo file ("photo-1.jpeg") and now on this second step, I can pick a category (I've chosen "Random") and then type in a comment or other message to associate with the photo.
All looks good? Now the big question: do you want to cross-post it to your Facebook account? If so, check the tiny "Facebook" box on the lower right before you proceed.
Either way, when you're ready and the comment is a good match, click on "Pin It".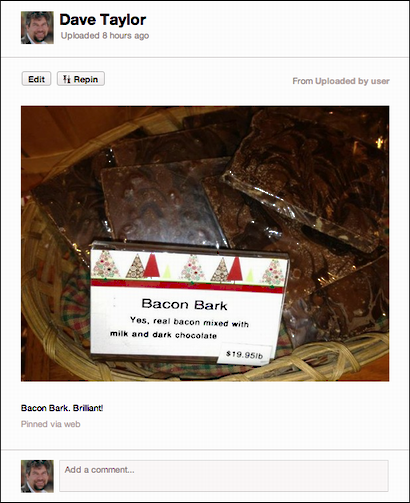 This is the view you'll get when it's your item that's pinned. Note you can edit it at any time with the "Edit" button (handy if someone asks you to remove it) and you can repin it if you decide it's a good fit for one of your other boards too.
All looks good? Great. Here's what your friends and followers will see on Pinterest: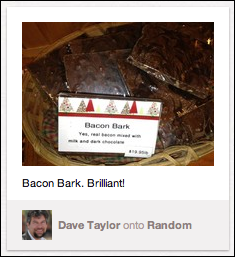 Oh, and the bacon bark chocolate? I didn't have the courage to try it. I like bacon, but not mixed in milk chocolate, personally. 🙂