I've been reading some of your terrific Kindle help here on Ask Dave Taylor and am dying to know: how are you getting those screen captures / screen shots from the Kindle for your articles?
Glad to see you're finding the articles useful! It's kind of what I do when I get something new: write a flurry of how-to tips and hope that it helps others as they go through the inevitable learning curve that I went through too. My purchase of a Kindle DX has been a similar experience, as I poke around and realize just how much that little gizmo can do!
The first few articles I wrote involved me taking literal photographs of the screen as I went along, so I was quite psyched when I realized that the Kindle has a built-in screen shot capability, though it's almost impossible to learn about!
The secret is a magic keystroke…
On your Kindle, get to a spot you'd like to capture, then hold down the shift and alt keys then press "G":


The screen will invert (that is, white pixels will become black and vice-versa) for a fraction of a second then you'll be back looking at your page of content. Behind the scenes, however, the Kindle has created a screen capture called "screen_shot-XXX.gif", where XXX is some sort of sequential number (a date and time stamp? maybe).
To get those screen captures onto your computer, plug your Kindle into your Mac or PC and it'll show up as a USB drive. On my Mac OS X Snow Leopard system, it looked like this:
The screen shots are saved in the same directory as all your Kindle documents, "documents", so open that and you'll see something like this: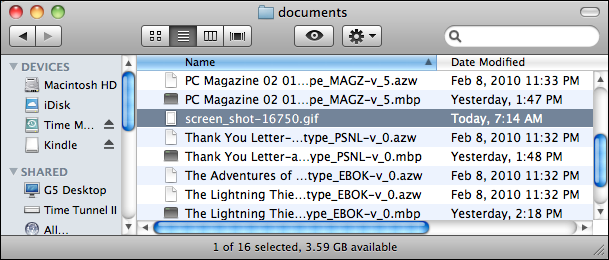 I've highlighted the screen shot I just took on my Amazon Kindle DX: to get it onto my computer is a simple matter of drag and drop, then I open it in a simple editor (I prefer the amazing
GraphicConverter
) to crop it, scale it, and do whatever else I need. When copied, I also delete the file from the Kindle itself, just to keep things neat and clean.
Simple enough once you know the trick, isn't it?