I'm sick of tapping into wifi signals where I can find them and being stuck without any Internet access when there isn't one, or when it's password protected. So I sprung for a Verizon Mifi2200 device that they tell me will met me connect from my MacBook Pro to the Internet anywhere, any time. But how do I get it all set up on my Mac?
Verizon was kind enough to supply me with one of their MiFi2200 mifi cellular wireless devices so I know how to configure it. I will warn you, however, that there are a lot of steps involved and it will take you a while. Fortunately, you can watch TV or play a game on your iPhone while you're going through all the steps, right? 🙂
More seriously, the Mi-Fi concept is super-cool because what it does is let you share a single cellular data connection with up to five computers by setting up the tiny little device as a mini-wireless base station.
It's expensive, however, though if you spend a fair amount of time paying for Internet access anyway (like at hotels) it's a reasonable deal. Also, note that Verizon isn't the only company offering a Mi-Fi unit, and I'm sure more will jump on the bandwagon as us customers realize just how useful these little gizmos prove in the field.
If you haven't heard of these, check it out: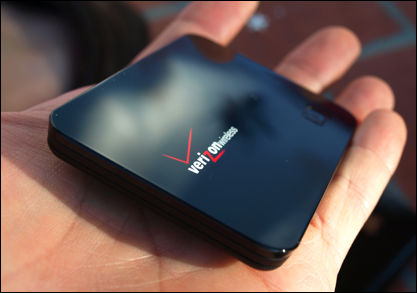 It's small, it has a range of 15-20 feet connecting via wi-fi from your computer, it's Mac and PC compatible, and it's pretty darn quick on the Verizon network. Very nice gizmo!
But you didn't ask for a sales pitch, you asked for help on configuring it on your Mac. So let's look at that instead.
First thing is to hook up the device to your computer via USB cable, because you can't use the wifi capability until you configure it. Once you do that, it'll show up on your desktop as if it's a CDROM disk. No worries, click on it: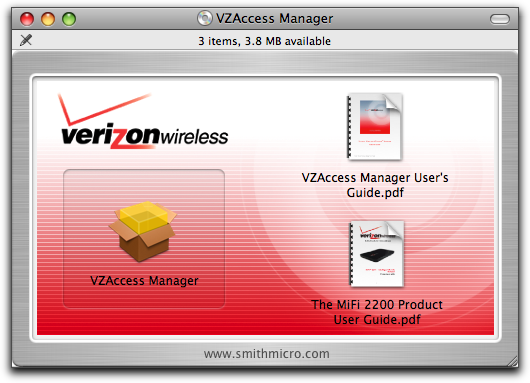 Double-click on the funky little yellow box to start up the installer:


As with all of these software utilities, you need to agree to the license terms:



Click "Agree" to get past the license then you'll want to install the software in the standard location, so just click "Install"…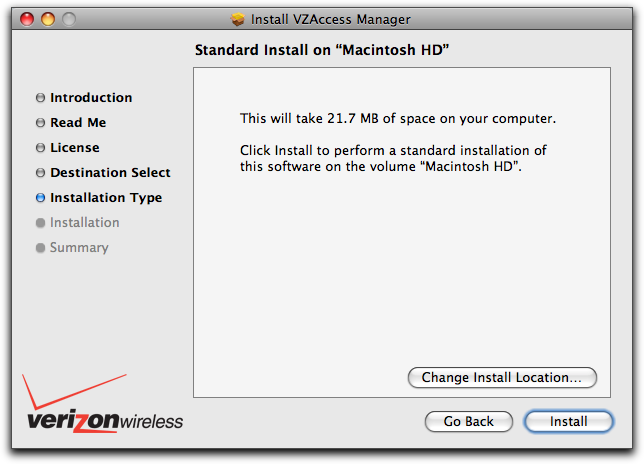 Since it's installing system software, you'll need to enter your admin account password…


Once you've done that, you'll be warned that the system wants to reboot:


That's okay. Click "Continue Installation" (though I strongly recommend that, as with all installations, you ensure that you don't have anything else running on your computer).
Now you'll see some action!



Alright, it's not really exciting action like in a Chuck Norris film, but you know what I mean.
Now, do you want a Verizon VZAccess icon on your Mac OS X Dock? I said "Yes" here, but will note that I later removed it to keep things simple…



Either way, you've done most of the heavy lifting. At this point your computer will reboot and once it's fully restarted, you'll have yet another app that starts up. This time it's the VZAccess Manager Startup Assistant.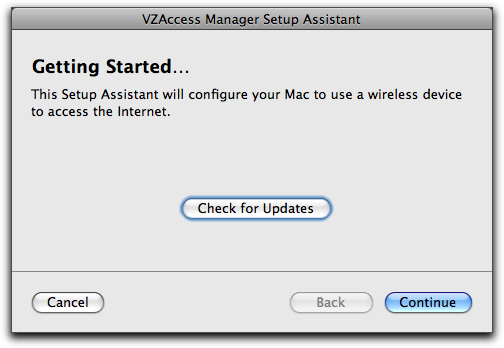 First things first, click on "Check for Updates". Most likely, you'll see this:



Looks good. Click on "OK" and you'll be moving further along…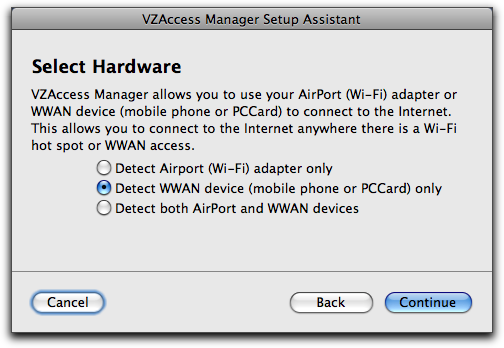 In this case I didn't take the default configuration (as shown above) because if there is an open or known wifi network available, I'd rather use that then the mobile connection.
Click on "Continue" and it'll remind you to hook up the Verizon MIFI-2200 unit: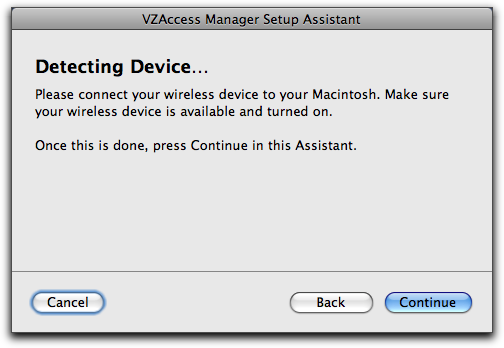 That wasn't too hard, was it? After just a few seconds you should see the software establishing a connection with the wireless device…



There's only one choice at this point, so take it: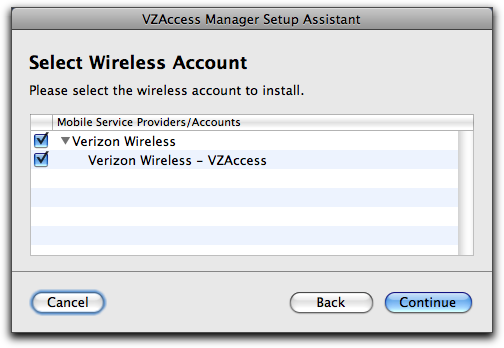 Click "Continue" to let the software set up your wireless account on the mifi2200 and on your MacBook Pro and …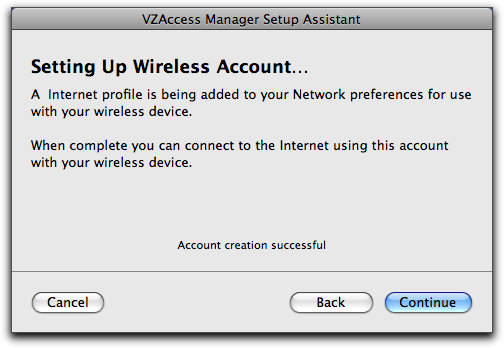 Looking good!
Now, do you want the VZAccess software to also manage your wifi connections while it's at it? If so, click "Continue". I did…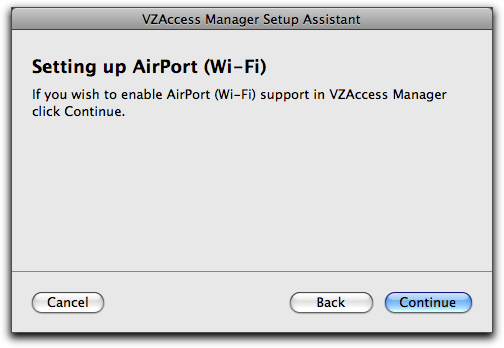 Finally, finally, setup is complete: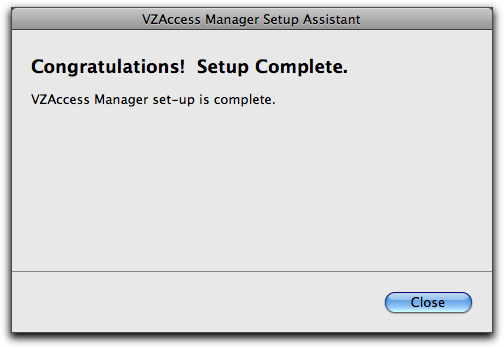 That's all there is to it, actually. If you want to just get started, you can turn the mifi2200 on, then use the Mac's wifi menu to select the unit. If it asks for a password, that's something that Verizon should already have supplied to you. It'll be a ten digit sequence or similar.
On the other hand, if you want to try out Verizon's VZAccess Manager, simply launch it by clicking on the icon on the Dock. Here's what I see:


I selected the Verizon option and clicked on "Connect WWAN", just to find that there was yet
another
place I needed to set things up: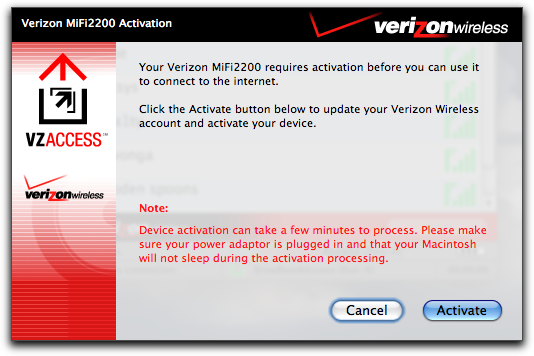 When, when does it end? 🙂
Actually, I just clicked on "Activate" and it promptly started updating the device:


That was pretty much it. Once it was done I was ready to go online. It's a bit confusing because it doesn't show something like "Online: ready to use". Instead, I just tapped the connection by bringing up my browser and going to a Web site. After a second or two, rather to my delight, it just worked!
Oh, and one cool feature of VZAccess Manager? The usage stats: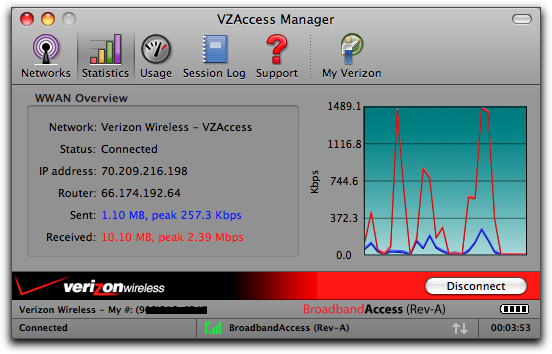 Alright, it's not that cool, but it's interesting to see how much of your bandwidth you're tapping, at least in my opinion.
Anyway, that's all there is to it. Next time you need to go online, simply turn on the device, choose it from your wifi selector, and GO!