Like many people, I use Google Analytics to keep track of visitors and usage of my Web site. Very helpful, but I don't like having to remember to log in and check it every week. Is there some way to have the reports emailed to me automatically?
We're talking about Google, so you should not be surprised to know that there is ineed a way to do what you ask, to have Google Analytics send you a Web site traffic report on a daily, weekly, monthly or even quarterly basis. It's not particularly obvious, however, because there's so much going on with the Analytics interface.
In fact, I saw search engine maven Danny Sullivan send out a message on Twitter about this very topic, saying "just realized google analytics can email me regular reports. how did i fail to do this!"
Suffice to say, you're not alone in wishing this were a capability without realizing that it is indeed included with Google Analytics.
To set up scheduled email reports you need to start by logging in to your Google Analytics account and get to a site reporting page. The top left corner will look approximately like this:


Now, like me, you might be tempted to promptly click on the "Email" link on the left side, under Settings, but that'd be wrong. That's how you manage already scheduled email reports but, confusingly, there's no link from there to how you can set up a scheduled report.
Instead, you want to click on the small "Email" link with the envelope immediately underneath the word "Dashboard" in the middle of the screen.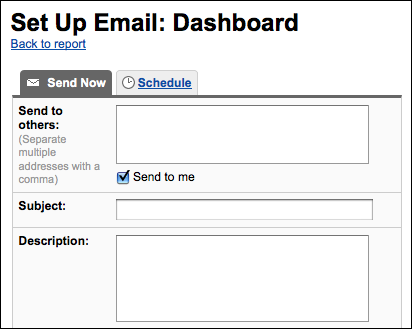 At this point you need to look beyond the form that's in front of you and click on the "Schedule" tab: this can generate an email report for you, but once it's sent it's forgotten and won't solve your problem.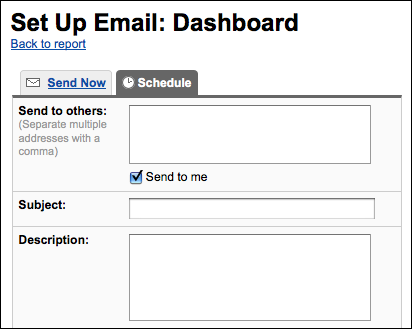 The report will automatically be sent to you with a subject line like "Analytics www.
yourdomain
20080901-200080908″ If that works for you, there's nothing you need to do here. Otherwise, tweak it to make it a bit more human friendly as you desire.
Notice that in addition to yourself, the report can automatically be sent to one or more additional parties, perhaps advertisers or partners with whom you work on the site. It's a nice feature for many webmasters.
The "Description" is so that other parties have a clue what the email is about when received. If you're just sending it to yourself, as is the default, you can probably safely leave this box empty too.
Scroll down a bit…


In addition to picking which format you'd like the report, note that you can also choose between daily, weekly, monthly and quarterly here, and have date comparison data if you have sufficient archived data in Google Analytics. What's that mean? That you'll be able to see at a glance if your site is getting more, less, or approximately the same traffic as it did in the past.
Before you click on "Schedule" notice in the top right that there's a little preview box that shows to whom the mail will be sent and roughly what it'll look like: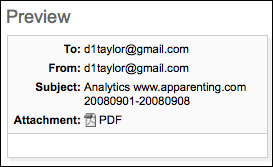 Looks good? Click on that "Schedule" button.



A little yellow message confirms that the email report is scheduled!
Finally, now if you click on the "Email" link on the left column in the "Settings" box, you'll have something to view:



Nice, eh? So that's how you schedule email reports from Google Analytics.
The tough part is actually acting on the information gleaned from looking at your historical trends…