Starbucks makes a big deal out of the fact that if you get a Starbucks Card you also get free wireless Internet access at Starbucks stores throughout the United States. Nice, but how do you *do it*? When I connect it says I already need an AT&T or T-Mobile account?
Though I spend a lot of my time in smaller local cafés in my neighborhood (a small latté tip to The Cup and Amante), I also spend time at Starbucks too, so know exactly what you're talking about!
When they first introduced the free-wifi-with-a-Starbucks Card promotion, it was actually easier because there was a big graphical advert on the first page you'd see on the AT&T site that said "click here if you have a Starbucks card", but it's no longer. So let me step you through the process and even point out one of the snafu's that catch many unwary users…
First off, when you get to a Starbucks location, you'll see two wireless networks: "att" and "tmobile". If you want to use the Starbucks free wifi setup, you need to choose "att": the other won't get you anywhere useful. Once you connect, try to go to a non-secure web site in your browser. I usually use "yahoo.com" for this. It'll relay you to the AT&T wireless login page. A page that – idiotically enough – doesn't have a "sign up for a Starbucks account" link.
Skip it.
Instead, go to Starbucks.com, where on the lower left you'll see: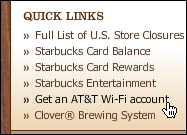 Click on "Get an AT&T Wi-Fi account", and you'll jump through a few explanatory ads: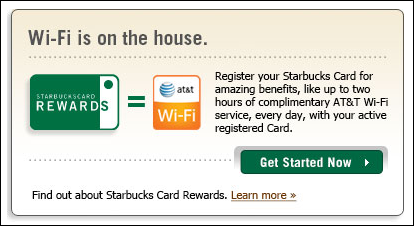 Got it! Click on "Get Started Now" once or twice, then…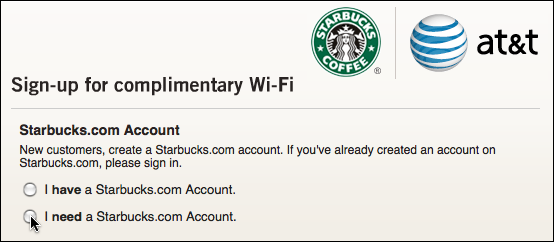 You need a Starbucks account, so choose that, and it opens up a new panel immediately below that prompts you to specify an account and password. Since there's no way I have found to assign a new Starbucks card to an existing AT&T account (even though they say it's possible), I suggest you come up with an account name that lets you step through sequential values, as I have done here with "d1taylor3" (my previous account was "d1taylor2", for example).


Enter the account info you want and click "Next".
Now it's time to register your Starbucks card, and to make this easy, you'll want to ensure you've used it in the last 30 days: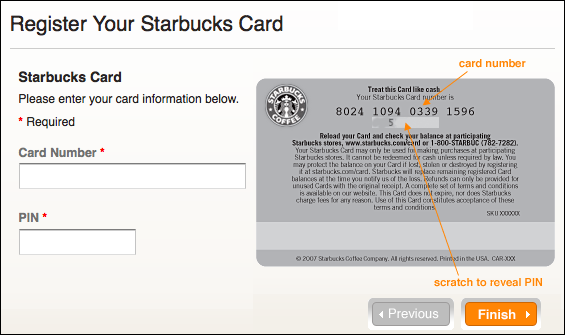 Enter both the main card number and, after scratching off the gray opaque cover, the PIN number too, then click "Finish".
Now:


Here's where there's a bit of a snafu that's ready to trap the unwary! If you take this all on face value you have a dilemma, because you can't get to your email to click and confirm your new account because you can't get online, but you can't get online with your account until you confirm your account. Right?
Well, not quite… In fact, you need to confirm your email address at some point in the future (though I'm not sure what happens if you don't), but if you scroll to the bottom of that page, you'll see a much more pleasant link:


Click "Sign In", and, after all that, you're back where you started. But this time you actually have account credentials that should work:



Make sure you choose "AT&T WiFi" for the network from the popup and also check the Terms of Service checkbox before you click on "Log In".


You're online! Congrats.
Now, one more step: find the confirmation email and confirm your address:


Clicking on the link leads to:


*phew* Quite an ordeal, at least 10-15 minutes if you're not blindingly fast at clicking and typing. I understand why Starbucks does this, but I have to say that they'd be far better served to make it *easy* for people to utilize the Internet connectivity at a Starbucks outlet. In fact, I think that they should let you just type in a number directly from an active Starbucks card on the AT&T Wifi page and let that be sufficient for you to access the Internet. All these other hoops, setting up accounts, PINs etc, strike me as make-busy work and far more complicated than necessary.
If the issue is that AT&T and Starbucks can't figure out how to share the database of active Starbucks cards, well, that's their problem, it shouldn't be our problem as potential customers who want to know that they can get online with 60 seconds of work or less, not having to go through ten flaming hoops each time they want to go online…
Anyway, my rant aside, I hope this helps you figure out how to connect as quickly as possible the next time you find yourself in a Starbucks, wanting to go online.