Can you tell me how to "capture" an iphone screen and do something with it like email it to someone? I've seen it done, but have no idea how to take a screen shot and then do anything with it…
As with just about any modern piece of electronics nowadays, that Apple iPhone that you have in your pocket turns out to have a lot of relatively undocumented features and capabilities, including the ability to capture just about anything you see on screen (including within games you're playing or chats you're engaged in) and save it as a high-resolution photograph.
Once you have the image saved, you can then browse it in your photo album like any other image, which means you can also send it to someone as an SMS text message or email it to them if you have your email configured properly on the iPhone.
To capture your screen, you need to simultaneously push the button on the top right edge of your phone and the round home button on the lower face. The screen goes white for a fraction of a second and you'll hear a "camera snap" sound. It'll just take a second, so if you don't see and hear that happen, it's possible you're pushing one, but not the other, or you aren't pushing them at the exact same time.
Here's a helpful iPhone illustration from Apple with every button identified: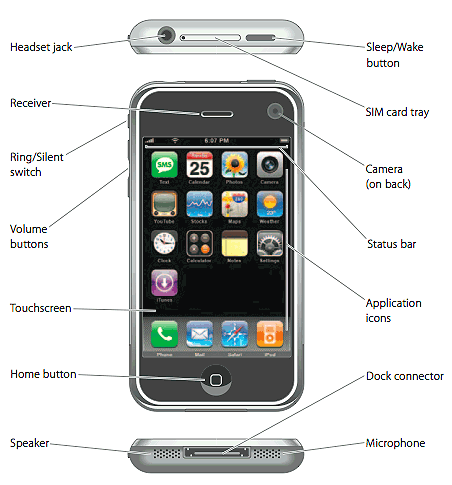 What you need to do is simultaneously press the home button and the sleep/wake button, as shown in this illustration.
Once you have a screen shot captured, you'll find it in your "Photos" app, which will show you something similar to this (depending on if you're syncing photos from your computer or not):
Screen captures – like photos you take with the camera on the iPhone – are all found in "Camera Roll", which you can examine by tapping on it…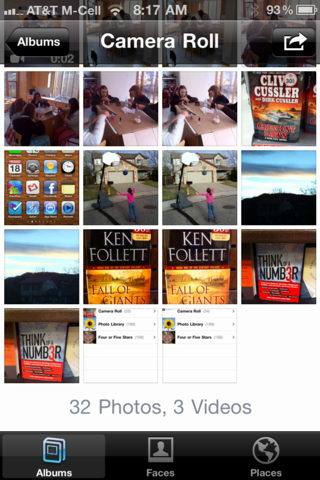 Notice the last two images are screen captures as opposed to photos. I want to look at the one that's half-way down, however, my home screen on my own Apple iPhone 4: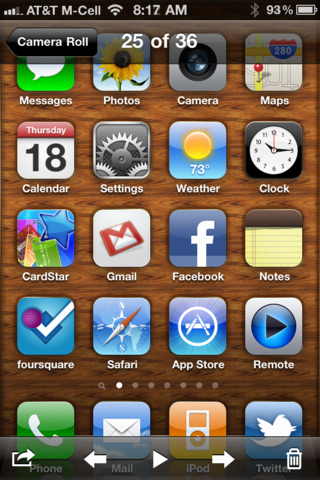 This can be a bit confusing because it looks like I should be able to tap on the buttons, but, of course, I cannot because it's a photograph at this point, which is why you see the overlay on the top and bottom. To email it, I'll tap on the icon on the lower left that has an arrow bursting out of a box. The result:
A tap on "Email Photo" and all sorts of interesting animations show the image dropping into a blank email message form on the phone, ultimately leaving you here: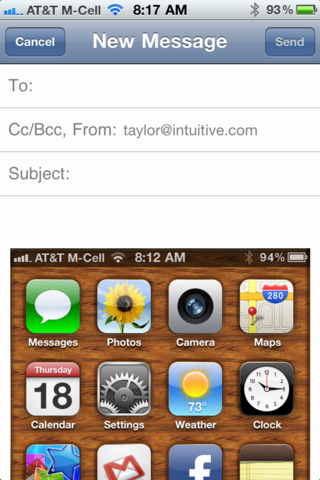 At this point it's just a regular email message, so tap on the field you want to fill in and start typing a name or even your message. Once I'm done, here's what I have ready to send: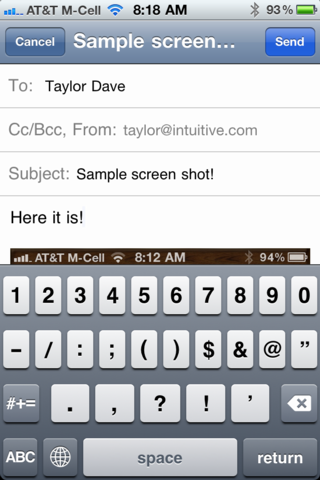 Tapping on the "Send" button shows that the email software is smart about image sizes:
Usually I pick "Medium" or, if the image were larger it'd give me a "Large" option too, but that's up to you, of course. The default image size is pretty darn big, though, bigger than you may realize.
The message is immediately queued up to be sent and when it does arrive, it ends up looking like this:
Other mail systems will actually have the image within the main text, but either way, now you know how to capture screen images on your iPhone and email them — or SMS text message them — to your friends or colleagues. Use the power wisely! 🙂