I've just started getting into lists on Twitter and am stuck: I accidentally added someone new on the wrong Twitter list and don't know how to edit it. How do I change Twitter list members?
If you're used to working with Twitter through third party apps, it can indeed be a bit puzzling to figure out how to work with the list feature: if they're supported at all in your favorite Twitter app, it's unlikely they'll have an 'edit' option.
By contrast, if you pop over to the Twitter site you'll find that they keep tweaking and adding features and capabilities to make it more and more useful from within your Web browser. Now, having said that, I use a third-party app too, but as I'm suggesting, to edit Twitter lists, I pop back to the mothership.
Pop over to the site, log in, then look on the right:


If you move the cursor over a list name, you'll see a subtle little triangle next to that particular list name. You'll need to click on it to get the option of editing your list. I'll do so for "Coloradoans" and here's what I see at the top:

Note that if you click the list name, you won't get to the same place, which is a bit weird, but now you know!

Click on "Edit" and you'll see a window pop up with a bunch of interesting options: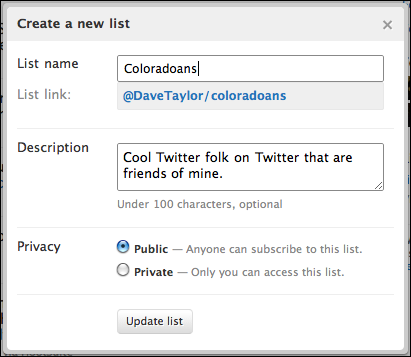 From here you can see how to change the name, make the list private, etc. To edit list members, however, it's a bit more confusing because you need to click on "Following":


Once you're there, you can see each member of the list:


See the first of those two little boxes to the right of Chris' entry? Click on it and you'll see a list of all your lists pop up, indicating on which this particular person is included:


Click on the check box next to the list name and that Twitter user is either a member of the list (if you didn't have them checked before) or is now not a member of the list (if they were already checked in).
So now you know, I hope this will help you manage your own Twitter lists!