This may seem like a weird question, but how do I download audio files when they appear as links on Web pages? If I click on the link, a mini-audio player starts up in my Web browser, but I want to copy the info onto my iPod, not listen on the computer. What's the trick?
I just today got a mailing from The Teaching Company and saw the self-same issue arise, actually, so let me step through how I saved the audio file and you'll see how you can solve it too.
The link in the email took me to a page about The History of the Olympic Games, a page that features download links for two lecutres on the Greek originsl of the games by Professor Jeremy McInerney, Associate Professor in the Department of Classical Studies and Chair of the Graduate Group in Ancient History at the University of Pennsylvania.
The actual download links on that page look like this: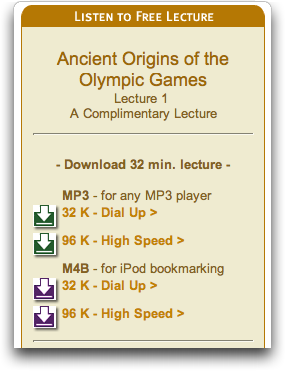 Nice, but if I click on one of 'em, I see this:

Not what I want. What I want to see is a 'save' dialog box so I can actually save the file to my computer.
The secret is to
right click
(or, if you're on a Mac like me,
control-click
) and then you'll see a pop-up contextual menu with options like this: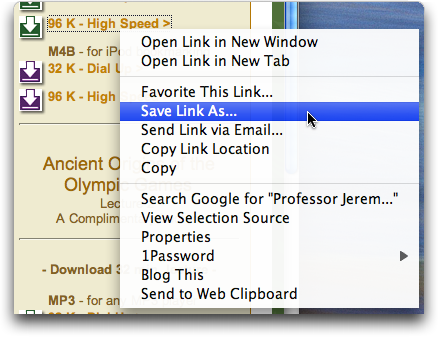 As you can see, choose "Save Link As…" and you'll get the save dialog box you were hoping to have seen earlier:

Now, finally, you know how to save audio files that otherwise end up being played in your browser when you really want to drop 'em onto your iPod or cell phone.