I want to set up a private group on Facebook for my friends that works just like a regular Facebook group, but is only visible to us, not the general public at large. I also want to be able to approve members before they can join the list too. Can Facebook do that?
You betcha! Facebook has lots of sophistication with group management and while it's not the easiest process in the world, you can definitely create a private or closed group on Facebook.
I recently set up the Facebook group for the Denver Film Critics Society, a group that is only intended for members of the society, not the general public at large. For us, it was okay that it be visible (after all, that's a wee bit of marketing) but we can't have non-members access our discussion as we're under various disclosure rules with the movie studios and advertising agencies.
Anyway, suffice to say, same situation, same challenge.
Here's how I did it. Take a deep breath, it's kinda complicated…
On the bottom of every page there's a Facebook navigational bar. One of the items on the bar is the "groups" feature:


Click on Groups and then on the top of the subsequent page, right next to the search box, you'll see a helpful button:



Click on "Create a New Group" and you'll jump right into a fairly complicated form that asks for all sorts of information about your new group. Fill it out as you see fit: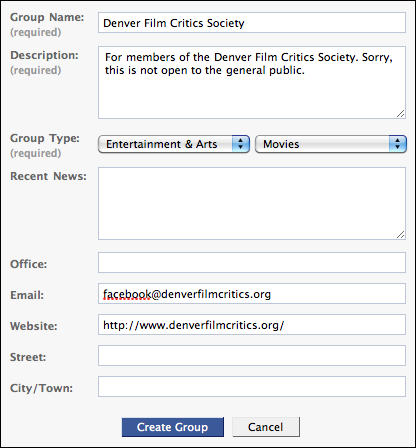 When you're ready, click on "Create Group" and you'll go to the first of a bunch of configuration and setting options:


For your private group, you might want to enable everything for members, but not for non-members. Don't worry about the privacy settings yet, that's still to come…
Scroll down a bit and you'll see the key options for a Facebook group: Open, Closed, and Secret: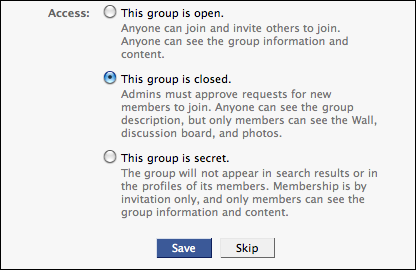 Click on "Save" and your group is created and ready to rock. In fact, you can even let your friends know about it on your feed, if you'd like:


For a completely secret group, you might not want to do that, otherwise you'll have people you don't want as members asking about it (and knowing it exists in the first place).
If you do, however, Facebook will let you know that it worked and what happened:


Now the fun part. Who do you want in your group? Click on "Invite" then go through your list of Facebook friends to pick a few out:


Picked out the right folk? Great. Click on the "Invite" button at the bottom of the page and they'll get an invitation to the group.

Adding a Custom Graphic to your Facebook group

One thing that puzzled me when I set up my first Facebook group was how to add a custom icon so that it looks more snazzy? It's not too hard, but, again, you have to poke around a bit to find out the solution.
I'll take a shortcut. Since I did announce the creation of the group, there's a handy entry on my status updates that indicates as such:



To edit the group settings, I'll simply click on the group name in the update. Now I end up here:


Still, how do you change that darn picture??
The secret? Move your cursor over the current image and a new option pops up:


Ah ha! Click on that…


A number of options appear. Choose "Upload a Picture", and hopefully you already have a suitable Facebook Group friendly image ready to go…


My image is a PNG format graphic that's 136×79 in size, fairly small:


It's perfect for the task, so I choose it, then click "Upload" and…


That's it. Graphic associated with the new Facebook Group.
One final tip: if you want to point your friends directly to the group via an email or similar, just grab the URL from the main group page. For the Denver Film Critics Society group, it's
http://www.facebook.com/group.php?gid=185574380926
, as an example.
Hope that helps you out with Facebook groups. I also invite you to
join our Facebook fan page
too, while you're at it. 🙂