At a local conference, a social media "guru" was telling me that LinkedIn is very particular about what groups it allows on the site, and that I can't just create whatever group I want. I run a resume review service for college kids and I want to have a group associated with it on LinkedIn so that if people search for resume help, they'll find me. So, can I create a group on LinkedIn or not?
Ah, those dime-a-dozen social media gurus. I bump into them all the time too, and have learned to ask them "what were you doing two years ago?" as a way to side-step their inevitable blather about how they have thousands or millions of followers. Why? Because to really understand social media is to understand that influence is based on how many other influential people listen to you, not just how many people are "following" you (aka "ignoring you while also seeking lots of followers who ignore them too").
I admit, I have a few people in mind when I write this, but I won't name names. Just pay attention when you have someone tell you that they know more than you do. 🙂
Case in point: LinkedIn used to be very particular about the groups it would allow, but since the rise of Facebook, their policy has become quite a bit more flexible, and as far as I can tell, you can just create a group and you're good to go, no check, no validation, no verification required!
To demonstrate, I've created a fan page, uh, fan group, for Ask Dave Taylor on LinkedIn. No particular benefit to joining, but it's interesting to have it as a testbed. Here's how I did it…
First off, log in to your LinkedIn account and look for the Groups menu along the top. Click it:

Easy enough, click on "Create a Group" and you'll find that's really all you need to do to travel down the path you want!
Let me show you the steps I took, though.
First step is to either have or create a logo for your group. Much more than in Facebook, LinkedIn groups really should have a graphic associated with them due to how they're displayed in people's profiles, search results, etc.

Click on "Choose File" and upload your graphic. Now, scroll down a bit and you'll find the standard fields and information you'd expect: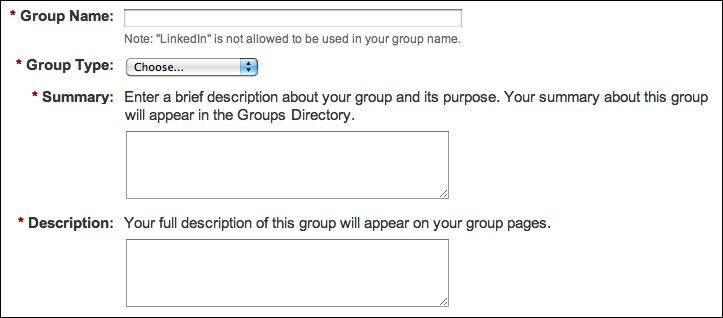 Note that you should pick the best match for your group type too. The current choices are: alumni group, corporate group, conference group, networking group, non-profit group, professional group and "other".
There's more to enter too…
Fill it all in as appropriate, then click on "Create Group". Really, that's it.
Well, you can now send email invitations to your LinkedIn colleagues, as desired: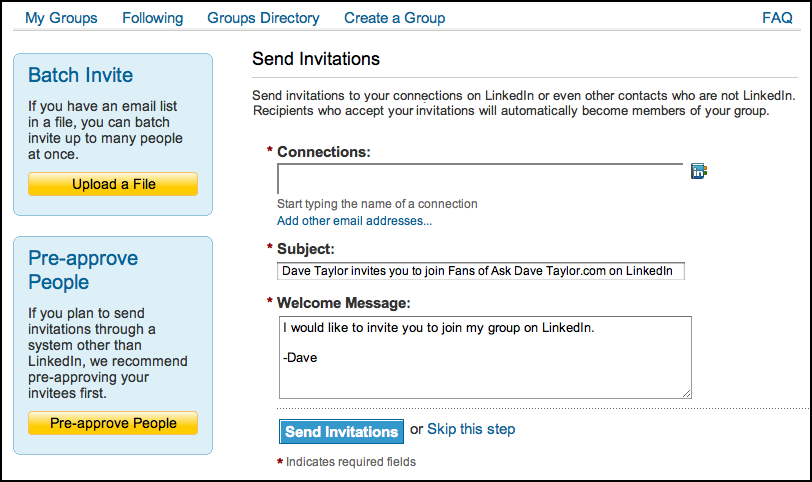 You'll also get an email notification that gives you a link you can use: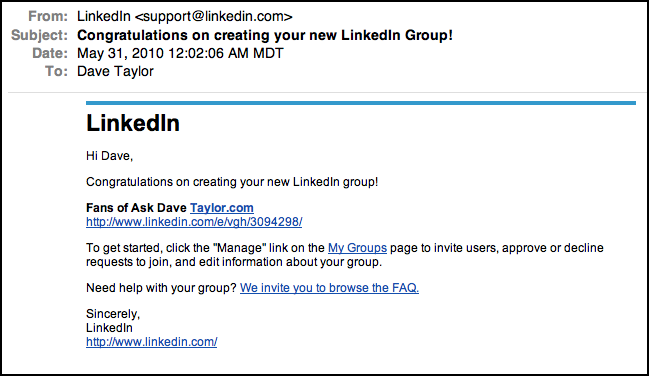 I'm more old school. To figure out the internal link that LinkedIn uses and have that available to people, I instead suggest you click on "My Groups" on the Groups menu (shown earlier), then scroll down to the new group you've created. There'll be an entry like this:

Simply right-click (or Control-Click, if you're on a Mac) on the name of the group and you'll end up with a URL that looks like this:
http://www.linkedin.com/groups?gid=3094298&trk=myg_ugrp_ovr
That's really all you need. Oh, here, here's my link, in clickable form too: Fans of Ask Dave Taylor (on LinkedIn). Nice and simple, eh?