I've started using the Voice Memos app on my new Apple iPhone 4s and it's simple and darn useful. But if I want to share it with a friend or save it on my computer, how do I copy the voice memo recording from the cell phone?
I'm also a fan of the Apple-supplied free app Voice Memos. Simple, straightforward, and easily started and ignored during a meeting, some impromptu karaoke, a birthday party or a stealth espionage rendezvous. Ah, well, maybe not so much that last one, now that I think about it!
What's confusing about Voice Memos, however, is that the actual recordings seem to only live within the app and can't be found with the iPhone's otherwise quite capable Music (iTunes) app.
So when you plug your iPhone 4s into your computer, are these voice memos actually accessible files, or are they forever hidden within the Voice Memos app?
Turns out that they are accessible once your iPhone shows up in iTunes.
Plug in your phone, then when it shows up on the left side of the iTunes window, click on the triangle adjacent to the device name and look closely at what's listed:


It's the last one that contains what we seek, "Voice Memos". Click on it…


It's not a glamorous display, but sure enough, here are the four voice memos I have on my own iPhone, organized by duration. Notice that for even the longest recording, over an hour, the file sizes are quite surprisingly small. One hour of audio and it's under 30MB? Nice.
Here's what's also slick about iTunes: If you have it automatically syncing between your iPhone 4s and your computer, it'll automatically copy all those audio memos onto your computer without you doing anything additional!
I have a genre "Voice Memo" created, with a graphic I pasted in myself, and after I've plugged in my phone, notice that it's correctly identified that there are four voice memos: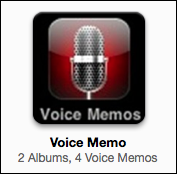 A click and I realize the two new memos didn't get the cute graphic and that they're from a different phone (the earlier are from "iDave5.6"):


Want to share one with a colleague or friend? Simply drag and drop it from iTunes onto your Desktop and you'll have a ".m4a" audio file that should be transport friendly and able to be enjoyed by them simply opening it in their own copy of iTunes or dragging and dropping onto their Web browser.