Now that I have an Apple iPad, I want to use it to show customers presentations on our products and services. The presentations are built in Keynote and I bought Keynote for my iPad, but for the life of me, I can't figure out how to copy the darn Keynote presentations onto the iPad! Is there some app I need to get or something?
This is a great question and one that I predict a lot of Apple iPad owners are going to have, whether it's for Keynote, or one of the other iWorks applications (Numbers, Pages). The solution is easy if you're willing to spelunk a bit, but it's certainly not obvious, particularly if you're a long-time iTunes user and think of it as "that application that helps you manage your music and video content".
It's an example of something that I've found troubling as Apple has expanded the capabilities of its consumer electronics line: iTunes is getting more and more overloaded and not only is it slowing down but it's getting more confusing too. I hope that Apple comes out with something new that encompasses the capabilities of iTunes but makes it a lot easier to figure out how to copy data files, move apps around, work with iPad books, podcasts, etc.
Meanwhile I guess we have to just live with what we've got, right? 🙂
So here's the trick. Buy and install Keynote from the App Store (at $9.99, it's a killer deal, btw!) then plug your iPad into your computer. For this demo, I'll show the screen shots from my MacBook Pro, but it should work the same from any Mac.
Click on the "Apps" tab:

Now you see the screen that lets you choose which apps you want to have on your iPad and organize them as you desire: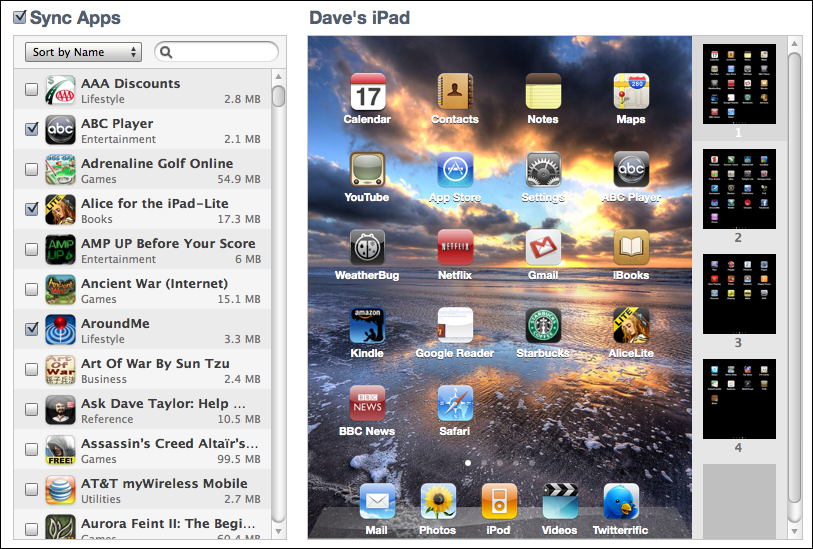 Ready for that big secret? Scroll
below this area
and you'll see….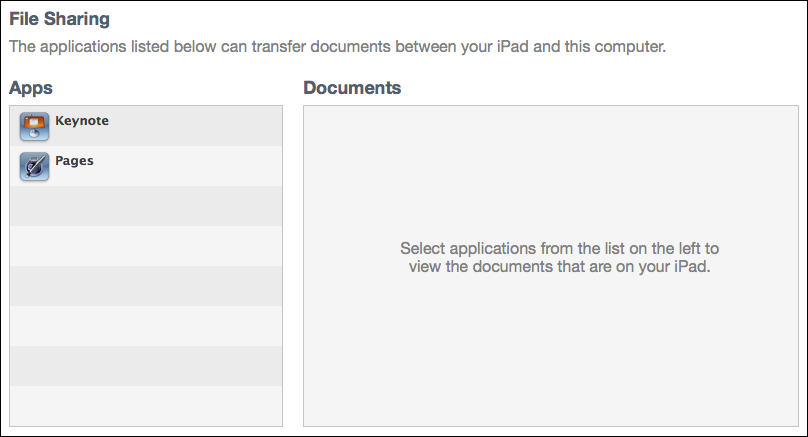 Ahhhh…. there ya go! Click on "Keynote", then simply drag and drop your presentation into the "Keynote Documents" area. I'll do that with a few of mine, and here's now it now looks: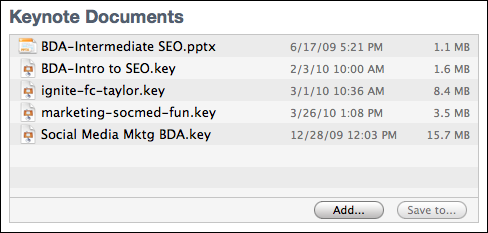 That's all you have to do on the Mac side. Now resync your iPad with your Mac and the data files will transfer across to the iPad…
Now launch Keynote on your iPad. Your first screen will look like this: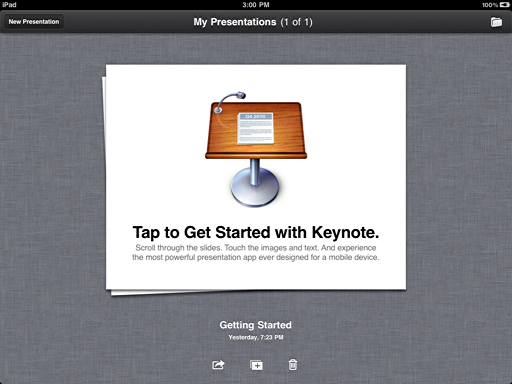 See that little folder icon in the top right? Tap on it. Now you'll see all the documents you just transfered onto the iPad from your Mac: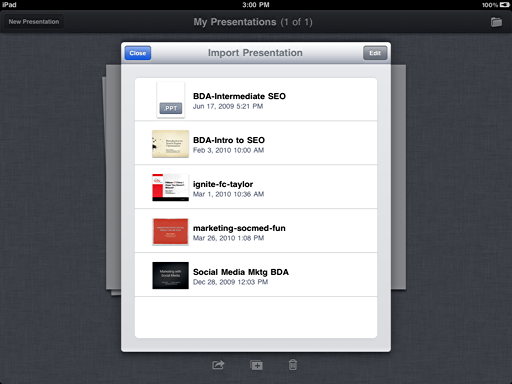 Tap on the presentation you want, and it's ready to roll!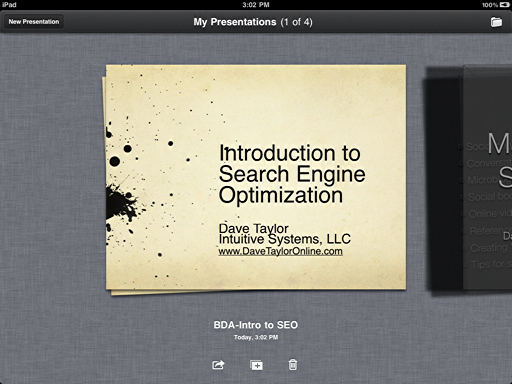 Now you can tap on the play button on the top right (the triangle) and enjoy it with your clients.
I will note that I encountered a number of problems with document portability, themes that are in the Mac version of Keynote but are missing in the iPad version, typeface problems, etc. I expect they'll be fixed, but don't be surprised if you need to tweak your preso to get it to work properly for you.
Now, still looking for
iPad help
? You're lucky, you found it right here!