Got a new Apple iPad and since you're already a MobileMe subscriber, you're dreaming of having it just magically get all your calendar events, contacts and even Safari bookmarks? Of course you are! The question is, how do you hook up your iPad to your existing MobileMe service?
My experience when I was setting up my iPad for the first time was that it asked if I wanted to sign up for MobileMe, but the "I already have an account" link actually didn't take me to a point where I could enter my MobileMe credentials, so I ended up just skipping that point in the desire – I admit – to get to the point where I could play with my new toy!
Problem is, that left me without contacts, calendar events, etc etc, where my iPad wasn't part of my little digital universe. Not so good.
Fortunately, I then figured it out. And here's how ya do it…
Everything takes place on the iPad itself, so all of these screen shots are from the iPad. If you don't have one, you might find it remarkably similar to how you'd set up MobileMe on your iPhone.
First off, find the Settings icon if you haven't already, and tap on it:


Now you're in the Settings area where there's lots you can play with and tweak. On the top left are the main app choices:
You want to tap on "Mail, Contacts, Calendars" just below "General". Now you'll see the general Mail account settings, probably empty, as mine was:
Tap on "Add Account…"
Tap on "MobileMe" (right about now you're thinking, "well, d'uh!" but bear with me, okay?)
Here's where you'll need to enter all of your login credentials that you should have gotten from when you signed up for MobileMe. Enter them all, then tap on "Next" in the top right corner (which activates once you've entered data).
You'll get to stare at this:
If you're in a café like I was, it might be blocking SSL so it's possible you'll actually see this error pop up: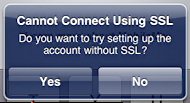 If so, unless it's a place full of hackers and ruffians, I'd suggest you tap on "Yes" and let it proceed.
Eventually it'll verify your MobileMe account information and show you the default settings options for your account, specifically which data you want to keep in sync:
Not sure what you have hooked up to your MobileMe account, but I have everything synchronized, using Address Book for my contacts, iCal for my calendar, and so on. I leave everything in the "On" position.
Worthy of a bit more discussion is the "Find My iPad" option. Like "Find My iPhone", it is a nice feature that lets you log in to the MobileMe Web site (me.com) to geolocate your iPad in case it gets lost, misplaced or stolen. I recommend you enable it. Tap on "Yes" and …
Really, tap on "Yes". Trust me on this one!
One more setting before you go back to hunting for the perfect iPad game: do you want MobileMe to be able to "push" information to you when you're working on the iPad? If so, go back to the main Mail, Contacts, Calendars configuration and look for "Fetch New Data":
Tap on it and you'll be able to configure your push notifications exactly as you'd prefer:
That's it. Your MobileMe account should be all hooked up. Have a bit of patience and you should shortly find that all of your data has invisibly streamed onto the Apple iPad and you've got your contacts, calendars, bookmarks and more!
If you've read this, I'm sure you're looking for
iPad help
. Guess what? You just found it!