I've had a Netflix subscription since I got my iPad so I could gain access to their streaming movie library, but I now realize that I haven't actually launched the Netflix iPad app for over a month. So it's time to quit Netflix. How do I most easily do that, Dave?
I've been a member of Netflix, on and off, for years. I used to have my office around the corner from their Los Gatos (CA) offices, too, so I felt like I was helping out a local company with a pretty darn cool business model too.
As more and more video sources have arisen, however, I also find that I'm not using my Netflix streaming account at all, even with a Roku XD box hooked up to my TV and the cool new Roku Netflix software. I just never quite flip the switch, and now that I'm upgrading my Comcast cable TV to include a DVR, well, I'll have dozens of movies available at the push of a button anyway.
So I took advantage of your query to cancel my account too, and here's how I did it:
Step zero, needless to say, is to log in to the Netflix web site.
Now, on the top right, notice that next to your name it says "Your Account & Help":


Click on "Your Account & Help" and you'll see a ton of options. On the right, though, there's a column that contains the link you seek:


Click on "Cancel membership" and it then shows you an explanation of what canceling means (and lots of reasons why you shouldn't quit)…



Keep scrolling down. Eventually, you'll get to Section 3, which includes the all-important button:


Check the requisite box, click on "Complete Cancellation" and you're done:



As with many online services, however, notice that canceling your membership doesn't actually delete your account, just put you on an inactive list. I presume that if you email the Netflix admin team that your account can really be deleted, but there are no instructions I could find online to do this if you seek to completely erase your presence on the site.
Oh, and if you have any DVDs out, they'll remind you: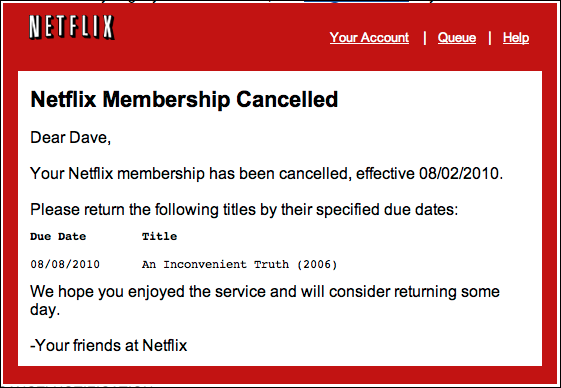 So there you have it. Now, when do I get a single box that offers a smart interface to my Comcast digital HD cable, Hulu, Netflix, YouTube and access to AVI / MP4 files on my local hard drive or network devices?