Dave, I have an email account in gmail as myaddr@gmail.com but I'm still confused.
How can I forward gmail invitations to my friends?
I've been plugged into the Gmail world for so long that I forget it's a different experience for people just signing up for the service.
Your first step is to log in to the service. Then, on your main inbox page, you should see something like this: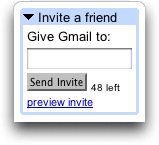 The fast way to do this is to enter their email address in the box and click "Send Invite", but there's an even easier way: every inbound message you receive has the following link at the bottom of the message display:
Invite JohnDoe to Gmail
Click on that link and you'll be able to invite your friend without even having to type in their email address. Darn convenient! The next window you'll see looks like this: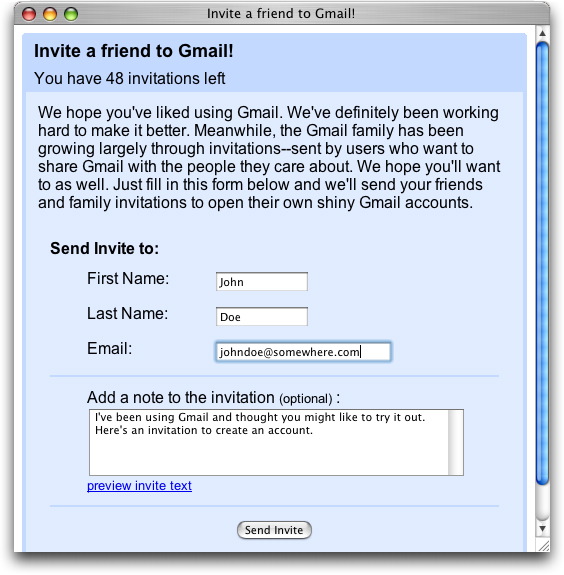 Click on "Send Invite" once you've fine-tuned the invitation note and you'll be helping your friends join our Gmail family in no time.
Unless, of course, you aren't seeing the invite box at all, which means you don't yet have any invitations and just need to have the patience to wait a week or two (or possibly quite a bit longer: see my article
Why can't I invite my friends to join Gmail?
) before you start earning invitations.
Oh! If anyone still needs a Gmail invite, please don't hesitate to ask me for one: send your message to me at
d1taylor
at
gmail
.com.