I've seen all these other users that have cool little symbols in their MySpace names and am jealous. How the heck can I add hearts or other symbols to my profile name?
MySpace keeps tweaking with its backend (which is why the replace your name with a graphic trick no longer works) but as of this writing, you can indeed slip what are called HTML character entities into your MySpace profile name.
Better yet, there are a ton of 'em to choose from, including ♥ for the ♥, ♦ for ♦, ♣ for ♣ and ♠ for ♠. You can have a full house or four of a kind! A♥ A♦, A♣ A♠ Fun, eh?
There are other symbols that are a bit more business-like that you can use, including © for © too. There's also the entire Greek alphabet including my favorite character, ω &omega and even the capital version of it too: Ω Ω (silly me, I didn't even know that Greek had capitalized letters).
Don't like Greek? How about the Icelandic thorn symbol? þ produces þ. Or perhaps you need the German szelig ligature: ß which produces ß.
I could play this game all day, but instead, let me point you to a complete chart of all character entities defined in the latest HTML specification: HTML Character Entities.
To actually use it, you need to choose "Edit Profile" then choose "Name", which gets you here: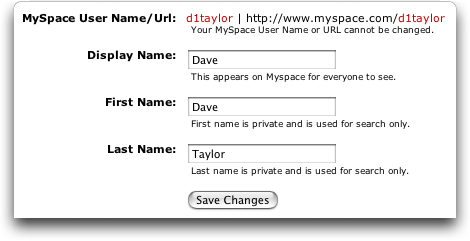 Adding one or more of these symbols is as easy as typing them in properly as part of your name field. For example, if I wanted to be far, far cuter than I could actually stomach, I could use: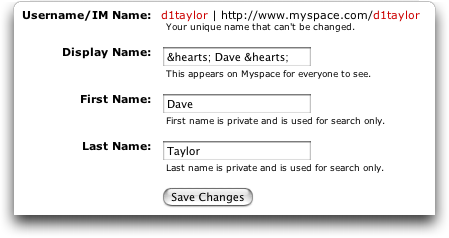 which produces the following:



Sorry, that's definitely not my speed, but perhaps one or more of those fun character entities can help you jazz up your own profile name, and good luck to you!
Finally, if you'd like to connect with me via MySpace, that'd be great!
My MySpace Page
. Also, since you are just learning about MySpace, you might well be interested in my
MySpace Help
area too.