I have an RCA Lyra Mp3 player and an SD memory card for it, but I can't figure out how to format my Lexar SDcard so I can use it with the Lyra. Can you help me out?
First off, let's talk about the bad news: there are a lot of people who complain about just how picky the Lyra is about which SD cards it can work with. Indeed, the later model Lyra devices on the RCA site itself say "now supports more SD cards" as a feature. Ouch.
Go to a popular memory card vendor like 4AllMemory and you'll find that a search for Lyra-compatible SD cards shows barely a half-dozen matches: Lyra-compatible SD Cards
Another issue: you might need to update your firmware to gain better compatibility with various SD cards: Firmware Update 615 targets this specific problem.
While we're listing all the potential problems, it's also worth reporting that there are some reports of Lexar memory cards that require a higher voltage than regular SD cards, meaning that the Lyra either wont start at all, or its battery drains faster than usual.
Comment from the web on this: "Some Lexar memory cards require at least 2.7v to operate. Some Lyra models only use a single AA battery (1.5v). This MAY mean the mp3 player doesn't have enough power to run the card (depends on if RCA used the right parts to temporarily boost the internal voltage to 3v through a booster circuit or capacitors). This may vary between models and even between different releases of the same model. This also may explain why you can hook the device up via USB and send/receive files to the card fine but then have problems after you disconnect (a USB wire can provide some amount of power. My previous nexxtech player would actually turn on without a battery when I plugged the usb wire in). " [ref]
Generally, you should be hooking your Lyra up to your PC, then running the standard PC disk formatting utility. But even then, here's what RCA warns:
"We have recently discovered an incompatibility with the RD1080/RD1090, Windows XP (Service Pack One) and some newer SD cards. We are presently working with Microsoft to identify the best approach to correct the issue. Until a solution is implemented, we suggest that you use MMC cards instead of SD. "
To format an external device in Windows XP, just find the device in your "My Computer" window, then right-click on it and choose Format…. You'll see something like this: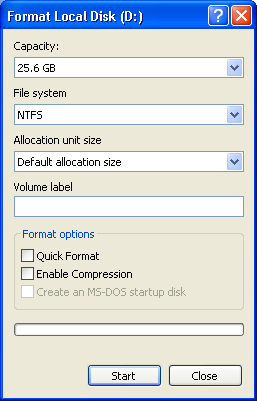 (since I don't have a Lyra, this shows the default for my second hard drive. Your settings would be similar, but probably a bit smaller!)
RCA offers zero assistance on the best way to format an SD Card for use with the Lyra, as far as I can tell, so I'll say that my expectation is that NTFS will work, you should use a short, letters-only volume label, and you should
not
choose either "Quick Format" or to "Enable Compression".
When you're ready, click on
Start
and it should only take a few seconds for the SD card to be ready to roll with your Lyra.
If it works. :-\
Good luck to you!