I'm a big fan of LinkedIn and find it a very useful tool for both professional networking and job hunting, but as I have used it for a year or two I have found that my list of connections no longer reflects my current career direction and I would like to axe a few people from the list. I still like them, just don't want to have a formal LinkedIn connection. How the heck do I delete LinkedIn connections, Dave??
With so many different social network sites cropping up, it's pretty amazing to me how few actually let you edit the connections you establish. There are two facets to this: deleting obsolete contacts and adjusting or changing the "strength" or "quality" of a connection, for those few sites that allow you to specify how well you know someone else rather than just a simple know/don't know.
LinkedIn doesn't yet allow you to grade the quality of your contacts, but it does let you axe a connection that is no longer necessary, relevant or desired. Getting to it, however, can be a bit tricky.
Here's how…
Log in to your LinkedIn account, then click on Connections within the "My Contacts" area. On the right side you'll see: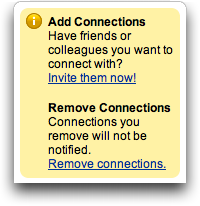 Click on "Remove Connections" and you'll be taken to an area of LinkedIn that looks curiously similar to an old-fashioned Rolodex: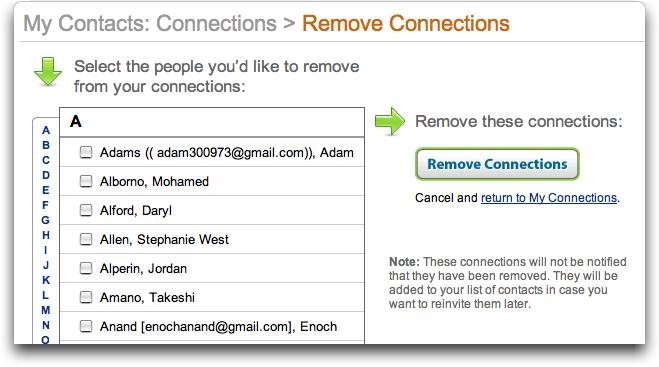 Simply check the name or names you want to remove – they'll show up immediately on the right side – then click the big "Remove Connections" button.
You'll then be asked to confirm the action and reminded that it's irreversible: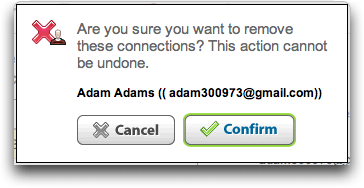 Ready to proceed? Just click "confirm". If you've changed your mind, go ahead and select "cancel" and your action will be cancelled.
Hope that helps you clean up your LinkedIn connection list.