I'm just plugging in to MySpace and am having fun setting up my profile, but I'm a bit baffled about how to get my blog going. When I click on the "Blog" part of "View My" under my picture (that is, "view my blog") all I get is an error page. Do I have to pay to have a weblog on Myspace??
First off, as of today, you never need to use the words "pay" and "myspace" in the same sentence, which is very cool. At this point in time, Myspace remains completely free.
However, you do have to suffer through its kinda clunky interface, as I've written about before. The reason you are getting an error page on your blog link is because you haven't set up a weblog on the site yet. To do that, you need to go to your home page, then click on Manage Blog: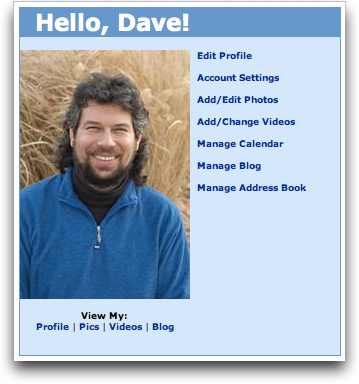 (yes, that's me when I'm not being an icon. 🙂
On the subsequent page, you need to scroll down a ways and then, on the left side, you'll see: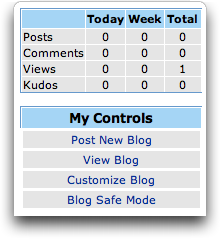 Here, click on "Post New Blog" (though it really should say "Post New Entry" because a blog is composed of entries, not individual blogs, but that's just a semantic quibble) and you'll be given lots of options to set: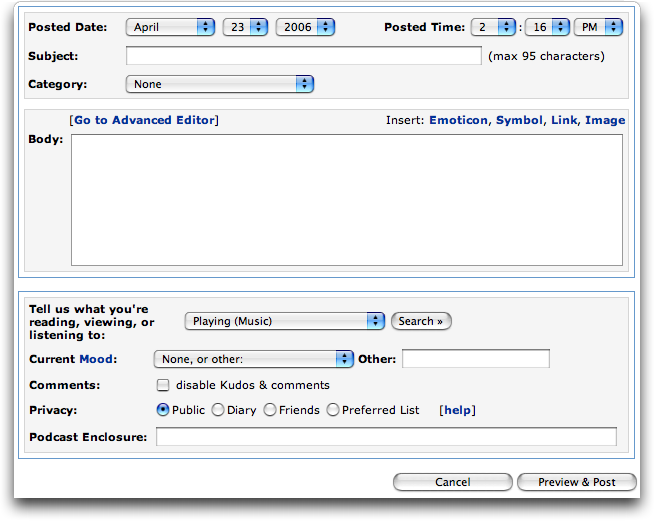 You'll note that I'm using the basic editor rather than the advanced editor: your choice may differ, but fortunately it's easy to switch back and forth. The difference is that I need to know HTML to do 'bold', paragraph breaks, and so on (which I do) whereas the advanced editor offers easy one-button shortcuts for basic formatting tasks.
Anyway, fill in the fields as desired, write a paragraph or three for your actual blog entry, and press "Preview and Post" and if everything looks good, you'll have just created your first MySpace Blog entry and you'll now
have
a blog that you can share with all your current and future friends on the site!
Finally, if you'd like to connect with me via MySpace, that'd be great!
My MySpace Page
. Also, since you are just learning about MySpace, you might well be interested in my
MySpace Help
area too.