I just read about Google Checkout (at your site, actually: Introducing Google Checkout and I"m inspired to add "buy now" buttons for this service to my page in addition to the Paypal buttons I already have. Can you step me through the process, please?
Sure. You are fast off the mark – the service was only introduced five hours before I got your query! Fortunately, it's pretty easy, so I'll step through how I added a 'buy now through Google Checkout" button to my Buy Dave a Chai page on the site.
First off, you'll need a Google account, which you probably already have if you use Google Mail, personalized search, Google Spreadsheets or any of the myriad of other Google services available. Then go to the signup page, where you'll learn that you need:

Assuming you have those data points available, you'll need to specify whether you are a current
AdWords
advertiser, have a Google account or are a newbie to the Google service (though I had to log in to get to this screen so I am unsure how you could ever check #3 here). I picked #2 since my AdWords campaigns are more tests than real advertising, then was asked if I wanted to use the same account settings or have a different account for Google Checkout. I chose the same settings for simplicity.
I had to sign in again and this time was whisked to a new page that asked for lots of contact information, including contact name, business name and address, and so on. More importantly, I also had a chance to read the Google Checkout Terms of Service,
Privacy Policy
and
Content Policies
to ensure I was not going to use it in ways that our friends in Mountain View didn't like.
I clicked "Save & Continue" and was asked for some financial information about the company (to assign a max daily limit, I expect), including current sales volume and estimated average order. I also had to supply either a Federal Tax ID or SSN & credit card information. I filled these out — beware, their "smart" credit card entry box messes you up with the Safari browser. Take your time and triple check your card number — and again clicked "Save & Continue".
This is so I can buy stuff, which is confusing. The next step is to specify a bank account so I can have Google Checkout deposit money into my account: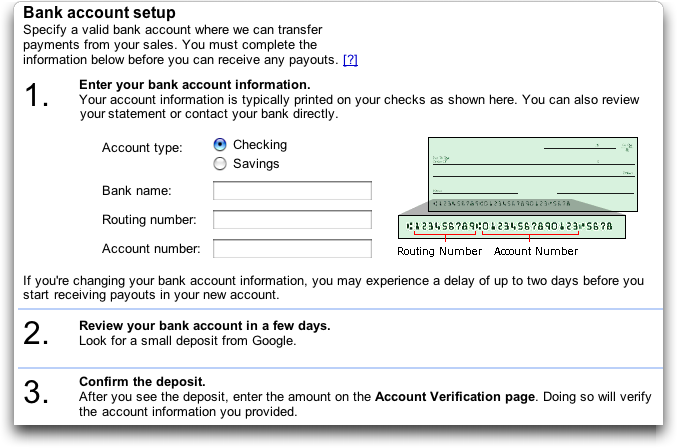 As with
Paypal
, Google Checkout drops a small amount in your account and then asks you to confirm the amount to validate your account data. Easily done, though I'll have to come back here in two days and verify the transaction.
Next up, you'll need to specify yet more information about your site. Your public business URL (which is kinda daft: Google notes that if your AdWords ads point there, you'll get a tiny Google Checkout badge, but AdWords best practices have different landing pages for each campaign. I don't see how that's integrated into this service yet), your product type, customer support information, and similar profile info.
You also need to specify both your return and shipping policies, as appropriate, and, a nice touch, you can specify what you want to appear on your customers' credit card billing statements. I presume that's in addition to "Google Checkout", but someone will have to buy me a cuppa and we'll see what they get on their statement!
With everything specified, finally, we can just click on the "Buy Now buttons" and get down to the business of actually building a button or two!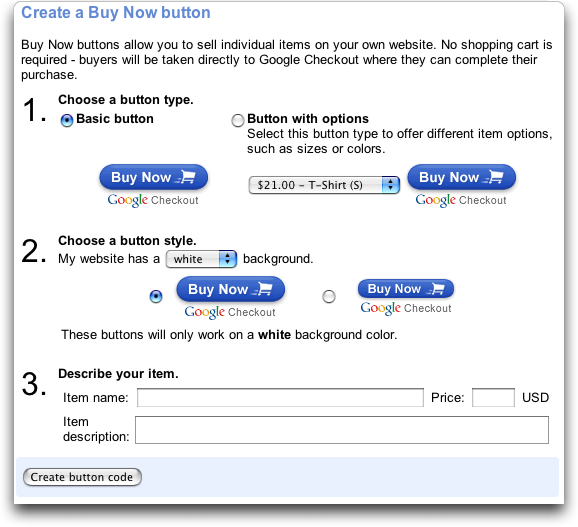 As you can see, it couldn't be much easier, as I expect from Google.
To create a "Buy Dave a Chai" button, I'll specify the "Button with options" and let people easily select between the four chai options: buy me a chai ($4.50), buy me two chais ($9.00), buy me and my wife a chai each (also $9.00) and buy me a Starbucks gift card ($25.00).
I choose a colored background since it's so much prettier, and type in the specifics of each item: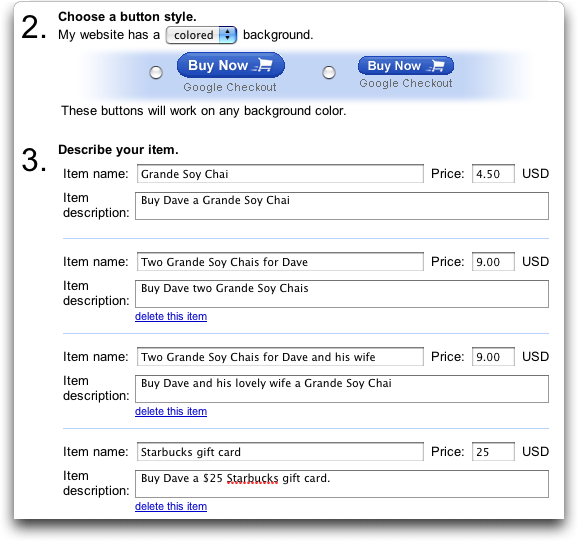 Looks good, so I click on "Create button code" and find out that particular feature isn't Apple Safari compatible: nothing happens when I click on it! BLECH!
So I start up Firefox and log in to my new Google Checkout account, and try again.
This time it works, and I get the code displayed:
Here's what it looks like as a button, too:
Try it! Buy me a cuppa, and here's what you'll see (once you've set yourself up with Google Checkout, of course):
That's all there is to it. Is Google Checkout better than Paypal? It's too soon to tell, but Google tends to be successful with its efforts, so I'm betting that it's smart to at least have both available as options for people wanting to pay you / buy your products.
Hope that's helpful!
By the way, here are some places you can read blogger thoughts on Google Checkout and how it compares to Paypal and other payment services: The New York Times, TechCrunch, CNet News, Search Engine Watch, TechDirt, ClickZ, ReveNews, and, of course, Google's Official Blog.