I've signed up for LinkedIn and had some success getting my colleagues to sign up too, but I'm a bit confused: for most of my links I can see their connections too, but there are a couple of people who obviously have connections but I can't see or browse them. What's that all about and how could I do that if I wanted to keep my connections private?
Let me show you how to do that in your LinkedIn settings, then let me explain why I think it's a pretty bad idea…
Log in to your LinkedIn account, then scroll to the bottom of the page. You'll see a bunch of useful shortcuts, including:



The one you want to select is
Name, Location, Privacy
. Click on that and you'll see a variety of different settings you can tweak, but let's look at the "Privacy" settings: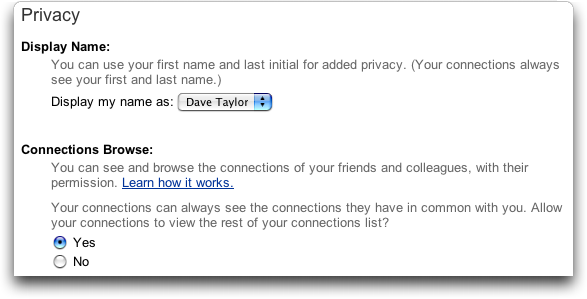 The key area is
Connections Browse
and if you read what LinkedIn says, this setting lets you enable or disable your connections viewing the rest of your connection list (people who aren't connected to you can never view your list regardless of this setting, of course).
If you really don't want to publicize your connections list, simply select
No
in this section and save your changes.
Now, is this a smart move given that you're using LinkedIn to be more efficient in your professional networking efforts and leverage both your direct and extended network? I believe not. Indeed, I see this as somewhat akin to going to a party and asking everyone who they know, but just smiling smugly if anyone asks you who you know. It won't take long for people to stop talking with you…
But even without that analogy, the key question you need to ask is what you're trying to gain from your efforts on LinkedIn. If you're trying to expand your network, then I think that the old Golden Rule of "do unto others as you'd like them to do unto you" applies here: don't expect to be able to leverage other people's extended networks if you aren't willing to share your own.
Having said that, if there is someone in your network who seeks complete privacy, then perhaps they shouldn't be involved with LinkedIn in the first place. Again, going to back to my party analogy, isn't this like saying you want to remain a private person while going to a public gathering? Ya can't have it both ways…
Anyway, you'll have to decide for yourself whether this is a setting you want to disable on LinkedIn, but at least now you know how do to so.