I've recently joined Pinterest and it's super fun. I'm becoming a pinning fool. At least, that's what my husband says. Still, I really want to get my sister and my mom hooked up. When they go to Pinterest, however, there's no sign up or register button, just a "request an invite" link. How can I get them on Pinterest directly, without them having to wait for an invite?
Wait a second. I'm on Pinterest too — find me here: Ask Dave Taylor on Pinterest — and there's no reason that your sister and mom should be the only ones invited. It's just as interesting for guys, in my opinion, and the real determinant of what you see on the site is who you follow anyway. Too many recipes, too many photos of cute hair styles and bathroom towels? You're following the wrong people or, perhaps, the wrong pinboards. I definitely know of guys who are posting pictures of guns and cars, for example, and a few days ago there was a wave of women in bikinis that floated through my feed, though they haven't resurfaced.
Whomever you're going to invite, however, you're right that at this point Pinterest is managing membership. They say that it's to manage growth and ensure that too many spammers and other people who don't have connections into the current community don't show up and pollute the space. I can see that, but it's also the case that scarcity foments great interest from the people who cannot join, a psychological trick you see with the lines in front of every trendy nightclub in any city in the world. No line = not a good club.
Back to Pinterest, though. When you're logged in, look on the top right and you should see a big, red button:


I know this won't come as a shock: Click on the "Invite Friends" button to invite your mom or sister — or anyone else you'd like to invite! — and you'll then need to know their email address to proceed: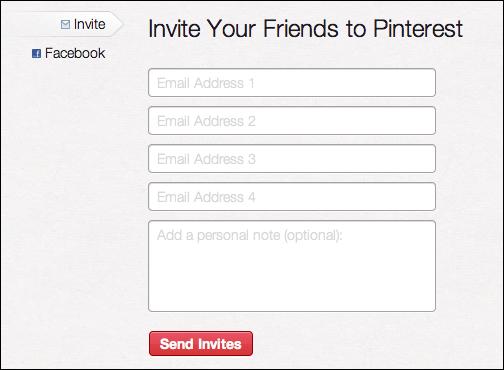 You can see that it's easy to invite up to four people at a time, which is handy. I always recommend adding a personal note to any social network invitation, be it Facebook, LinkedIn or Pinterest, so spend a minute or two entering something there too.
Here's what mine looked like when I recently invited someone to join me on Pinterest: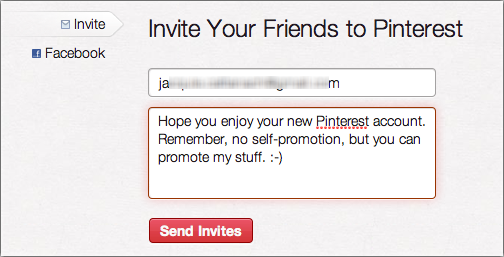 Look on the top left of the invite box and you'll notice that there's a tiny "Facebook" link. Click on it and you'll see that Pinterest and Facebook are very close buddies and that Pinterest can not only access your friends list, but then cross-correlates it with Pinterest members to split out your friends into "on Pinterest" and not:
I generally am following all of my Facebook friends who are also on Pinterest, which is easily done by clicking on "Follow All" adjacent to the "Friends on Pinterest".
Wondering what the email that someone gets will look like, btw? Here, I sent an invite to myself: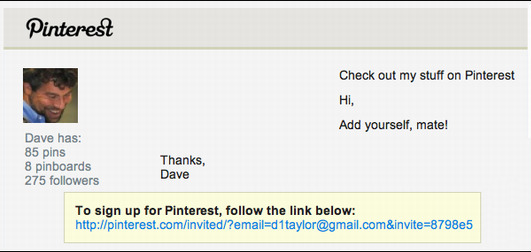 The "Add yourself, mate!" was what I typed into the message box, so if you really want this to be neat, you'll need to think through what's already in the message.
In any case, that's how to invite people to Pinterest. If you're reading this and you'd like an invite to Pinterest, please don't hesitate to send a request to us, and we'll do our best to help you out. Or, just
view my Pinterest boards
, which you can do without being a member of the site.