I want to sell my older Windows laptop but am afraid I won't remember to log out of everything and delete every single program I've downloaded and licensed. How can I do a wipe and reset so it's identical to a brand new computer?
If you've ever reformatted a modern smartphone before trading it in for a new one, you'll know that there's an area in the Settings app that makes it a breeze. iPhone, Android, even the old Windows Mobile had this feature. But, rather surprisingly, it turns out that Windows has this feature too, and it accomplishes it by basically reinstalling Windows onto your computer. It's not something you want to do on a whim, but if you really need a full reformat and reinitialization of your PC, it's quite handy!
Before you proceed, I hope it's obvious that you want a full and reliable backup of every single data file, photograph, video, Word doc, etc. Test your backup files too because there's no coming back from this precipice. Ready? Let's perform a full system reset and reinstall on one of my Acer Windows laptops.
FIND THE RESET PC OPTION
Start out by doing a search for "recovery" and you'll be able to jump directly to System > Recovery: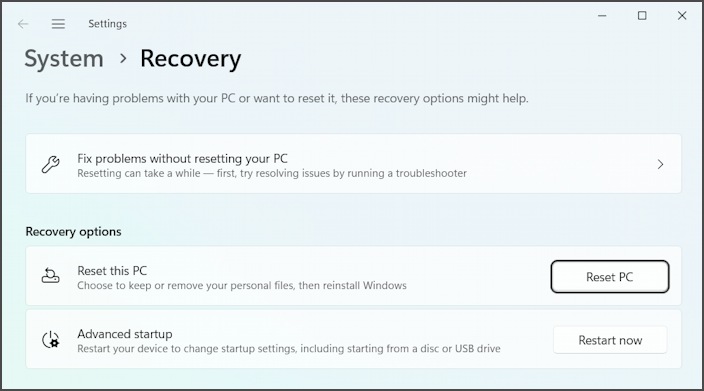 There are some options here if you are trying to debug a particularly tough malware infection (see both "Fix problems without resetting your PC" and "Advanced startup") but if you want to reinstall Windows, click on the "Reset PC" button.
Now one of the most important questions must be answered: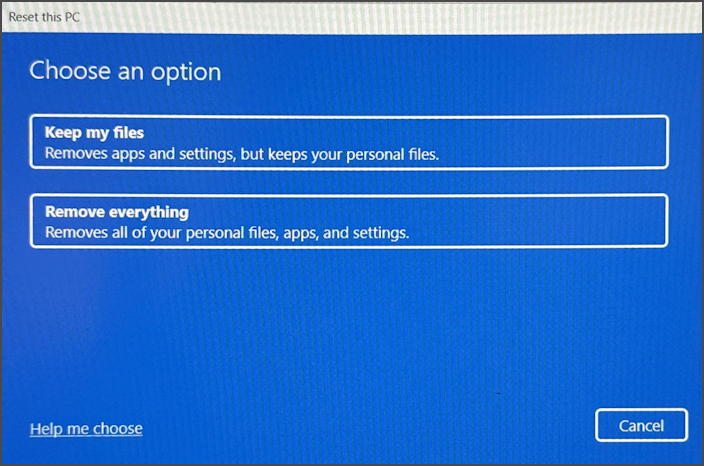 Since you want to do a full system wipe prior to reselling your computer, you'll want to choose "Remove everything", but notice that if you just want to reinstall Windows, you can choose "Keep my files" (though I would still highly recommend a full backup prior).
Note: Since it's impossible to take screen captures during the reset process, I've ended up taking photos of the screen!
Ready to proceed? Click "Remove everything".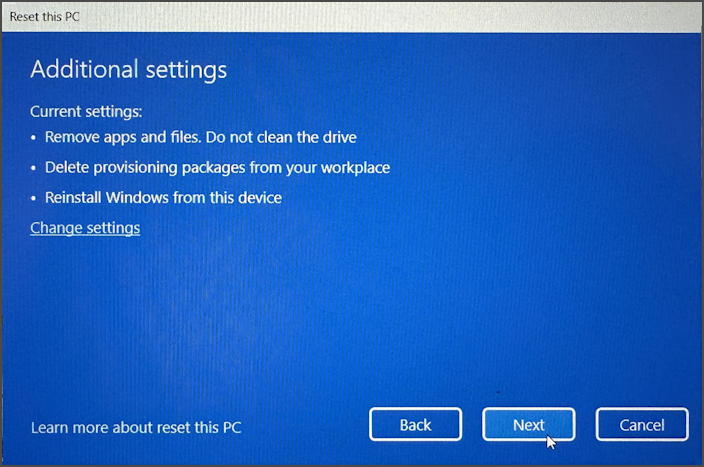 If you're going to be selling or giving your PC to a family member, then not cleaning the drive after removing your files is fine (as I have selected) but if you're selling it through Facebook Marketplace, Craigslist, or similar, then I would recommend clicking on "Change settings" here and indicating that you do want to have the drive wiped clean prior to the new install being done. This will help ensure the new owner can't run a recovery program and try to salvage your files.
To take the next step, you guessed it, click on "Next".
HOW IT WILL REINSTALL WINDOWS
At this point, you'll learn that Windows actually keeps a local copy of itself so it can do a reinstall without an install disc or Internet access. Handy (but not so great for disk space utilization). Here's the prompt: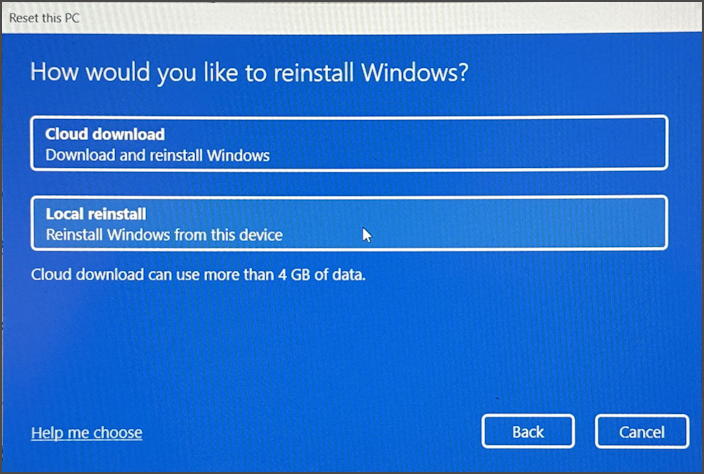 If you are concerned about whether your PC might have a malware problem, then "Cloud download" is a better choice, though it'll add a chunk of time to the already long process. For most users, choose "Local reinstall".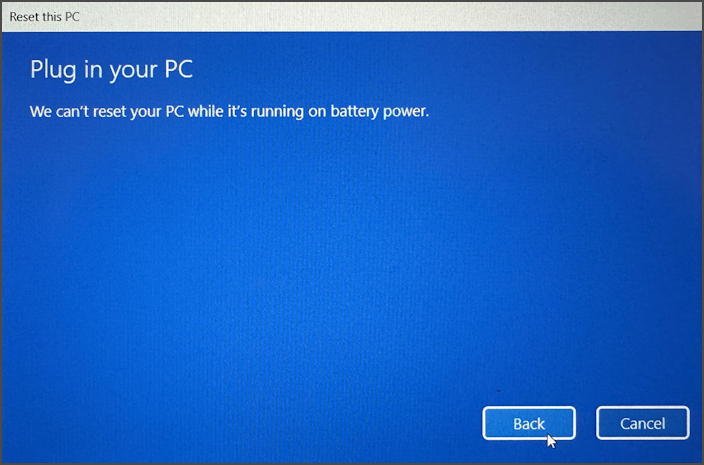 Oops! I need to plug in my PC so I can proceed. Once I do so, it automatically proceeds to the next prompt: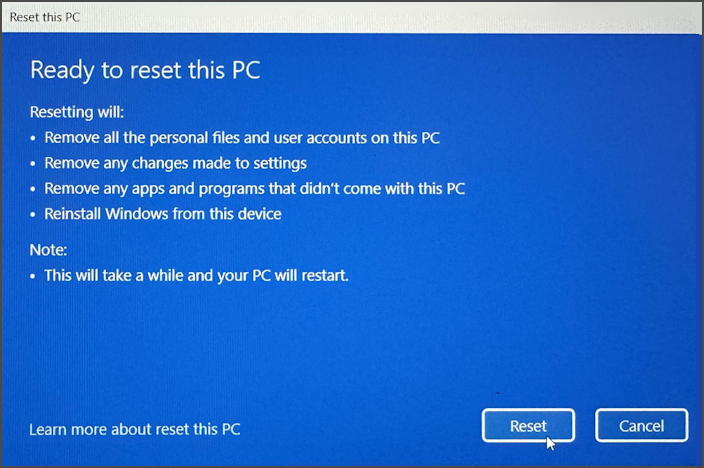 All looks good, and it's going to take care of getting rid of personal files, user accounts, personal files, remove apps that weren't part of the original system, and reinstall Windows.
RESETTING AND REINSTALLING WINDOWS
To proceed from this point – and, again, I hope you have a great backup! – click on "Reset".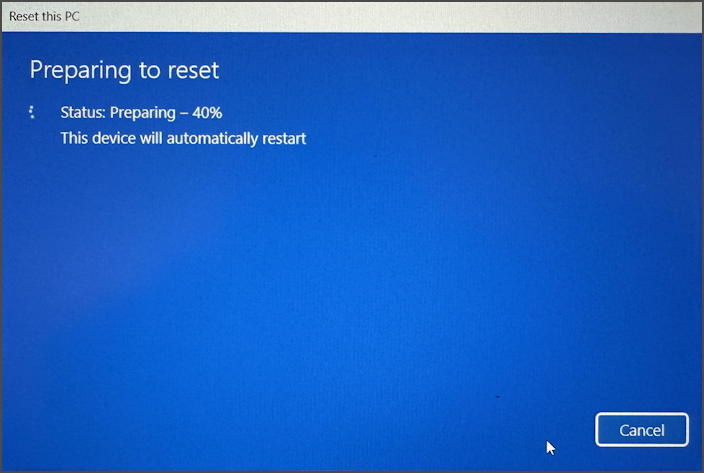 This process will take a while. Like, 30+ minutes a while…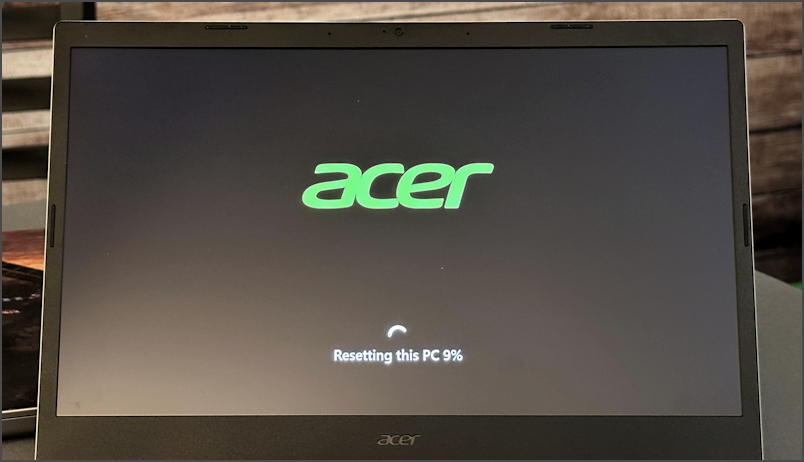 I counted at least four restarts, though it might vary based on PC manufacturer. It also needs to reinstall Windows too:
And, finally, after a fair amount of time has transpired, it's back to the first screen you would have seen when you first pulled the PC out of the box:
Mission accomplished!
Pro Tip: I've been writing about Windows for many years and have an extensive Windows 11 help area. Please check it out to find lots of additional tutorials and guides while you're here. Thanks!