I'm doing some research on the 2016 Presidential Election and wanted to reference some of the top posts on Reddit from election day. Is there a way to search for posts on a specific date in Reddit?
Reddit was launched in 2005 as a social news aggregation site, making it one of the longer-running popular social networks online. An interesting piece of history for developers is that Reddit was originally programmed in the language LISP, perhaps one of the few Internet programs ever written in the language. Speaking of history, however, while some sites – like Google – let you specify a date range for your search, Reddit doesn't have that feature.
No reason to panic, however, because there are various ways you can get around the limitation with some ingenuity, even using Google to search Reddit's publicly visible archives: simply append "site:reddit.com" to your search, if you're curious. Let's check out "rereddit", however, since that's the official way to access Reddit's historical archive (and every post and comment from 2008 onward is accessible).
SIMPLE REDDIT SEARCHES
Election day is always on November 8th in the United States of America, and every four years it's a Presidential election. The Presidential election when Donald Trump beat out Hilary Clinton with electorate votes (she had 2.8 million more popular votes) was therefore on November 8, 2016. The easiest search is then something like "trump clinton 2016":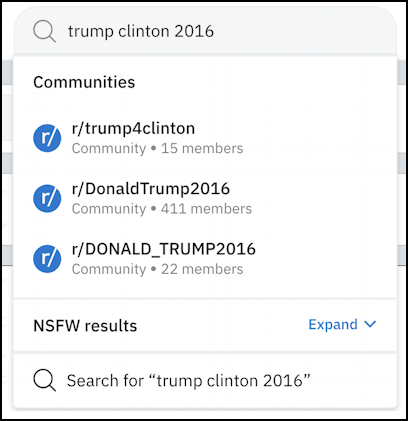 Even before pressing Enter the system is offering up suggested communities, though few have very many members, and r/trump4clinton has 15 (and probably hasn't had a new post in years). Notice the "NSFW results". Those are Not Suitable For Work and generally are either PG-13 or R-rated posts, artwork, fanfic, or similar. There are a lot of Redditors with a lot of time on their hands. Click on "Expand" to see a few matches: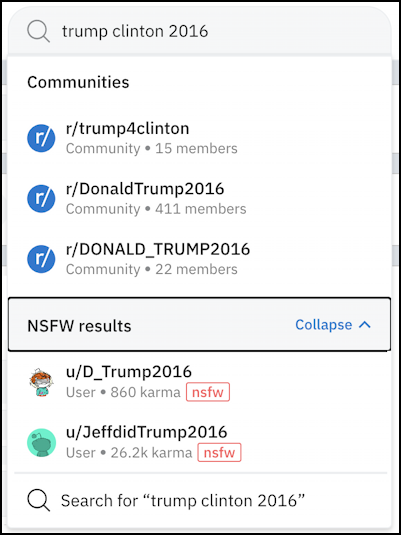 In this instance, they are users (denoted by the "u/" prefix) and at least one of them has lots of karma, suggesting their posts are popular, whatever groups they're in. But none of these are posts. To find those, click on the very last entry in the menu: "Search for "trump clinton 2016″"…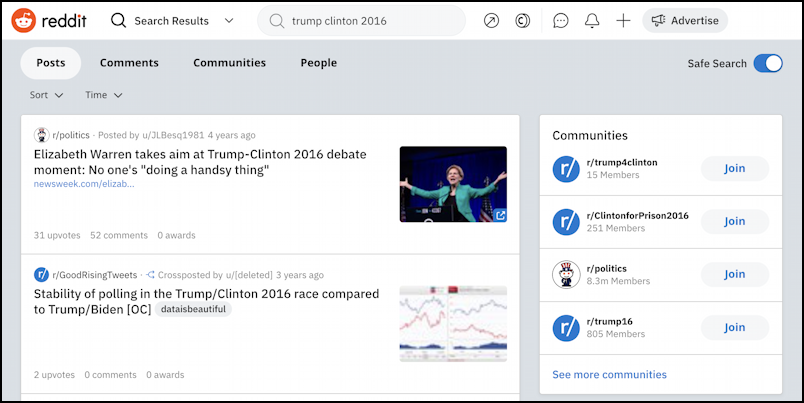 These posts match the keywords of the search – "trump" and "clinton" and "2016" – but they're not from 2016, they're from 4 years ago then 3 years ago.
Similar to Google's advanced search, there are "Sort" and "Time" filters, but unlike Google, you can't specify a date range: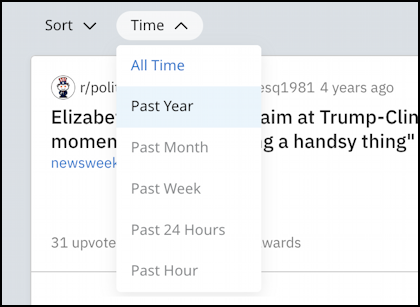 So what's to do? Enter Rereddit…
EXPLORING REDDIT HISTORY WITH REREDDIT
While Reddit has an enormous historical archive, it's oddly hard to find rereddit on the site. You'll want to click on your profile shortcut on the top right, then scroll down on the resultant menu. Then click on "More" to reveal additional options: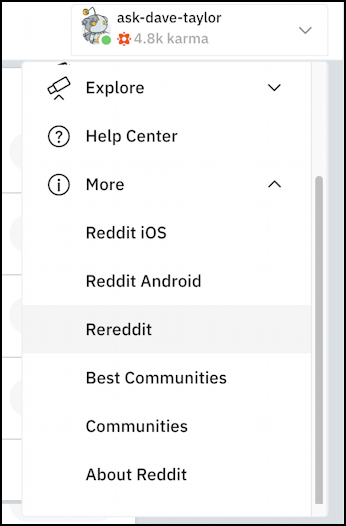 Shortcuts to the various smartphone apps, best communities, and, as desired: Rereddit.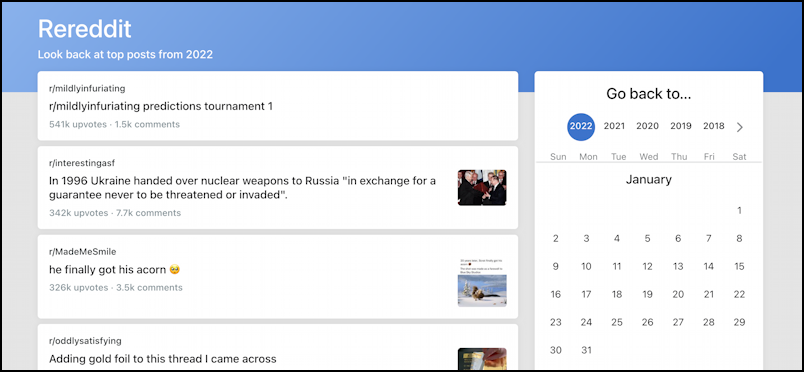 You can see the most popular posts for all of last year, with "predictions tournament 1" in r/mildlyinfuriating being the top with 541K upvotes. For our purposes, however, it's the right side of the screen that's more interesting. Scroll to choose 2016, then move down to November 8 and click: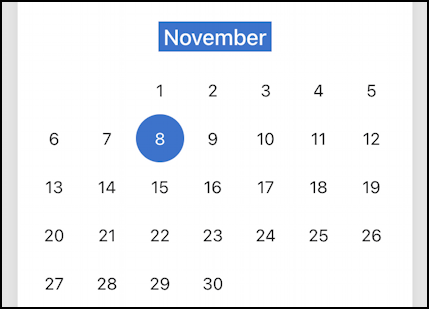 Now you'll see the most popular posts on Reddit for that particular date: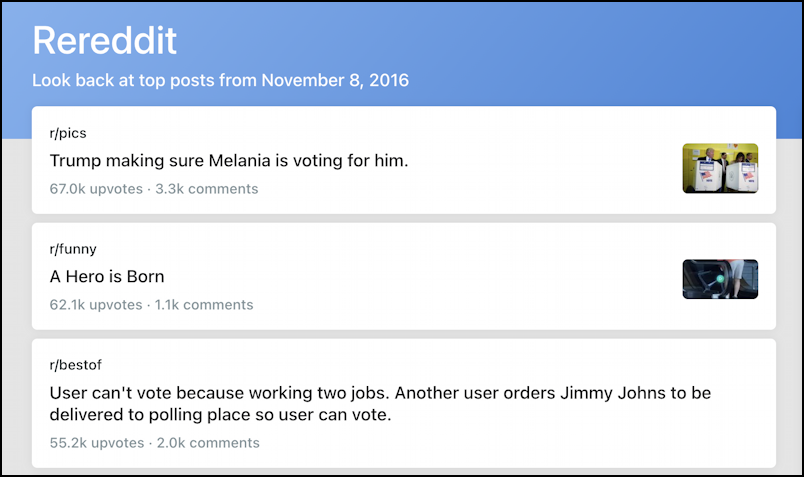 Since the full archive is still online, you can even see specific posts with just a click. Like that first post, with 67k upvotes: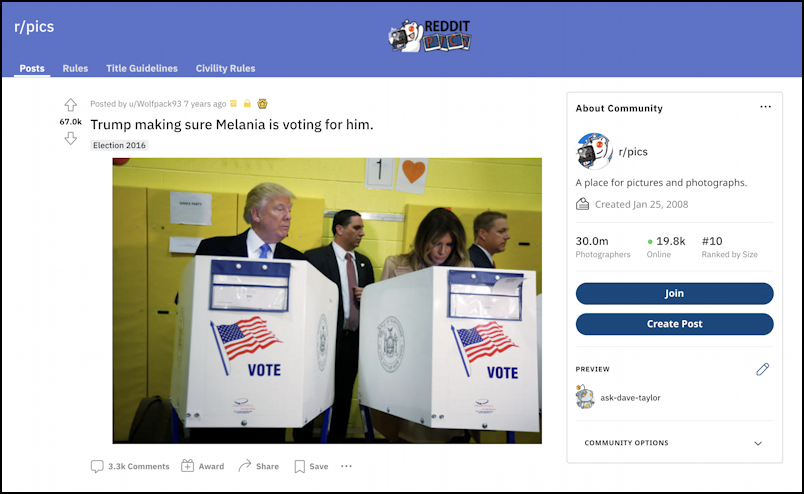 Ah, memories. We'll be back at the ballot box before we know it, and former President Donald Trump might well be on the ticket again too. Perhaps this time he won't be caught peeking at his wife's vote!
Pro Tip: Just getting started with Reddit? Check out my Reddit help library for other helpful tutorial articles to get you up to speed while you're visiting the site. And do feel free to follow me – u/ask-dave-taylor – on Reddit too. Thanks!