I have grown to appreciate the handy Bing Chat search button in Microsoft Edge and use it all the time now. I heard that it now includes image analysis tools, but I don't see how to use them. Can you walk me through the process?
You're correct that as of October, 2023, Bing Chat (I call it Bing AI) has gone from just a text interaction tool to gaining awareness of images and the ability to analyze them for content. It can't yet respond with images, either synthesized or from Web searches, but I expect that's already in beta test and will just show up one day. Of course, both Bing.com and Google.com have image search features that let you upload images, but that's just a search for similar images, not an analysis of the image. Google has its Lens feature which includes some smarts, but… Bing's right there in your browser! It can't get much easier.
As it happens, my daughter is on holiday in Thailand currently and she's been sending me pictures of the food they've been eating. Looks amazing! I thought that having Bing AI analyze one of the images would be most informative. Here's how it went…
BING AI IMAGE ANALYSIS
Open up your copy of Microsoft Edge (Windows and Mac work the same) and click on the "b" button on the top right topen up the Bing AI assistant panel. It'll look like this: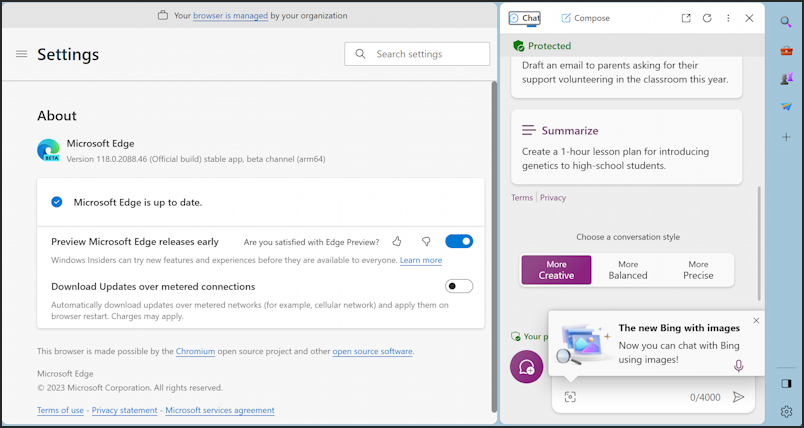 You can see that I lucked out and it's showing me "The new Bing with images", but I wouldn't be surprised if most people didn't see this. No worries, if you see that tiny square with the dot in the middle (just below the notification), you're good to go. In fact, click or tap on the image icon.
It will prompt you to paste an image or URL link, or upload from your computer: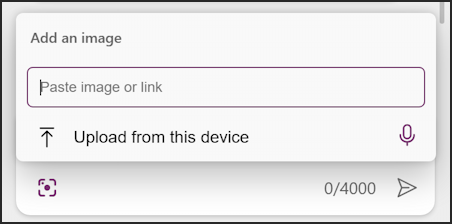 I'm going to just drag and drop the image from the Desktop onto this tiny window: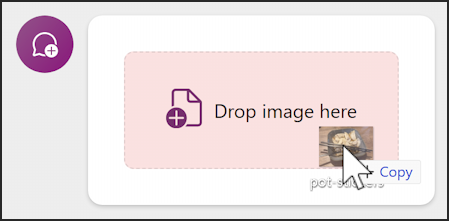 Once I release the cursor, the image is uploaded and I'm prompted to enter what my query related to the image actually is. I enter "what is this?" to test out Bing's image recognition skills: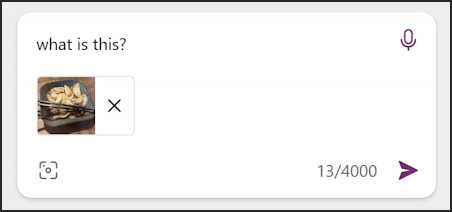 Pressing Enter (or clicking on the paper airplane icon on the lower right) and it's submitted as a query!
Can it figure out what's in the photo?
BING AI FIGURES OUT THE PHOTO CONTENT
Yes, it can indeed, and most impressively: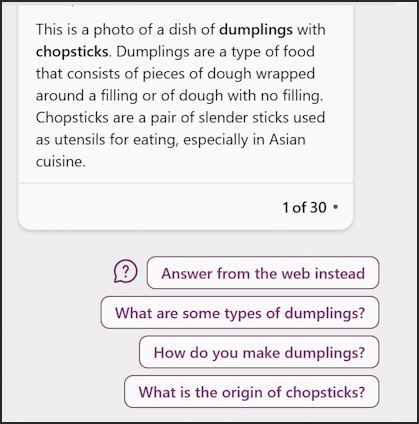 This is a non-trivial task so it's remarkable that it can not only identify the main item (dumplings), but that it's in a dish and that there are also chopsticks in the image!
But hmm, I am interested in learning more, so notice how easy it is to expand my knowledge with one of the suggested follow-on queries. I'll try "What are some types of dumplings?". A click and…
Notice that bing.a does a good job of indicating its sources for factual information. The links to TastingTable.com and Masterclass.com are also clickable if I'm curious. I never realized there were African dumplings!
HOW TO USE THE COMPOSE TAB
While we're talking about Bing Chat, notice along the very top that there are two options: Chat and Compose. Click on Compose to have a quick peek at another amazing feature of Bing AI.
Lots of options here, but the most important are that there's an input box for your prompt, the ability to choose a writing tone or style, and the length of your composition. You can also specify any or all of these as part of the prompt, of course, including the required output format, but these buttons do make it easy.
Let's give it a try with the prompt "2o0 words on what you can do with bing ai ability to analyze images":
The result? In less than ten seconds it explains:
In case you can't read it, here's the commentary:
Bing AI has the ability to analyze images and extract useful information from them. For example, you can use Bing AI to identify objects, faces, colors, emotions, landmarks, text, and more in an image. You can also use Bing AI to generate captions, tags, thumbnails, and summaries for your images. Bing AI can help you enhance your photos, create collages, and make slideshows. Bing AI can also help you search for similar images, find sources of images, and discover related content. With Bing AI, you can do more with your images than ever before.
Not bad at all for a query that's probably never been submitted to Bing Chat before. Now it's your time to give it a whirl!
Pro tip: I've been writing about computer and Internet basics for many years. Please check out my computer and Internet basics help area for lots more useful tutorials on AI and much, much more!