My son just gave me an LG G6 Android phone and I really like it, except for having to enter my PIN every time I want to use it. It has a fingerprint sensor, so how do I add my fingerprint and allow it to unlock the phone?
If your LG G6 is like the one we have in the office, you're probably still stuck with Android 8.0 so all of the following screens will look quite familiar. Meanwhile, Android has moved forward, first to Android 9.0 and most recently Android 10 and LG has been trying to keep up, but its update release schedule remains glacial, which rather stinks for those of us that own LG smartphones. If you are running Android 9.0, however, no worries, the process is going to be quite similar, the screens might just look a little different.
It's also worth noting that Android doesn't store a digital version of your fingerprint. Some people get anxious about that, but it turns out that Android uses Trusty TEE, a very small and efficient operating system buried inside Android. The OS is called Trusty OS and Android kernel drivers allow it to communicate with the system. There are Android libraries for developers to use so they can ask what amounts to a yes or no question to the TEE: do the scanned fingerprint identifying data points match the stored fingerprint data?
So how do you set it up? Step one is to launch the Settings app on your LG G6, then tap on the magnifying glass icon to search for "fingerprint":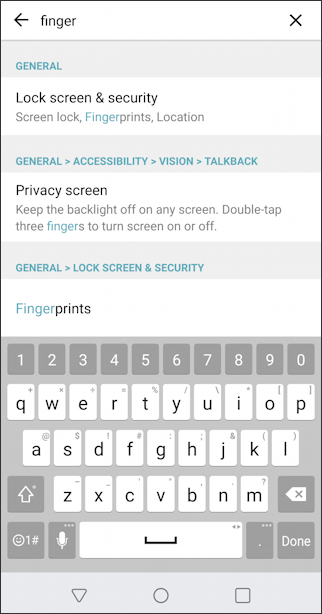 It's the first entry that you want to choose: Lock screen & security. Tap on that and you'll move directly to the right spot in the sprawling chaos of Android settings: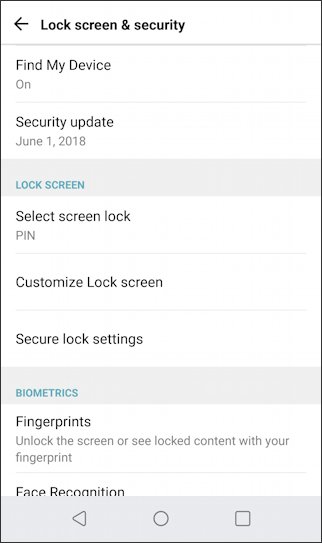 You might have to swipe down a bit to find the biometrics section, but you will. Then tap on "Fingerprints" to proceed. Android will then show you an informational window with some important information about where you can use the newly stored fingerprint: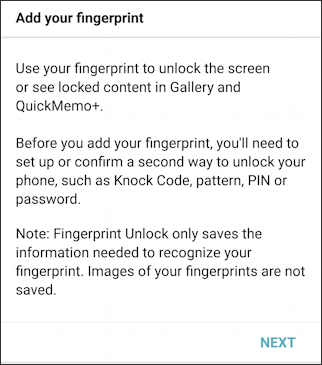 Got it? Good. Tap on Next to proceed and you'll finally be able to actually scan your fingerprint:
This is a little bit counterintuitive because every single interaction you've ever had with your LG G6 involves you pushing the button on the back of the device, whereas in this situation you want to gently place your finger on the sensor, but not push it. In fact, if you make a mistake and push as you would normally, you'll get this error: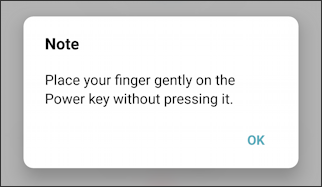 You'll get the hang of this quickly enough. It'll take about a half-dozen gentle touches of the sensor for it to assemble a full model of your selected finger. Once that happens you'll get this informational screen: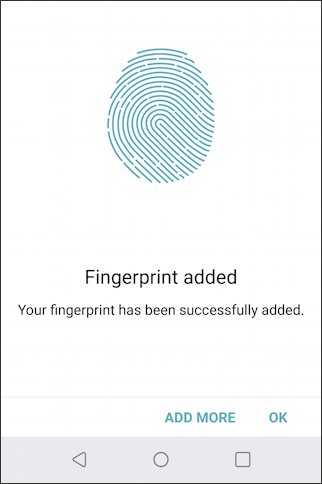 Huzzah! Done. Tap OK.
Now you'll see your fingerprint scan has been accepted and you can decide what events can be triggered by a successful scan: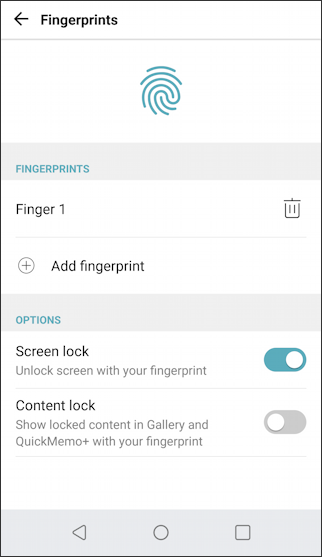 You can decide about content lock, but definitely enable screen lock. Want to be ambidextrous? Add another fingerprint from the other hand.
And that's it. Now when you lock your screen notice the message on the bottom of the lock screen:
See where it says "Use your fingerprint to unlock"? Now, try unlocking with a different finger than the one you scanned. Doesn't work. But the finger you did use to scan and build the data should work fine. Done.
Pro Tip: I've been writing about Android for quite a while. Please check out my Android help while you're visiting!