I can't stand Microsoft Edge and have long since switched to Firefox on my Windows PC. I'm wondering if it's possible to apply themes to change the otherwise boring Firefox appearance in Windows?
You're not alone in not being a fan of Microsoft's new official Windows web browser, Microsoft Edge. Fortunately, there are a surprising number of different options for switchers, ranging from Google Chrome (tho if you're concerned about privacy with Edge, Chrome isn't going to be much better) to Opera, the ultra-secure Tor to Brave, Vivaldi to Firefox. Each has its fans and all offer a great Web browsing experience with often subtle differences for most users.
Most of them, however, can be pretty dull in appearance. This is by design, however, because the developers want to ensure that it's the Web page you're viewing that's most visually interesting, not the tool you're using to visit. Still, black letters on a grey background gets old fast, so it's darn helpful that just about all modern browsers also include themes that let you easily change the appearance to match your mood or favorite imagery. Including Firefox. Let's have a look…
FIREFOX: GETTING TO THEMES
I just installed Firefox on my new Windows 11 PC so it has the default appearance. I've imported bookmarks from my other browser, fortunately, so it's not completely bereft of any personalization, but still, it's hard not to view this as fairly dull and boring: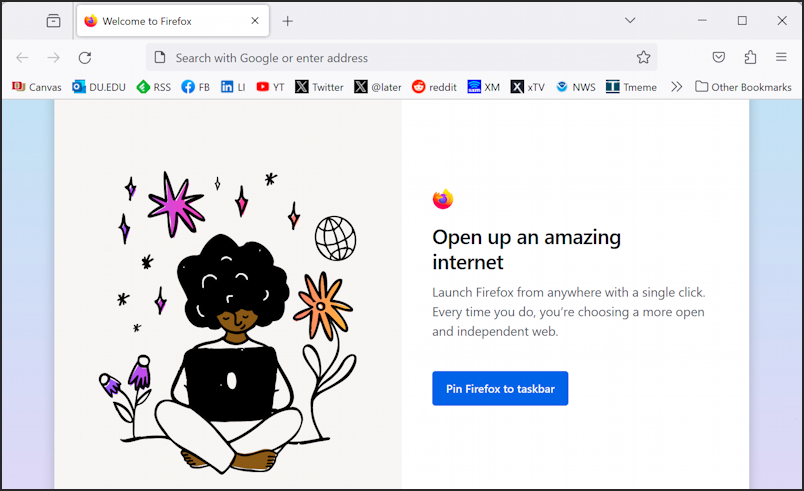 Finding the theme repository and applying a new one is quite easy, though you'll need to know that the three tiny horizontal lines on the top right (adjacent to the puzzle piece) is how you launch the main menu. Click on this so-called "hamburger menu" and here's what appears: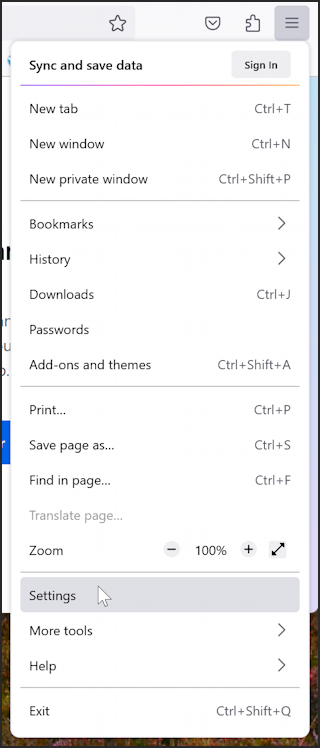 As highlighted, choose "Settings" from this menu. You'll have a new tab open at about:preferences with the following options:
Tip: Every settings page has a corresponding URL and I'll share those as I go. You can click on one to jump directly to that page in your own copy of Firefox if you'd like to follow along!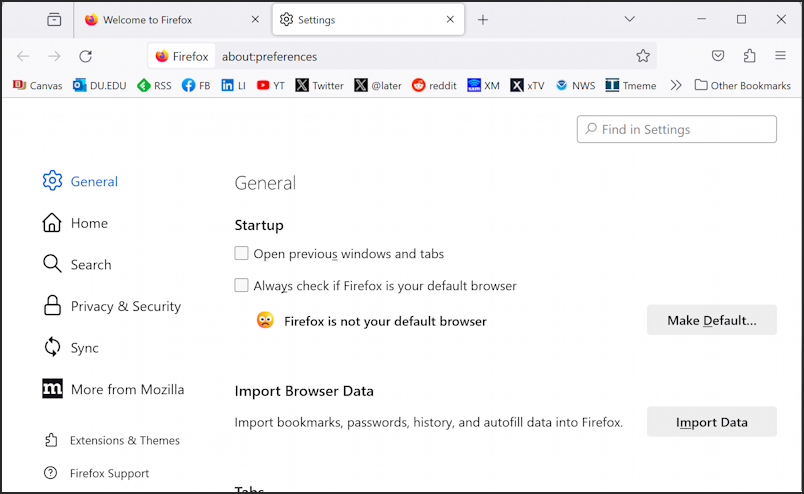 A few useful settings right at the front, notably the ability to change your default Web browser to Firefox (I really like the unhappy smiley face adjacent to "Firefox is not your default browser" too).
FIREFOX: EXTENSIONS & THEMES
To proceed, click on the "Extensions & Themes" link on the lower left. It opens up about:addons: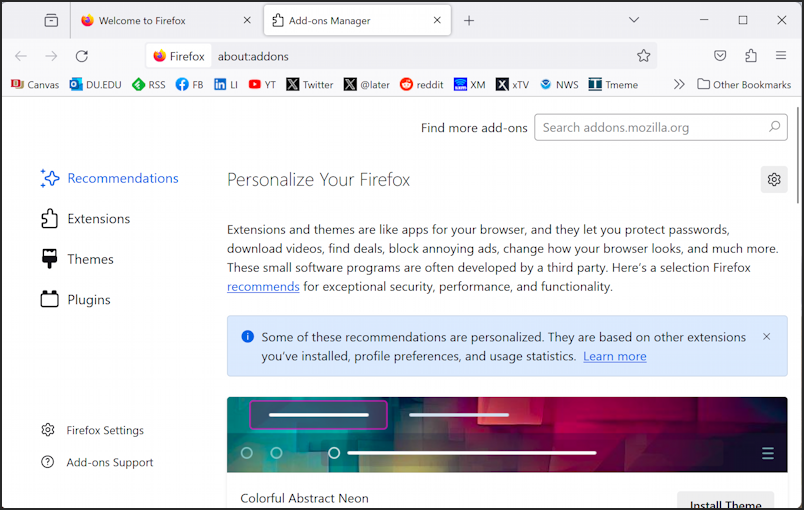 From this point you can actually apply one of the suggested themes like "Colorful Abstract Neon". Simply click or tap on the "Install Theme". After a moment or two, it will confirm you want to install the newly downloaded theme: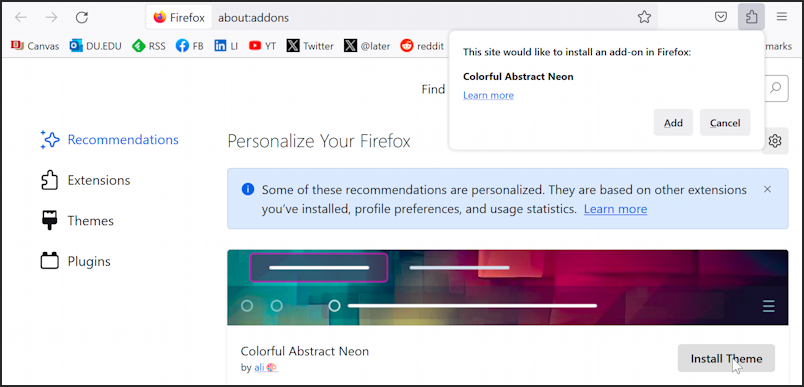 A click on "Add" snd the theme is not only installed, it's applied too, so your browser will instantly change appearance:

Notice the confirmation dialog telling you what's happened. More excitingly, notice that the entire top portion the Web browser has been updated to a bright and colorful theme! Go team Colorful Abstract Neon! The update is confirmed with the new dialog box, but it's pretty obvious in this case, at least!
FINDING MORE FIREFOX THEMES
There are lots of themes available for your Firefox browser if you don't like the couple suggested. Just scroll down to the bottom of the page to find this button, then click:

Now you'll be taken to https://addons.mozilla.org/en-US/firefox/themes/. Scroll down just a smidge and you'll see that there are lots of categories from which to choose, or you can just look at what's new and popular: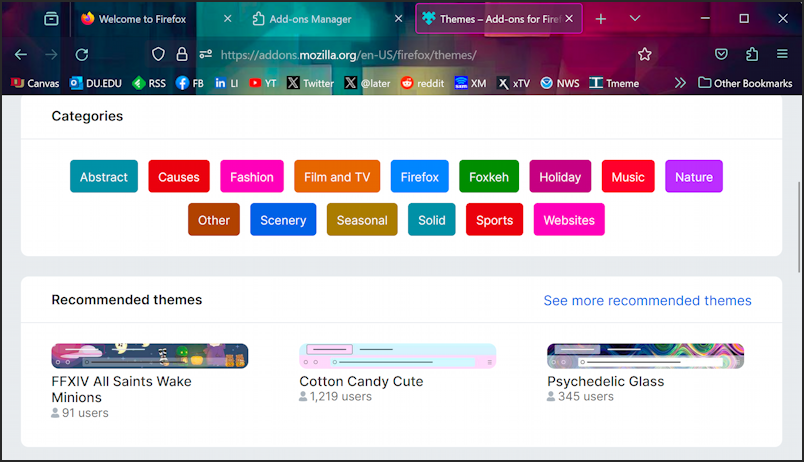 Click on an individual theme and you'll find that it has ratings and a bigger thumbnail so you can assess whether it's going to be a design you'll like or not. Like this:

Want to check it out? Just click "Install Theme" and keep trying 'em until you find one that's perfect!
Pro Tip: I've been writing about Windows since the beginning. Please check out my extensive Windows help area for lots of useful tutorials and how-to guides while you're visiting! Thanks.