My cousin keeps sending me old letters from our great-grandfather that he's typed in as Word docs. In Spanish, which I don't speak or read. Is there any way to translate these letters into English?
Are there any programs that have more features and capabilities than Microsoft Word? It's been around since 1983, and in the subsequent four decades has added an incredible array of tools, features, and capabilities, most of which people are completely clueless about. Me too! Until your question, I had no idea that Word had a complete language translation feature built into the program. Better yet, you can choose a phrase, sentence, paragraph, or entire document and translate it into any of over fifty different languages. You can also open up a document in a different language and translate it as you desire. Greek to Swahili? Sure!
Now there are a number of different versions of Word, of course, including the completely Web-based Office 365 version, but I'm going to be looking at the standalone app, the latest version for the MacOS system. It should be functionally identical to the Windows version – and the online Office 365 version – so you can follow along and translate those old letters too.
OPEN A FOREIGN LANGUAGE DOCUMENT IN MICROSOFT WORD
To start out, you should be able to open up just about any language document in Microsoft Word. I'm going to be using Spanish-language game instructions for the old board game Heroes of the World for this demo, and even though I only have English installed on my Mac, Word opens it up without incident or complaint:
If the document requires a different typeface or script, Word should prompt you to download any components that it needs to display the file correctly! Latin-1 languages – French, Spanish, Italian, English, German – are all supported, so it's more likely to be an issue if you're viewing a document in Cyrillic, Chinese, or Tamil. There's also a Language Accessory Pack for Word you can read about too if needed.
Along the top of the page are the primary categories of "ribbon" toolbars, here shown as Home, Insert, Draw, and so on. Click on "Review".
TRANSLATING WITH THE REVIEW RIBBON IN WORD
Once you click on Review you'll get the review toolbar ribbon (whatever they call it nowadays):
Notice the fourth and fifth buttons from the left: Translate and Language. Click on "Translate" and you get the choice between having it translate a selection from the text or the entire document. Choose "Translate Document", as shown:

Now a new window appears to the right of  your document with the translation options: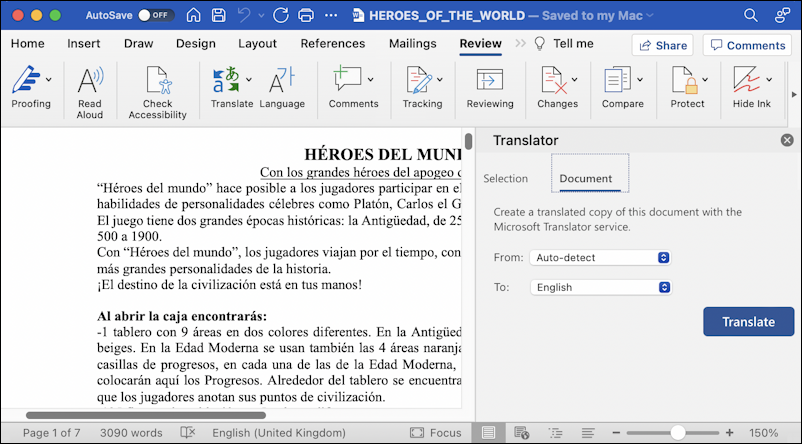 Easiest is to leave the From language as " Auto-detect" unless it does a poor job with the translation. For the To choose "English" if that's not automatically chosen by the program. Ready to translate the doc? It's ridiculously easy: Just click on "Translate".
Depending on the length and complexity of the document, this translation might take just a few seconds or a minute or longer. This document I'm using has 7 pages and about 3000 words, and it took less than 15 seconds on my M1 MacBook Pro.
The result is a new, translated document being opened: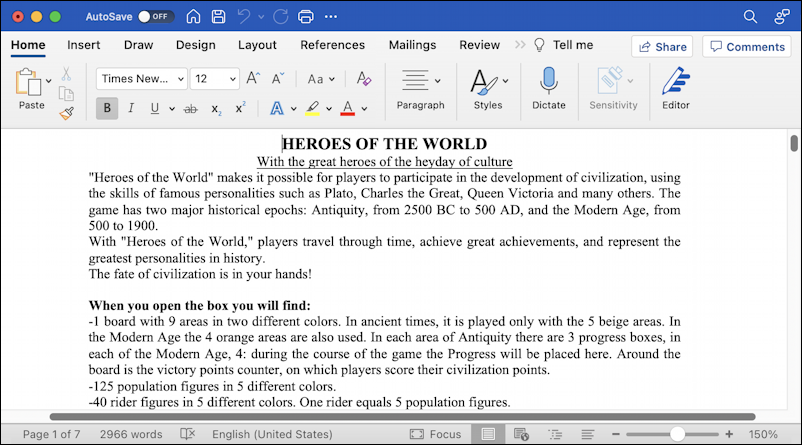 How good is the translation? That depends somewhat on the quality of the original prose, but overall, it's darn impressive.
RATING THE WORD TRANSLATION
You can see above that overall the translation is quite good. It could do with a small tweak from a native language English speaker (as is common for all machine translations) but it's entirely functional, particularly for board game rules. Since the original document had its breakouts for graphics as more written content, not just an image with text embedded, that translates too: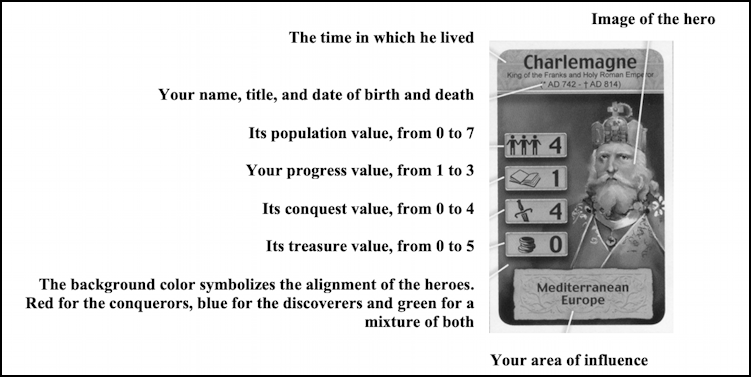 Of course, Word can't translate the words on the image itself – which is why "Mediterranean" is misspelled – but otherwise, all good!
Finally, save the newly translated document as you would any other Word file:
I added "[English]" to the filename to help differentiate it from the original Spanish instructions, but you certainly don't have to do the same.
Intrigued by this game? You can learn more about Heroes of the World on BoardGameGeek.com, but it's not an easy game to find…
Pro Tip: I've been using and writing about Microsoft Office Suite for many years. Please check out my Office 365 help pages for lots of helpful tutorials and user guides! Thanks.