I read that Apple came out with an update to the Apple AirPods Pro. Since I have the new 2nd generation AirPods Pro, I'm eager to ensure that I have the latest firmware with the new features. How the heck can I tell what version I have and what the latest version of the AirPods firmware actually is?
While it's pretty easy to see when you get a new version of iOS for your iPhone or MacOS for your iMac, it's pretty darn tricky to figure out what version of firmware is on your AirPods. Not only that, but there's no manual way to force an update either, you just need to have them charging and close enough to your iPhone, iPad, or Mac so that it can magically update them overnight. Surprisingly, it actually works, as long as your AirPods are charging and your other Apple device is powered on overnight too.
What makes this process tricky is that the information about your AirPods is contextual; it's only accessible on your iPhone, for example, when it's connected to your AirPods. There's some logic to this, I suppose, but if you have a pair that's part of your Apple ecosystem, it does seem a bit odd that it's so convoluted to figure all this out.
Now, in terms of the latest firmware, Apple has a page all about AirPods firmware that includes the latest version ID. As of this writing, the Firmware Updates for AirPods page identifies six different versions of firmware, depending on the exact model of your AirPods:
AirPods Pro (2nd generation) with MagSafe Charging Case (USB-C): 6A303
AirPods Pro (2nd generation) with MagSafe Charging Case (Lightning): 6A303
AirPods Pro (1st generation): 6A300
AirPods (2nd and 3rd generation): 6A300
AirPods Max: 6A300
AirPods (1st generation): 6.8.8
Okay, so now exactly which version of the AirPods Pro do you have? Let's start there…
FIGURE OUT WHAT AIRPODS MODEL YOU HAVE
Most people look at their AirPods and figure that there's no model information shown. But look very closely: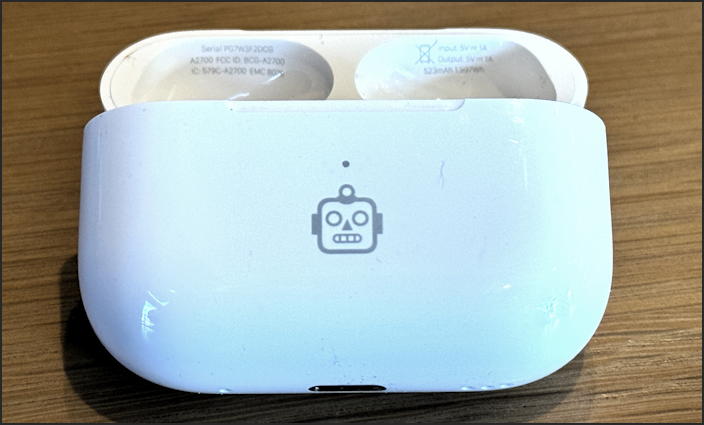 Turns out the model information is hidden on the top left side of the lid. Looking at it more closely (you can use your iPhone camera's zoom feature if it's too small to read):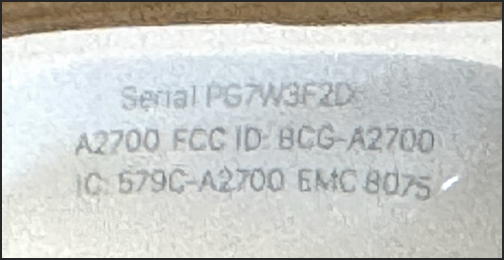 Okay, so it looks like A2700 is the model number. A quick check on the Identify Your AirPods page on Apple reveals that, alas, it's the model number of the charging case. Sure enough, this is a "MagSafe Charging Case (Lightning) for AirPods Pro (2nd generation)". Seems reasonable to assume it's the "AirPods Pro (2nd generation) with MagSafe Charging Case (Lightning)" which means the latest firmware version is 6A303.
Note: There's also even tinier information printed on your earbuds themselves if you're curious.
IDENTIFY AIRPODS FIRMWARE VERSION
That's the harder task, so now let's figure out what firmware version is actually running on the AirPods Pro. To do that, go into Settings > General > About and swipe down to reveal the area that includes the "Wi-Fi Address" of your iPhone: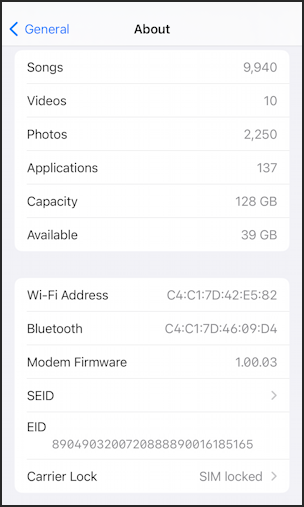 "Great", I can hear you saying, "but where does that show my AirPods firmware information?"
Remember how I earlier said that the firmware information is contextual? Turns out it only shows up in Settings if you have Bluetooth on and have the AirPods connected. Then another entry miraculously appears: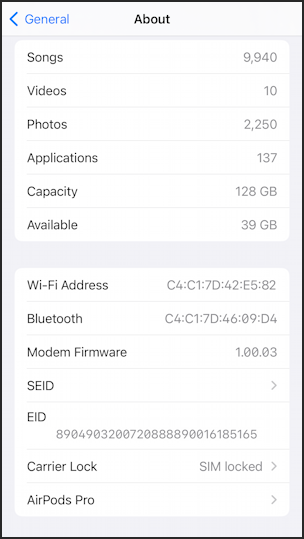 Weird, isn't it? No worries, tap on "AirPods Pro" and it will show you the current firmware version: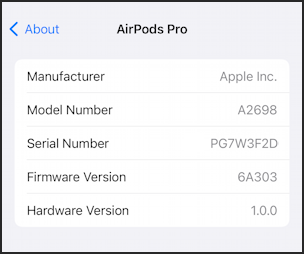 6A303, the same as listed on the Apple AirPods Firmware page. Looks like I'm all good to go. Running an older version and need to update? Well, here's what Apple says: "Firmware updates are delivered automatically while your AirPods are charging and in Bluetooth range of your iPhone, iPad, or Mac that's connected to Wi-Fi."
Pro Tip: I've been writing tutorials for the Apple iPhone since it was first released. Please check out my extensive iPhone help area for lots and lots of useful content.