My job requires that I use Google Meet for meetings and while I find it reasonably usable, I haven't figured out how to switch to my new external HD webcam. Can you talk me through how to switch cameras in Google Meet, please?
While Zoom seems to get all the press for remote video conferencing, there are quite a few different tools available. If you want to go old school, there's Skype, now owned by Microsoft, but Bluejeans, Webex (owned by Cisco), and Zoho are all popular choices too. Google has kept working in this area trying to build a great solution too, originally a part of Google Wave, then Google Hangouts, now known as Google Meet. And it's finally pretty darn good as a free and entirely usable alternative.
The interface is still a step behind Zoom in my opinion, but a bit of experimentation and exploration generally will reveal the features and capabilities people might seek. There are a few that are just missing, however, most notably that you can't change your display name on a Google Meet. Seem like no big deal? Turns out that many of the meetings I attend on Zoom have everyone adding key information for that group to their names for convenience.
But you can definitely change all of your input and output options, from microphone and speaker to webcam camera. Let's have a look!
HOW TO CREATE AN INSTANT MEETING IN GOOGLE MEET
To start out, make sure you're logged in to your Google account and go to meet.google.com…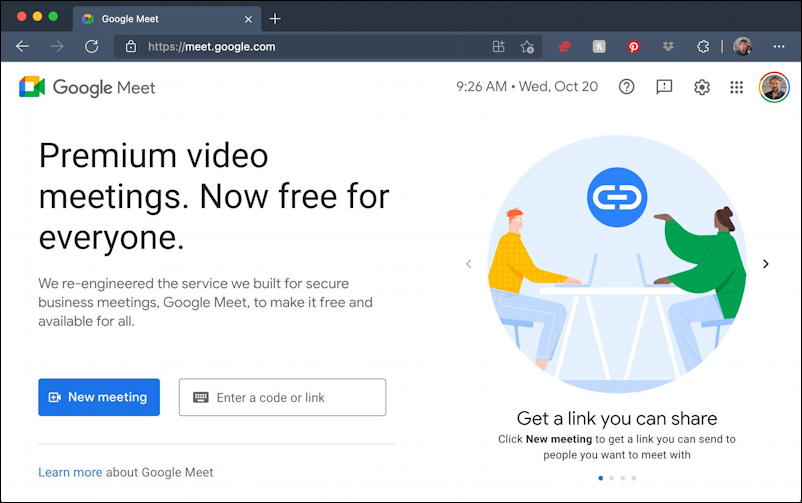 Click on "New meeting" and you'll find you can join a meeting, create an instant meeting, or schedule a meeting utilizing Google Calendar: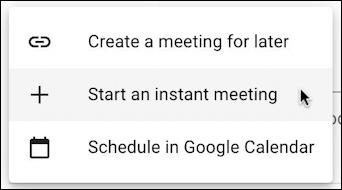 Choose "Start an instant meeting" so you can experiment with your webcam camera settings. After just a moment or two you'll have a one-person meeting up and running: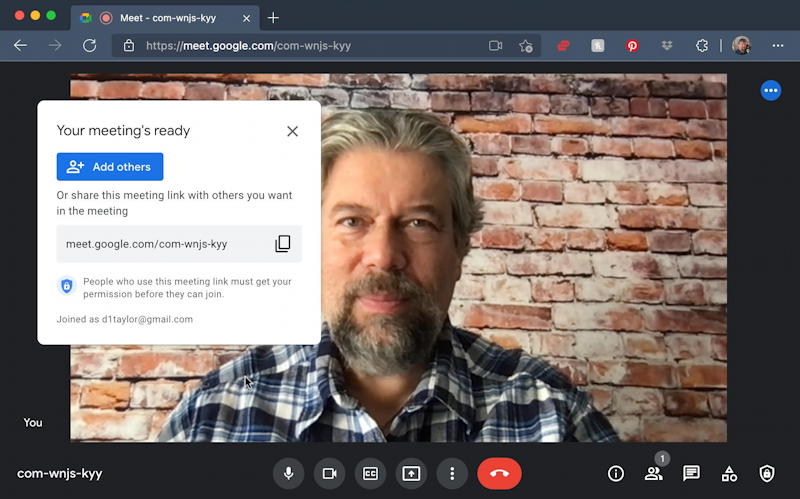 Your meeting ID is on the lower left, and it's randomly generated each time you start up a meeting. Mine is "com-wnjs-kyy", which is also shown in the pop-up window that invites me to, well, invite others to join me in this meeting. Really, these meetings are more interesting when there are more than a single person attending, don't you think?
HOW TO CHANGE MICROPHONE AND SPEAKER IN GOOGLE MEET
At this point, you might well think that clicking on the tiny box camera icon along the bottom would get you to camera settings. The pop-up ToolTip will disabuse you of this notion:

Instead, click on the "•••" stacked on top of each other, just to the left of the big red "hang up" (really "end meeting") button.
That brings up your Additional Features menu in Google Meet and there are quite a few options!
As shown, from this menu choose "Settings". Now, finally, you're in the right place.
To start, let's consider the audio settings:

I'm on a MacBook Pro so the defaults are to use the built-in microphone and speakers. I can change either by simply clicking on the currently displayed choice: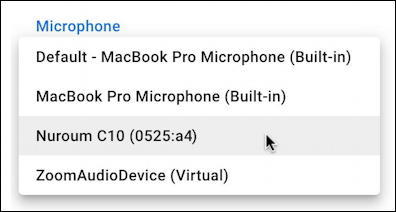 I do have quite a few, and that ZoomAudioDevice (Virtual) is curious too, but I assume it's just related to using Zoom on this computer too. Rather than using the built-in microphone, I'm going to change it to my external Nuroum web conference device. It includes an array of microphones, a 360-degree speaker, and an HD webcam. That's easily done by choosing it from the list.
HOW TO CHANGE WEBCAM CAMERA IN GOOGLE MEET
What about that camera? It's the same basic thing, but this time in the Settings window, choose "Video":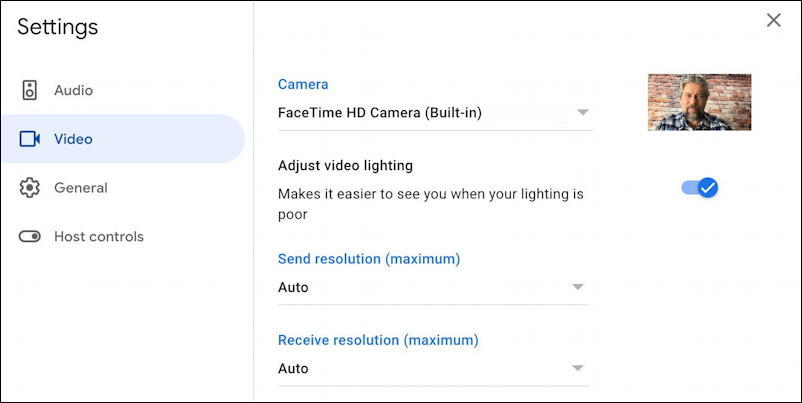 You can see a tiny thumbnail preview of the camera's signal, along with some very helpful settings to tweak or modify.
As with the microphone and speaker, choose the currently displayed camera and you'll get a menu listing all your options. I have two:

Most people will just have their webcam, so the menu will be pretty slim, but in this case I can simply click on the Nuroum entry and it'll switch cameras. It will also change to show the thumbnail with the new video signal. Assuming that's working, just close the Settings window and you've got the new camera up and running: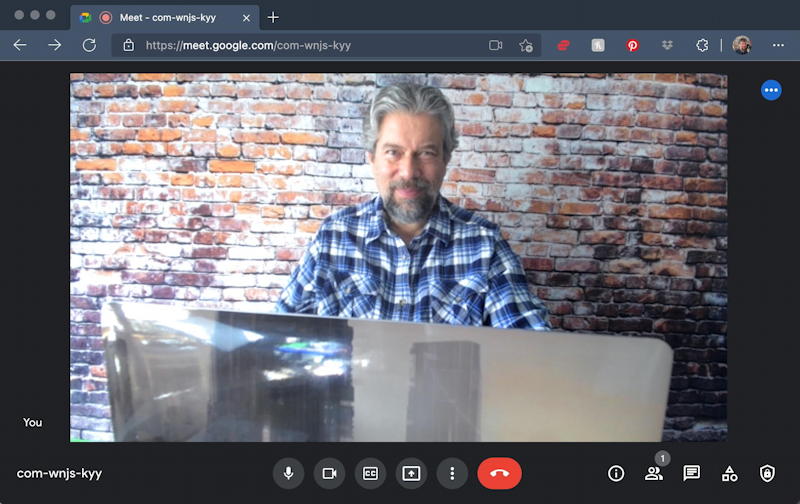 Notice in the above that you can see the back of my computer's screen; definitely not the webcam built into the display.
That's it. Now you know the basics of how to customize the input and output peripherals with Google Meet. Go to it!
Pro Tip: I've been writing about video conferencing and screen sharing tech for quite a while. Please check out my Zoom, Skype and Google Meet help area here on the site for more useful tutorials!