Help! I went to a Web site to watch a movie and suddenly my Chrome browser is warning me about Flash updates and trying to sell me junk software? How do I get rid of this malware?
In the endless Cold War of spammers versus the rest of the online world, there's always another avenue to exploit. Or so it seems. Spam email? Yup. Spam pop-ups, even days after you leave a questionable – or infected – Web site? Yep. And now, those helpful little Google Chrome notifications that pop up with breaking news or the update that your latest download has completed is being infected by malware too.
Really pretty frustrating, but the good news is that it's not a virus or malware in the sense of most computer malware infections. In fact, you probably clicked "OK" when it asked if it could send you notifications without realizing that's what you were approving. Heck, it might have carefully – or sneakily – phrased it so that you thought it was something really helpful and useful like "Get updates on your favorite new movies and celebrity news: Click OK"
However that transpired, Google Chrome is set up so that you have to grant permission for Notifications. Then again, when I look at my own notifications, there are a couple of domains I don't recognize (we'll get back to that) so perhaps there are ways that these sites can insinuate themselves onto the list!
To start, here are the notifications you sent me: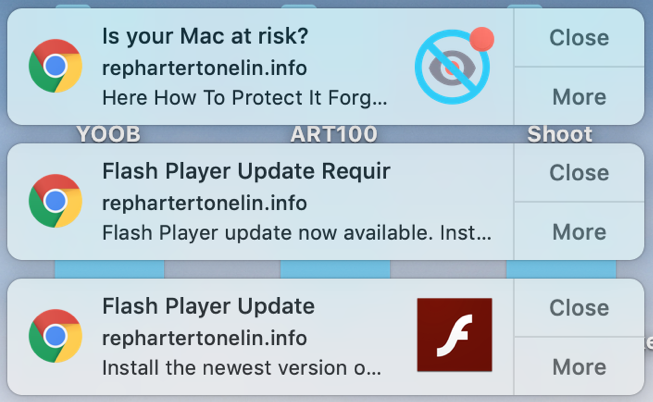 As you can see, these are all from a site called "rephartertonelin.info" which doesn't come up as a valid Web page. What does this mean? That they've deliberately set this up as just a Chrome notification site and want you to be confused and leave it all set up. Nope, not this time! 🙂
To block the notifications is complicated, however, because it's an "Advanced" Google Chrome setting which means you have to jump through a few hoops to get things set up. Start by going to "Settings" (off the Chrome menu on a Mac, off the "•••" on the top right of the browser if you're on a PC) then scroll to the bottom to find "Advanced":

A click and lots of additional settings are revealed.
Now look in the new options for "Content settings":

There are quite a few things worth checking out here to ensure that your privacy and data sharing settings are consistent with your actual preferences, as you can see: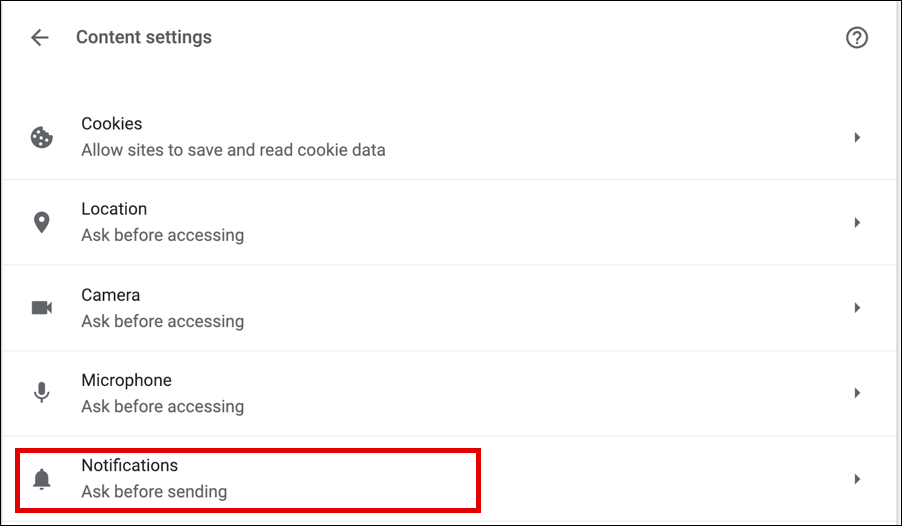 What we want, however, is "Notifications", as highlighted.
Tip: You can try using this shortcut URL in Chrome too, it should [theoretically] jump you straight to this portion of the Settings: chrome://settings/content/notifications
Either way, you'll end up looking at this: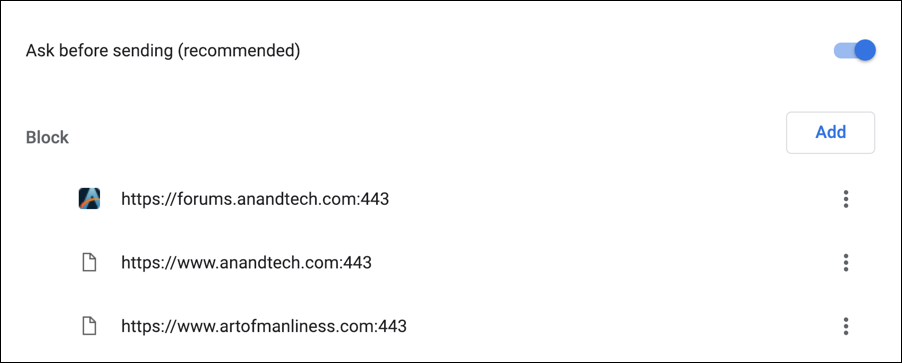 First off, and quite importantly, you absolutely want to have "Ask before sending (recommended)" enabled. In fact, it's hard to understand why Google would even let you disable this requirement that sites need to get permission before they use the Chrome notification system! Please, please go and check to ensure you have this enabled.
Now, the first list are sites that have asked if they can send me notifications and I have said "no". That's something that Chrome tracks so that if I revisit the site and get the prompt again, it can automatically recall that I've opted out. Okay. Scroll down and you'll get to the critical area, Allow:
Since I'm not on your computer, I'm glad to say that I don't see that pesky "rephartertonelin.info" site show up, but I don't really know why Basecamp [a perfectly fine, non-malware site] needs to ever send me a Chrome notification, so I'm going to drop it from the Allow list. That's done by clicking on the three dot icon adjacent to the matching entry:

Choose "Remove" if you are okay with the site prompting you again when you visit, or "Block" if you want to never be bothered by notifications from that site again.
Done. Woot. A complicated process (probably too complicated, actually!) but now you know how to clean up after visiting <ahem> questionable sites that see you merely as a potential source of revenue, not a customer or visitor.
Pro Tip: I've been using and writing about Google Chrome for eons. Check out my many Chrome help articles to learn more and fine tune your own browsing experience.