Dave, I want to prank my friend and send a few photos that identify a far-away place as their location. I know photos included geolocation info; can that be spoofed or changed on an iPhone?
One of the great benefits of digital photography is that there's space in the digital capture file for information above and beyond the photo image itself. This is generally known as the Exif information (Exif = Exchangeable image file format) and includes the time and date of the capture, tons of details about aperture, lens focal length, iso "speed", and almost always geolocation info in the form of latitude & longitude data. You can go into your smartphone or digital camera and change the settings to prevent location info from being added, but by default that's enabled.
Fortunately, almost all social media and photo sharing sites automatically remove the Exif information when you upload or share an image (for what I hope are obvious privacy reasons) but if you're just sharing an image via Messages, text message, or email, the information will remain attached to the image. Most apps don't show you that information, but you can check it in Photos on a Windows PC or Mac, and, of course, other smartphones.
While it never used to be the case, Apple's Photos app now actually lets you tweak not just the location, but the date and time of the photo too. So you could take a photo, tweak it to be black & white, then backdate it 1,000 years if you wanted! Perfect for those Halloween caveman selfies.
FINDING EXIF INFO ON YOUR IPHONE
I have a photo of a spicy food warning from a bag of Thai potato chips that I'll use for this demo. Here's the image, as captured on my iPhone 15 Pro: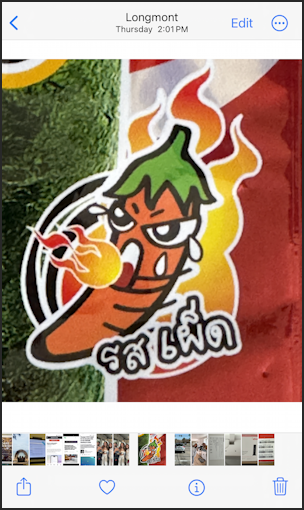 Notice on the very top it says "Longmont", showing my location when I captured the image. To see more of this Exif information, including time, date, and location, tap on the "i" in a circle along the bottom of the display: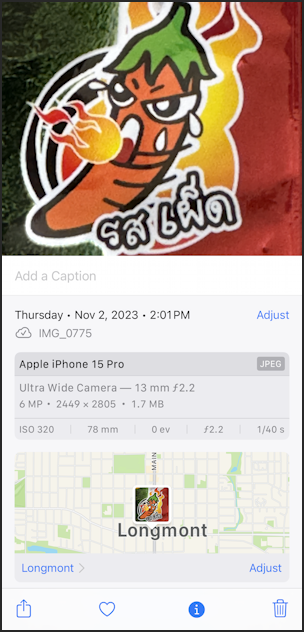 You can see the photo information: The Ultra Wide Camera was used, 13mm @ f/2.2, capturing a 6MP image at 2449 x 2805, with an emulated ISO of 320 and the equivalent of a 78mm lens at 1/40 exposure. Interesting stuff, for sure, but below it you can see the thumbnail placed on a map in, no surprise, Longmont. Below it notice the tiny "Adjust". Tap on that.
HOW TO CHANGE A PHOTO'S LOCATION
Once you tap on "Adjust" it will show you matches to the current location: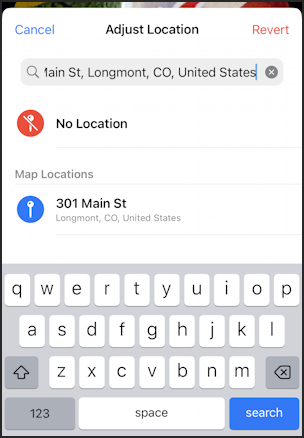 Quite importantly, notice the No Location option. Tap on that and the lat/long location information will be removed from the photo, an easy way to ensure something is private before you share it with friends or colleagues.
But the grey box is a search box so you can also type something else in to find a new location to have replace the current data. Like "Disneyland":
I'll pick one of the Disneyland matches, tap "Save" on the top right, and I'm done. Now when I look at the same Exif information screen, notice the map's changed!
While we're on this screen, it turns out there's a second place you could tweak the location too. On the original photo viewing screen there's a "•••" link on the top right. If you tap on it a menu appears:
Notice the last two entries. Easy enough, right?
VIEWING UPDATED EXIF INFORMATION
I emailed the photo to myself and then opened it up in Microsoft Photos on my PC and sure enough, it shows the updated Disney location:
Mission accomplished. And now you too know how to spoof your location (and date) as desired.
Pro Tip: I've been writing tutorials for the Apple iPhone since it was first released. Please check out my extensive iPhone help area for lots and lots of useful content.